Published: November 25, 2014, By Carl Joachim
[In a market research study conducted by California Polytechnic State University (Cal Poly), PFFC readers participated in a research project by answering converter questions on key trends changing the digital printing, labeling, and packaging industries.]
Executive Summary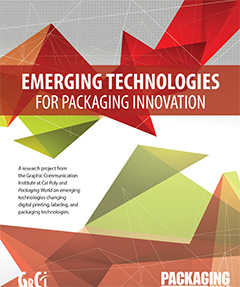 California Polytechnic State University has long been a well-respected educational institution, focused on the intersection of science, technology, and liberal arts, explaining how packaging and media shape society and influence the human experience. The Graphic Communication Dept. is known for print and e-media excellence around the globe, functioning as the academic entity in the university. Cal Poly's Graphic Communication Inst. (GrCI) operates as an extension of the university to work with commercial enterprises by providing training, testing, research, and material qualification. Additionally, Cal Poly's structural packaging program is well respected nationally and works closely with the Graphic Communication group.
The role of print and digital media impacts virtually all industries, and this is particularly true of labels and packaging. How well the package communicates its intended message can determine the success or failure of a brand.
The intersection of consumer marketing, packaging, and graphic communication fueled by emerging digital technologies is the basis for this research. Recent experience in working with packaging converters, consumer packaged goods companies, and technology providers led us to believe that this research could serve the interests of numerous groups engaged in packaging and package printing, namely:
Consumer packaged goods companies seeking to optimize the role of packaging in the marketing mix.
Converters under pressure from SKU proliferation, seeking alternative processes while encumbered by legacy processes.
Co-Packers currently providing a range of packaging services, with the potential to disrupt the supply chain.
Commercial printers in search of print applications to offset declining volumes in traditional print.
Technology manufacturers recognizing the opportunity for digital to impact the role of packaging in consumer marketing, and developing new products to capitalize on it.

Material providers, with an eye on participating in the adoption of digital printing in packaging applications.
The purpose of this study is to quantify the use of various emerging packaging technologies and applications used by value-chain stakeholders.
This research is also intended to complement the "World-Wide Market for Print" study (NPES 2013), in which it is pointed out that global print is growing at just 1.8% CAGR (2007-2017), and in decline in North America and Western Europe. Packaging is virtually the only growth application in the printing market, expected to grow by 3.8% CAGR globally, become a $289B market by 2017, and comprise 45% of the value of all printed media.
Our partnership with Summit Media/Packaging World was critical to this project. Packaging World, and other Summit publications have an extensive readership among CPG brand marketers, converters, and co-packers. This represented three of the target groups our research was focused on. The fourth group we addressed is commercial printers, an industry with an interest in packaging but unsure of its role.
Thirteen sponsors from all parts of the packaging value-chain participated in the research, providing support and a highly diverse perspective. Sponsors ranged from industry associations supporting the print, label, and packaging industries, as well as suppliers of technology, converting services, and raw materials.
Research Methodology
Our research approach involved:
Assembling a group of industry experts to create four research survey instruments, each focused uniquely on different market segments: Consumer Packaged Goods (CPG) companies, converters, contract packagers, and commercial printers.
Engaging several industry trade association sponsors, who provided contact databases, which grew the target database to over 60,000.
Defining job titles, responsibilities, and other criteria to filter the database of potential respondents. A particular focus was placed on brand marketing, and the ripple affect decisions made at this level have within the packaging supply chain.
E-mailing all four surveys to the database in three cycles between July and August 2014.
Filtering responses to ensure completeness, resulting in a net, non-duplicated response of 288 consumer- packaged goods end-user respondents, 51 contract packagers, 160 converters, and 56 commercial printers. used in the final analysis.
Generating the final report
SUMMARY OF RESULTS
This executive summary is organized in the same manner the research was conducted, by industry segment.
Consumer Packaged Goods Companies (CPGS):
A total of 288 responses were received from this group.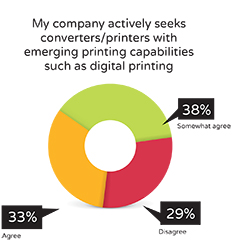 For starters, CPGs show no sign of letting up on SKU proliferation, thus exacerbating the impact of short runs on the supply chain. A quest for more product variations, sizes, tailored messaging, and promotions were all indicated as key drivers behind SKU proliferation. CPGs also show a solid understanding of the impact of SKU proliferation on converters, the technology they use, and seek-out those that can offer a competitive edge with new technology.
As it relates to digital printing, there is a high level of awareness of it as a technology with the potential to address CPG needs. Indeed, 71% of CPGs responded they actively seek converters/printers with emerging printing capabilities, such as digital printing. Nearly 11% of CPGs indicated they had acquired digital printers and used them in-house.
Meanwhile, CPGs continue to drive the growth of e-commerce, creating increased demand for short runs, quick time-to-market, and the need for "e-friendly" packaging that is economical and logistically advantaged. In response to these business drivers, digital printing appears poised to accelerate its integration into the packaging supply chain.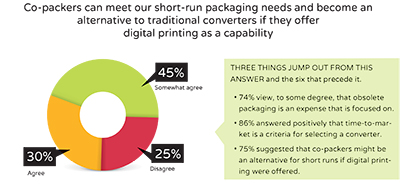 There are other points that come out of the research that also merit noting, as they relate to CPGs:
On the issue of packaging as a cost, 64% agree that price per unit steers package-printing decisions, as opposed to taking into account all associated costs and benefits. One advantage of digital printing has always been its ability to lower cost in other areas of production aside from the print process itself. A full understanding of the cost vs. benefit of digital printing, combined with the technology's ability to do more for marketing, will speed its adoption.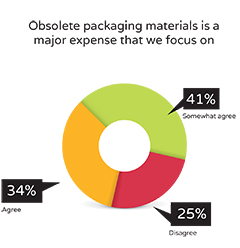 Despite this expected reply to the question on cost, 87% agree that time to market is a primary consideration in selecting packaging suppliers, creating an interesting dichotomy.
Related to the question of cost, 75% agree that obsolete printed packaging is a major expense that is focused on. This plays to one of the key strengths of digital printing, the elimination of waste and obsolescence.
One hurdle to digital adoption is how fast print manufacturers can help CPGs approve the transition to new print process for each and every material/packaging application. Nearly 85% agree that when moving from traditional methods of printing to digital, re-approval of all packaging will be required. This is an area of opportunity that technology and service providers will need to address.
Other forms of emerging "digital" technology were also included in the research, including: augmented reality, near field communication, QR codes, 3D printing, and printed electronics. Many of these technologies are often mentioned as enablers to the consumer brand and retail point-of-sale experiences, so we saw them as relevant to the research. While it appears there is modest interest in each technology surveyed, there is far less happening in commercial use today, or R&D for that matter. There is however, a strong interest in greater education in the use of these technologies.
Converters:
There were 160 responses received from converters. Overall, converters indicated they did not play a significant role in working with their CPG customers to leverage packaging as a part of the marketing mix. They also overwhelmingly see their relationship with CPG customers as price focused, reinforcing the perception they provide a commodity. The conversation between converter and CPG will need to expand to include brand marketing, if converters hope to move from commodity to solution provider. Digital printing offers a path to achieve this.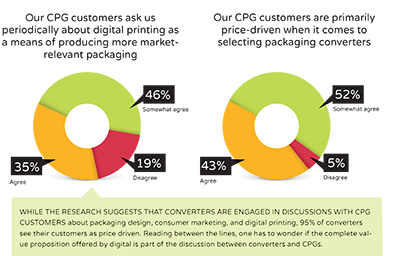 Converters are mixed about whether or not their existing infrastructure can efficiently handle short runs, yet a majority of the responses suggest as a group, converters believe their existing traditional printing presses meet the needs of current customers. Meanwhile, 61% indicated that they have made investments in technology to more effectively handle short runs. However, the group also admits to faster time-to-market requirements by CPGs placing stress on the existing infrastructure.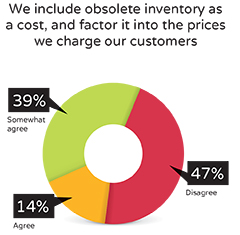 As it relates to the issue of obsolescence of printed materials, converters indicated that this is indeed an issue. A related question on "who bears the cost" of over-printing elicited denial that any of this extra "cost" is passed on the form of prices charged. This points to another potential area of opportunity for technology suppliers who can dissect this argument.
We also asked what defined a "short-run" in linear feet. While the replies varied, the most mentioned numbers 5,000 and 10,000, and 76% of the replies quoted run lengths of 10,000 LF or less. The mean response was 5,000. Tying this back some of the other responses seen in the research suggests there is an opportunity to fully understand the cost/value ratio for digital printing, and what really constitutes a short run.
In terms of competition, roughly 75% of respondents agreed that commercial printers and co-packers currently, or could, pose a threat to their business.
To summarize, 36% of the converters surveyed mentioned they had already invested in digital printing, and 68% expect to within three years. The barriers to adoption center around cost, how to sell the full value of digital, and the state of readiness of the technology. There is also a healthy appetite among converters to be educated on emerging digital technologies. There are numerous data points throughout the research that support the fact if converters do not embrace some level of transition to digital, erosion of the current business model is a concern.
Contract Packagers:
51 responses were received from contract packagers.
Our primary reason for including this group in the research was to test the hypothesis that they may be capable of disrupting the supply chain. In other words, given their relationship with CPGs, could they be in a position to serve as an alternative source for efficient short-run package printing through the adoption of digital printing?
It is interesting to note that 40% of co-packers were inclined to view digital printing as a service they would provide, while 75% of converters see co-packers as potential competition for short runs. While this may suggest a difference of opinion between the two groups, the fact that this question elicited a positive response suggests that co-packers could potentially disrupt the supply chain.
When asked what the impediments are to offering digital printing for short runs, 63% cited the cost of the equipment as the primary hurdle. Also mentioned was a lack of familiarity with printing, and insufficient demand.
CONCLUSION
As mentioned earlier, this research was initiated to explore innovation in packaging as an element of the marketing mix. Our intent was to tie together the responses from CPGs, converters, commercial printers, and co-packers into a cohesive document.
If one conclusion can be drawn, it is that the business drivers (i.e., SKU proliferation) behind short-run, quick turn-around packaging will drive supply chain disruption. It can also be extracted from the research that awareness of these business drivers, and digital printing as an emerging technology, is high.
CPGs will continue to leverage packaging as an element of the marketing mix, and converters will maintain a keen eye on the development of technology.
Converters operate within the construct of a mature business model, which is being challenged by CPG requirements. Converters are under pressure to meet these requirements, while there is an emerging opportunity for other industries within the supply chain to compete, namely commercial printers and co-packers.
The packaging industry appears to be nearing a tipping point where digital printing technology, as it matures, will have a significant impact. Key to this transformation will be the packaging suppliers ability to relate to CPG brand marketing, and position their offerings in the context of the true value digital can deliver.
CONVERTER RESPONSES
Key converter responses address the usefulness of digital printing and packaging. Here are some responses to the question: Tell us what you think about the usefulness in packaging of digital printing.
"It has a place in printing roll labels and is trying to find a place in the folding carton market. The challenge for the folding carton market is the additional processing required after printing."
"Digital printing will become a large part of the traditional packaging printer's production capabilities. Although some equipment vendors are addressing the needs of Packaging Printers, they still have a ways to go before it is truly a viable alternative for most."
"I see digital printing useful not only as a short-run solution, but also as a solution to jobs that can be difficult to keep registered on press. For example, we have one client who combines shadow and highlight effects in Photoshop with very fine CMYK reverse text, and even with our laser CTP process we find it difficult to produce consistent results for the client. Digital would be a great fit for this job even if though it is not a short run."
"As digital quality and speed increase, it is becoming a truly viable alternative to traditional methods. I am particularly impressed with the quality of finished product produced by the digital press. Once a system exists that can economically produce print runs in excess of 15,000 feet fast enough to compete with traditional methods, the pendulum will have swung and traditional methods will reserved for only the longest of production runs."
"I believe digital printing is not the future—[it] is the present. Our company made huge investments to use this technology. But, due to several issues regarding Food Regulatory statements, we cannot seize one of the most powerful improvements: flexibility."
"In one year, on a 9% increase in sales, our [shipments] have increased almost 50%. People are ordering smaller lots, more often, and in greater variety. The shift has been underway for years, but seems to have accelerated lately. Hence the advantage of plateless printing with minimal make-readies. Short run capabilities seem to be a hot button in the market."
"Unbelievable potential applications in the packaging market. If the ink suppliers can be more specific in FDA/food contact safety/language, it would be even better!"