Published: February 05, 2013, By Claudia Hine
The second staging of the International Converting Exhibition (ICE) takes place April 9-11 in North Hall B at the Orange County Convention Center in Orlando, FL. Organized by Mack Brooks Exhibition Inc., Burlington, MA, this year's show offers lots of promise for attendees—and not all of it converting related.
Bob Chiricosta, ICE USA show director, says, "ICE USA 2103 is already 25% larger than the 2011 show, and we recently surpassed 100 new exhibitors that will be joining more than 200 returning exhibitors. This makes ICE USA the largest converting-focused event in North America and larger than the last two CMM's that were held in Rosemont."
Listen to an exclusive podcast interview with ICE USA show director Bob Chiricosta and PFFC editorial director Yolanda Simonsis that details special show features, including pre-show events, conferences, free expert advice, and more. For just listening, get your free entrance ticket to the show, compliments of ICE USA and PFFC, by writing to This email address is being protected from spambots. You need JavaScript enabled to view it..
For food and entertainment opportunities, Chiricosa adds, "Although ICE USA is far removed from Disney World, it doesn't mean we can't have a little fun. We will kick-off ICE USA 2103 with our Golf Tournament on Monday, April 8, the day before the show officially opens. And being at the Orange County Convention Center, there are a variety of world-class restaurants and entertainment options very close by. Many of our attendees stay over or arrive early to visit the many attractions that Orlando offers. There certainly is no lack of things to do in Orlando."
Exhibitor List
Show executives report many companies have increased their exhibit spaces to demonstrate equipment and services over the three-day show. Visitors will see flexographic and gravure presses, coating and laminating machines, curing and drying equipment, as well as slitter/rewinders, die-cutting systems, and more. Substrates, adhesives, inks and other materials also will be shown.
For a complete list of exhibitors, click here.
Conference and Seminar Programs
Each day of the show offers a Technical Conference sponsored by AIMCAL–the Assn. of International Metallizers, Coaters and Laminators. The conference sessions are held from 10:00 a.m. to noon. It features three tracks—Web Coating, Web Handling, and Adhesives/Adhesion—and attendees can mix and match the sessions.
To see the specific session papers, click here.
Chiricosta says, "The conference registrations are going very well. Even though it is a much larger conference program than 2011, we are well ahead of last year at this time. Although the conference sessions that are held in the convention center's meeting rooms all have a modest fee, there will be complimentary keynote sessions presented everyday to launch the conference program. In addition, the Technology Showcase Theater on the show floor allows exhibitors to present their latest innovations. These presentations are free to all registered attendees. We also have our Ask The Experts Pavilion, which is on the show floor and provides industry experts to answers attendees questions free of charge."
ICE USA also offers a Pre-Show Seminar Program with sessions offered by AWA Alexander Watson Associates, CEMA. Pressure Sensitive Tape Council, RadTech, and TAPPI.
In a first-ever collaboration between TAPPI's PLACE (Polymers, Laminations, Coatings and Extrusions) and its Nanotechnology Div., the association will offer a three-session event. The first session highlights Innovations in Preparing Polymer-Based Nanomaterials for improving the mechanical and barrier properties of flexible packaging materials. The second session features Innovations in Traditional Barrier Enhancements for packaging films. And the third session presents the tactical topics of Brand Launch Strategies, Shelf Appeal Enhancement, and Brand Authentication for the innovatively packaged consumer products.
AWA Alexander Watson Associates will present its Labeling & Packaging Decorating Technology Seminar 2013 seminar featuring presentations by key industry leaders in the labeling and product decoration industry. They will provide up-to-date information on the markets and its evolving technologies with both national and international perspectives.
CEMA will present two seminars as part of the ICE USA Pre-Show Program. The CEMA Coating & Drying Fundamentals for Converters seminar is a condensed version of the CEMA two-day seminar created exclusively for ICE USA. The CEMA Web Slitting and Rewinding for Converters is also a condensed version of the CEMA two-day seminar created exclusively for ICE USA.
RADTECH, will present its Enabling Innovation in Packaging with UV & EB Curable Inks, Coatings & Adhesives seminar. Leading suppliers and users of UV (ultraviolet) and EB (electron beam) curable inks, coatings, and adhesives will discuss some of the current and future trends and applications in press technology, special effect ink/coatings, and other sustainable and innovation initiatives.
Rounding out the Pre-Show Program is the Pressure Sensitive Tape Council's (PSTC) presentation Understanding and Selecting PSA Tapes. The presentation will define the basic properties of pressure sensitive adhesives (PSAs) and discuss how polymer and material properties combine to give the unique performance attributes of tapes.
"Converters from around the world will find these seminars extremely valuable," says Chiricosta. "There is no other forum in the world where they can access such a diverse and broad range of industry knowledge". All the Pre-Show Seminars will take place on Monday, April 8. Individual fees have been established for each program and include a three day pass to the exhibit floor.
For a description of these full and half-day sessions, click here.
Keynote Presentations
Complimentary keynote presentations will launch each day of the show as follows:
"Opportunities and Threats in the Global Flexible Packaging Market" by Paul Gaster, director of flexible packaging at PCI Films Consulting Ltd.
"Merger and Acquisition Trends in the Converting Industry" by Thomas Blaige, chairman and CEO of Blaige & Co.

"BOPET and BOPP Film Trends to 2016" by Paul Gaster
Keynote sessions take place from 9:00-10:00 a.m. April 9-11.
Ask The Experts
The popular one-on-one private consultations with industry experts can be scheduled in advance online at www.ice-x-usa.com. Schedule a 15-minute meeting with one of the following experts:
A little Fun & Games
On April 8, a scrambles golf tournament will be held at the Rosen Shingle Creek Golf Club on the David Harman-designed course. The field is limited to 128 golfers, so be sure to register by March 15. For more information, click here.
Show Hours
Tuesday, April 9, 9:00 am – 5:00 pm
Wednesday, April 10, 9:00 am – 5:00 pm
Thursday, April 11, 09:00 am – 4:00 pm
Booth Descriptions
Here are descriptions of some of the exhibitor booths. PFFC will update this preview as we receive news from the exhibitors.
Ap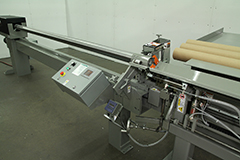 pleton Mfg. Div. Brings A301 Automatic Core Cutter
Appleton Mfg. Div., Neenah, WI, (Booth 1024) will show its A301 Automatic Core Cutter to the show. It features simplified automation, intelligent control, and superior precision to increase productivity while reducing material waste and operating cost. Options on the machine being displayed include a digital read out, auto-indexing knife, and patented Instant Diameter Change System. The machine automatically cuts and advances the cores with precise accuracy within +/- 0010 in. All settings can be controlled by an intuitive LCD touch panel screen.
Atlas Converting Presenting Next-Generation Atlas & Titan Slitter/Rewinders
Atlas Converting, Bedford, UK, (Booth 857) will present its next-generation Atlas CW Series and Titan SR9 Series slitter/rewinders for a wide range of plain, coating, and printed film and other flexible materials in widths from 53–410 in. (1.35–10.4m). The company also will promote its new demo center in Charlotte, NC, where customers can perform trials using their own materials.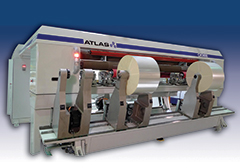 The new Atlas CW Series technology platform for web widths from 98–410 in. (2.5–10.4m) delivers higher efficiency, increased productivity and reliability, higher quality rewind reels, reduced noise levels, and more effective, operator-friendly control systems. Also features wireless rewind arm positioning, automatic knife positioning, direct drive web path rollers, and running speeds up to 4,920 fpm (1,500 mpm) with more precise web tension control. Electrical cabinets are fully integrated into the machines to reduce the space required for installation with under floor service trenches also no longer required for the primary slitter/rewinders.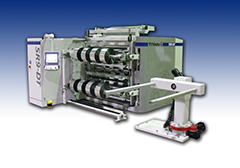 The concept of the Titan SR9 Series technology features three separate machine modules of unwind, slitter, and rewind sections so a converter need only change the rewind section of the machine from a duplex shaft to a single turret or dual turret configuration to meet changing production requirements, without the need to change the existing unwind and slitting modules. A newly designed linear tracking slitter (LTS) section ensures the shortest and a constant web length between the knives and the rewind shafts for improved web control giving the highest possible side wall quality of rewind reels and also reducing the possibility of waste material. The SR9 Series is available in two widths—65 in. and 88 in. (1,650m and 2,250m)—and provides running speeds to 3,300 fpm (1,000 mpm).
Beta LaserMike Offers Measurement and Control Systems
Beta LaserMike, Dayton, OH (Booth 236) will show its Non-Contact Length & Speed Encoder featuring accurate product length with laser precision. It offers high accuracy and repeatability (+/- 0.05% to +/- 0.02%), permanent calibration, and no moving parts. Non-contact ensures no marking or damage. Works on all products regardless of shape, color, and texture. Eliminates product giveaway and shortages.
Core Systems Exhibits Automatic Core Cutter
Core Systems Intl., Erie, MI (Booth 1227) will show the original CM10 Automatic Core Cutter. It's a high speed, semi-automatic unit with a fully automated cutting cycle. Available with an automatic core advance system and automatic knife adjustment. Features a 60-in., 90-in., or 120-in. parent core length with longer lengths available.
Delta Industrial Showing Custom Medical Mfg. & Packaging Solutions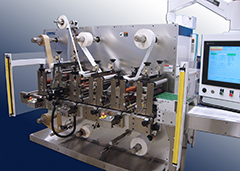 Delta Industrial Services Inc., Minneapolis, MN, (Booth 839) will be showcasing its custom engineering solutions in a medical process and packaging demonstration. Delta offers engineering expertise in developing and building manufacturing solutions for a variety of complex medical, pharmaceutical, label, security, RFID, and cosmetic products. Engineers will be on site to confidentially discuss your specific application requirements and help you develop a total solution.
Company will demonstrate its island placement technology for precise part placement, minimizing the waste of costly materials. The end product of the featured system will be a custom medical product in a cold seal package.
Based on flexible modular technology, Delta Mod-Tech solutions provide an innovative design foundation for cutting edge web converting, packaging, and finishing.
Empire Rollers & Coatings Offers New Coatings
Empire Rollers & Coatings, Fishers, NY, (Booth 122) will exhibit new coatings that will help with wear resistance, release, corrosion resistance, and heating and cooling applications. While Glassteel remains its flagship coating, the company has expanded its capabilities and now also applies ceramics, metals and alloys, carbides, and PTFE for use on many roll types including MDO, laminating, finishing, nip, conveying, and chemical bath.
Faustel Presents Expandable Modular Pilot Coater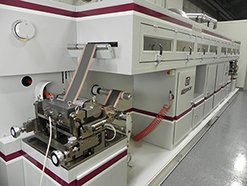 Faustel, Germantown, WI, (Booth 815) presents its LabMaster "plug and play" pilot coater. It arrives preassembled on an interchangeable modular frame so it can be configured for a variety of coating methods. Includes two unwinds, roll coater module, dryer, dry bond laminator with chill rolls, and rewind, all with integrated drives and controls. Coater functions as a narrow web production machine processing webs up to 300 mm wide, accommodating material rolls up to 300 mm OD, and running at speeds to 30 mpm. Base configuration includes a single-zone 3-meter dryer.
GL&V USA Shows New Automatic Slitter Positioning System
GL&V USA, Lenox, MA, (Booth 1237) will present its new Magtrim automatic slitter positioning system capable of a 5-second slitter set up with an accuracy of +/- 0.004 in. Slitter/rewinder automation and safety systems also will be featured. GL&V offers new and rebuilt equipment in addition to technical service and engineering support.
Harper To Show Anilox Rolls and Introduce Its HEX Division
Harper Corp. of America, Charlotte, NC, (Booth 1051) has launched its HEX division that encompasses plate sleeves and bridge sleeves. Both are in compliance with OEM specifications pertaining to secondary air supply and offer multiple notable features, including a patent-pending replacement notch system with several notch designs. Also showing its HIVE (high imaging volume engravings) series of anilox rolls, including LaserKote and XLT engravings.
HarperScientific, the pressroom supply division, will display the Phantom QD, a versatile flat bed ink proofing system that helps pressrooms streamline efficiency through repeatability.
H.B. Fuller Introduces New Family Laminating Adhesives
H.B. Fuller, St. Paul, MN, (Booth 350) will introduce a new family of laminating adhesives along with two new additions to its Flextra Fast line of laminating adhesives.
Himecs Inc. Offers Air Shafts and Chucks
Himecs Inc.,Tokyo, Japan, (Booth 349) will exhibit air shaft and chuck technologies offering high torque performance, precise rotation, and long life without breakdown. Excellent for clean room applications.
ITW Dynatec Will Present CrossCoat Technology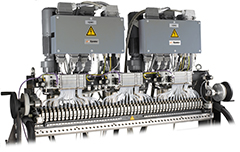 ITW Dynatec, Hendersonville, TN, (Booth 325) will share its proprietary CrossCoat Precision Metering technology during Mike Budai's keynote address on Tuesday, April 9. The non-contact, metered slot applicator produces a precise flow of adhesive for coating applications that require streak-free results, ideal for clear films and labels. Prevents heat-sensitive materials such as thin PP and PE film from contacting the die lip, eliminating damage to the film. Allows 100% coating coverage for irregular surfaces such as textured foils. Applies coat weights as low as 1 GSM, dependent on adhesive, and provides precise accuracy for a cross web distribution within 3%.
Label Vision Systems Shows 100% Print Quality Inspection System
Label Vision Systems, Peachtree City, GA, (Booth 931) will be introducing its integration partner Lederle and its rewind/inspection table with the LVS 7000 Print Quality Inspection System.
Mamata Bag Machines on Display
Mamata Enterprises Inc. (Booth 1001) will show upgrades to its wicketers and flat bed universal bag machines, such as the hot glue patch capability. Production speeds to 150 CPM. Pouch machines make 2-up stand-up pouches with zipper from single web unsupported films as well as laminates. Runs at 110 CPM. Wicketers with upgraded speeds of 300 and 400 CPM are available in 800 mm and 1000 mm widths with options of 16 in. and 24 in vacuum arm lengths.
Side seal machines offer upgraded speeds of 325 cycles/min and are available in widths of 600 mm (24 in.) and 750 mm (30 in.). A 410-mm (16-in.) wide pouch machine will do center fin/lap seal pouches, three-side seal, zipper, and stand-up pouches.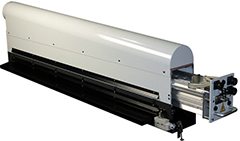 Miltec UV Offers Curing Systems for Wide Webs
Miltec UV, Stevensville, MD, (Booth 405) will exhibit UV curing systems designed for wide web printing and coating applications. It will show the HPI UV Curing System, an electrode (arc) system that combines highly focused elliptical reflector geometry and highly efficient reflector material, resulting in extremely high UV energy output and high peak irradiance.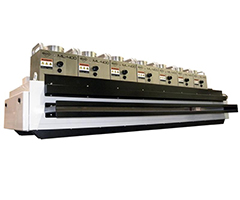 In addition, the MPI-400, a microwave-powered UV curing system will be on display. Reportedly using 25% less energy than the closest competing UV system, the MPI-400's fast cure speeds are possible given the system's ability to deliver the highest peak irradiance at the focal point available today.
The Montalvo Corp. To Offer Innovative Web Control Products
The Montalvo Corp., Gorham, ME, (Booth 511) will demonstrate its ES Dead Shaft-Idler Load cells, U series under pillow block load cells, U4 and S4 tension controllers, US4 ultrasonic sensor, and its exclusive range expander. Montalvo's VKL brake and safety chuck page, entire line up for brakes, and its dancer tension control system also will be on display. New products include the customizable NS series load cells, filament load cell, I4 tension indicator, and new torque brake.
Specialists at the show can provide assistance with system evaluation, installation, and setup of Montalvo web control equipment on customers' machines.
NDC To Show Advanced Measurement Systems
NDC, Irwindale, CA, (Booth 901) will show advanced online product measurement solutions for the coating, laminating, and converting industries for a range of applications from single coating station processes through complex multi-scanner tandem extrusion lamination lines with complex product structures.
Products include the IG710S backscatter sensor to produce high-resolution coat weight, laminate, and moisture measurement without the need for a base stock sensor. The SR710S infrared reflectance gauge directly measures thin, clear coatings on metallic foils or metallized paper and films.
For accurate, responsive coat weight measurement, Same Spot Measurement synchronizes the position of multi-scanner sensors so their measurements are taken from the same spot on the web. In order to provide an early indication of coat weight during start-up and product change, the Fast Start feature launches both scanners once the sheet is threaded without the same spot time lag, so operators can make important gross machine adjustments to achieve the desired specifications quickly.
NDC's True Net Coat solution eliminates the influence of the base sheet by combining the synchronized measurements from both sensors and using a total coating material response curve for accurate coat weight measurement. This results in one calibration group for each coating type, which greatly simplifies the calibration setup and ongoing maintenance.
Gap Exclusion software measures the coat weight of "patch coatings" while Pattern Recognition software measures the coat weight of "stripe" coatings, with each intelligently excluding the uncoated substrate from the reported coat weight data. The gaps between the coated patches or stripes are effectively bridged on the operator display to provide a continuous picture of the machine direction and cross direction coat weight application.
Nordson/EDI/XALOY Share Exhibit Space
Nordon Corp., Chippewa Falls, WI, (Booth 105) and its recently acquired Nordson EDI business will highlight the versatility of two slot coating systems. The exhibit also will feature another recent acquisition, Nordson XALOY.
Nordson EDI will present the Premier Dies Coating Station, a self-contained slot die system said to combine robust construction, versatility, and consistent accuracy. Custom-built to accommodate a wide range of die sizes, the coating station includes flexible- or fixed-lip coating head, die support, fluid delivery unit, and coating rolls. Precision engineering and heavy-duty stainless steel construction contribute to the high degree of accuracy and repeatability achieved by the coating station. As an example of the system's repeatability, Nordson EDI points out that the positioning of the die relative to the coating roll is held within a range of only 2.5 microns.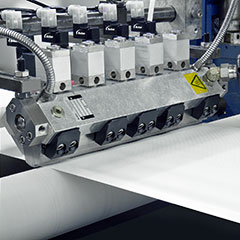 The TCHP TrueCoat slot applicator provides exceptional accuracy for stripe or full coating application in continuous web processes. Streak-free coverage and excellent edge control make the TCHP particularly beneficial for tape and label applications. The compact, configurable design is ideal for coating a wide variety of substrates including papers, foils, films, and nonwovens.
The TCHP TrueCoat applicator is simple to use. A V-shaped body design provides flexible setup of web routing and guidance. Fast pattern changes are achieved with quick-change, replaceable slot nozzles. The flexibility and functionality of the TCHP slot applicator is expanded with capability to quickly, easily change between traditional slot nozzle and rotating bar nozzle technologies.
PC Industries To Feature New Capabilities
PC Industries, Gurnee, IL, (Booth 831) will feature a variety of systems for converting, including higher resolution cameras for automated vision inspection and quality control systems. Line scan cameras have up to 16K resolution. SpectroEdge online spectrophotometer provides live reports of color reproduction data; the system has a fast sampling rate that performs smoothly at nearly any press speed.
Text Verification Tool is an automated proofreading tool designed to quickly and efficiently compare documents of any length. Since the application does not change the files, it became the No. 1 solution for all proofreading needs in regulated environments/pharmaceutical industries, the company reports.
Precision AirConvey Offers Affordable Trim Handling
Precision AirConvey Corp. (Booth 550) will show its TrimPAC EZ trim handling solution. The unit vacuums trim waste through an in-line material handling fan to an on-board cyclone and into a high-capacity collection bag. Particulates are separated from the airstream and sent through 1 micron filtration. Can handle paper, die-cuts, knock-outs, and continuous trim on its own, but an operational cutter enhancement allows it to cut and capture film and sheet, nonwovens, and pressure-sensitive adhesives.
Automatic trim waste collection increases line efficiency and reduces labor costs. Dual collection bags allow continuous operation. Unit is pre-engineered so it arrives ready to install and operate. It is mobile, on lockable swivel casters.
QuadTech To Highlight In-Line Inspection and Color Measurement Innovations
QuadTech, Sussex, WI, (Booth 842) will show automatic on-the-fly inspection and color measurement equipment for all packaging substrates under the theme of "the Power of Better: People + Technology = Solutions."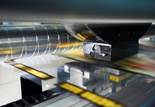 The Color Quality Solution ensures color quality and consistency from customer-defined prepress targets. It uses in-line spectral data from QuadTech's SpectralCam, ink formulation data from X-Rite, and ink dispensing data from market-leading suppliers.
Color Measurement System with SpectralCam HD enables continuous, in-line monitoring of all web-fed package materials and patent-pending web stabilizer technology, including transparent, translucent, and reflective film substrates.
The QuadTech Inspection System inspects the entire substrate 100% of the time and throughout the entire printing run. It is suitable for flexo, gravure, offset, and digital processes, regardless of web width. PDF verification software add-on compares approved artwork against an actual printed sample. The Web Viewing System provides direct, real-time digital viewing of the moving web to detect defects. Autotron 2600 Register Guidance System with ClearLogic achieves precision register regardless of ink, speed, or substrate and can be used on thin, unsupported substrates.
Radiant Energy Systems Exhibits Heating Solutions
Radiant Energy Systems, Hawthorne, NJ, (Booth 352) is a dedicated provider of intelligent heating solutions to the converting industries and will be exhibiting in the AIMCAL pavilion. The combination impingement, flotation, and infrared with air system (pictured) produces 42-in. wide filtration media for a variety of industries.
Attendees are invited to begin each day of ICE USA by attending the free Keynote Sessions and the Technology Showcase Theater. Free passes can be obtained from Radiant Energy Systems by calling 973-423-5220 X11.
Sensory Analytics Introduces Film & Coating Thickness Measurement Solutions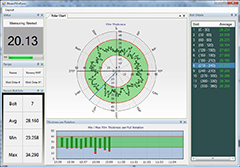 Sensory Analytics, Greenboro, NC, (Booth 139) will demonstrate its newest non-contact and non-radioactive alternatives for measuring mono-layer blown film thickness down to sub-micron levels in-process; non-radioactive alternatives for measuring applied silicone thickness during the coating process; and non-contact measurement systems to measure films, film layers, or applied coatings as thin as 200 nanometers.
In addition, Technical Director Vivek Komaragiri is the featured presenter for the "In-line Process Control of Silicone Coatings" session on Thursday, April 11, at 11 a.m.The session discussion will focus on accurate new means to measure the absolute thickness of applied silicone layers on films while in-process.
Simco-Ion Offers Next-Generation of Charging Technology

Simco-Ion, Hatfield, PA, (Booth 607) will introduce its innovative Pinner Easy integrated charging bar, which combines a static charging bar and charging generator in one. Unit's space-saving design is suitable for applications including in-mold labeling, catalog stacking, card insertion, roll-to-roll transfer, and bagmaking.
Using a low 24 volt input, the Pinner Easy eliminates the need for high voltage wiring, providing a simplified installation. To ensure longevity and continuous performance, the unit features long-life tungsten emitters that are current limited for increased safety. Fully serviceable and replaceable generator and bar assemblies allow for maximum productivity with minimized downtime for maintenance.
For installations where a PLC or machine control system is in place, the Pinner Easy offers a connection to fully integrate into the existing system.
Tapeswitch Corp. Launches Programmable Safety Controller
Tapeswitch Corp., London, ON, Canada, (Booth 1063) is releasing the NEW PCU programmable safety controller that further extends robust safety product system capabilities to include systems integration, programmable logic control functions, and managment software (included). The PCU offers a fully integrated safety system solution that unifies the management of all safety products, such as safety switch mats, edges, bumpers, switches, non-contact interlocks, laser scanners, light curtains, two-hand controls, photocells, emergency stops, hand grip switches, encoders, and proximities, etc., into one safety system solution at a CAT 4 safety level.
Tollcoating by Carestream Offers Contract Coating Services
Carestream Tollcoating, White City, OR, (Booth 242) provides contract coating services specializing in the application of aqueous and solvent coatings on flexible substrates for display, battery, electronic, inkjet, advanced packaging, and other tech markets. Offers problem-solving experience in precision coating applications, pilot coating, formulation preparation, and slitting/sheeting.
Unilux To Compare New LEDS to Xenon and Old LEDS
Unilux, Saddle Brook, NJ, (Booth 634) will have its new LED2000 Series LED strobes, original strobes, and traditional Xenon lights at its booth, set up for head-to-head comparisons. The exhibit is designed to give converters as comprehensive a look as possible at how the strobe lights perform in inspecting printing, slitting, and rewinding operations.