Published: August 28, 2003, By John Bankson, TLMI President
Back in 1994, a book was published that chronicled the growth of the pressure-sensitive label market. They Built an Industry cited page after page of contributions made by TLMI members and their companies in this comprehensive look at the history of our industry. And that's only appropriate, since each has played a significant role in the success of the other.
TLMI was established on June 15, 1933, with just 18 members — all tag manufacturers. In 1962 label converters joined our growing association, followed just four years later by the suppliers of the equipment, materials, and technologies that were changing our "cottage industry" into the global force that it remains today. When we celebrated our 50th anniversary 20 years ago, TLMI had just 130 member companies. Today, it represents more than 300 suppliers and converters alike.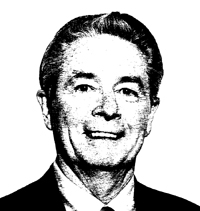 But we as an association and as an industry owe a great deal to the "pioneers" who fueled our growth and enhanced our ability to meet the needs of today's label user. The late 1950s and early 1960s, in particular, saw the rise of the entrepreneur — label converters who ran presses out of their garages and 100-square-foot "production facilities" that wouldn't even qualify as storage space for many of today's converters. Men like Stan Avery (Avery Dennison), Bob Klas (Tapemark), Bill Muir Sr. (Grand Rapids Label), Stan Fulwiler (Wisconsin Label), Don McDaniel (MPI Label Systems), John Beck (Artistic Packaging Inc., now API Graphics), John Nerad (Professional Tape Co., now TimeMed Labeling Systems), Jim English (Kalamazoo Label), and many others recognized the potential of this new technology and, well, they built an industry.
In recent years, we've seen the rise of Labelexpo USA and the impact TLMI has had on the growth of our industry's largest trade show. Our own TLMI Technical Conference has become an increasingly important forum to address "issues critical to the success" of our industry, as mandated by our mission statement. Our members themselves are frequent speakers at label meetings and conferences around the world.
The TLMI board of directors also has supported other programs, such as the TLMI Scholarship Fund and the Flexo in High School Program, that help guarantee our industry's future will be even brighter than its accomplished past. Our members have given generously of their own time and resources through efforts like the TLMI Frequent Flyer Program, which donated more than 1 million miles for use by children with life-threatening illnesses.
We as an association and as an industry have accomplished a great deal in the past 70 years, and there are, no doubt, many great things to come. We invite you to join us as we look forward to a future that should shine even brighter than our past.
Space certainly doesn't permit the recognition of all who have played even a major role in the evolution of pressure-sensitive as the premier labeling technology of today, but I'd like to cite just a few.
Back in 1845, the first pressure-sensitive adhesive was developed, without which our industry simply wouldn't exist. Nearly a century later, in years following World War II, Mark Andy founder Mark Andrews created the first narrow web presses for printing and die-cutting labels in-line. Both of these developments — along with now hundreds of others — continue to provide our industry with new products that improve quality and efficiency. And we are proud that TLMI members are the source of many innovations to this day.
---