Published: June 30, 2003, By David J. Bentley Jr., Contributing Editor
Industry experts report on the status of coextrusion processes and make a 'wish list' for the future.
Simplistically defined, coextrusion is the process of combining two or more molten polymers into a layered composite or depositing two or more molten polymers onto a substrate to make a lamination.
Coextrusion probably ranks very high as a noteworthy advance in the modern flexible packaging industry. With non-polluting adhesive systems and the use of high-energy-curing adhesive systems, coextrusion is a significant factor in the continuing success of advanced products in the converting and packaging industries.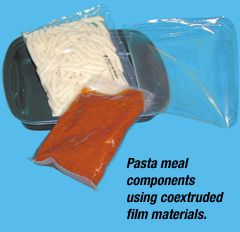 As John Perdikoulias, VP of Compuplast Intl., notes, coextrusion is a growing trend in packaging because of the economic and packaging optimization advantages it offers. "When considering a packaging film, you basically have two surfaces and a core. Each has different requirements. One surface may require heat sealing capability. The other surface may need low friction or better heat resistance for improved handling in the packaging machine. The core may need to provide strength and barrier properties. Since finding one resin to fulfill all these requirements is essentially impossible, coextrusion is the best solution."
Advantages
"Coextrusion is another tool in the well-outfitted converter's tool chest," according to Bruce Foster, technical sales manager of Mica Corp. "It provides better quality monolayer extrusion coatings over a wider variety of widths and line speeds; the potential to save on the amount of premium resins by filling with lower cost materials; and the possibility to make multi-layer, multi-functional structures in a single pass."
A group at Battenfeld Gloucester Engineering Co. feel that coextrusion offers targeted performance using specific polymers in specific layers, a reduction in the number of process steps, and lower cost, says spokesperson Bill Hellmuth, senior product manager — blown film systems.
Hellmuth states lower cost is possible because of the reduced amount of expensive polymer for equal performance, the use of inexpensive polymers without sacrificing performance, a reduction in setup and trim scrap, and the potential for use of a recycle layer.
Scott B. Marks, senior technical specialist at E.I. duPont de Nemours & Co., Packaging & Industrial Polymers, divides the coextrusion process into two main uses — non-barrier and barrier applications. "In the non-barrier applications, coextrusion allows a converter to maximize the properties he needs in a given structure such as sealing characteristics, coloration, opacity, and physical properties. For barrier application, coextrusion allows incorporation of a barrier layer to control transmission of oxygen, carbon dioxide, water vapor, etc."
"Handling resins that could not run on their own" is a characteristic of coextrusion that David Timm, VP of Charter Films, considers an advantage.
Disadvantages
"The disadvantage of coextrusion is that some differences in physical properties that make a combination desirable also make the combination incompatible," says Gary D. Oliver, senior corporate scientist at Cloeren Inc. "Polymers for coextrusion should have similar melt viscosities to maintain laminar flow. Viscosity differences can be more or less tolerable depending on the location of the material in the composite structure and the thinness of the layer."
Andy Christie, principal consultant of Optex Process Solutions, notes coextrusion has three disadvantages: It requires a more sophisticated extruder operator; it necessitates significant planning and forethought in system design; and it provides the potential to create expensive scrap quickly.
Richard W. Halle, senior staff engineer at ExxonMobil Chemical Co., observes the biggest disadvantage of coextrusion is "probably that the added complexity of the equipment means added maintenance cost."
In an interesting comment regarding cost, Timm says, "Many people might consider the first disadvantage of coextrusion to be cost. I do not. Depending on the intricacies of die design, coextrusion dies can be difficult to purge and can be prone to buildup especially with barrier materials. Improvements in materials and die design can minimize such degradation problems."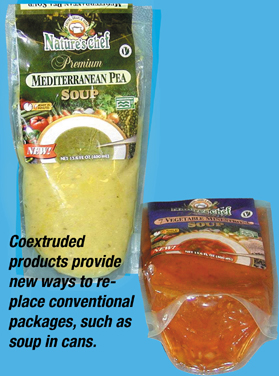 Technical Advances
The future of coextrusion will focus on capitalizing on its many advantages, while minimizing or eliminating the sometimes frustrating problems caused by its disadvantages. Raw materials and processing are areas of potential improvement.
Addressing the aspect of raw materials, the team at Equistar Chemicals reports that industry can expect to see more differentiation in single-site catalyzed polyolefins. Spokesperson Kelly Williams, market development manager — flexible packaging, says, "The probability exists that single-site resins will mimic the processing and molecular entanglement morphologies of highly branched low density polyethylenes. The future will show a cascade of polypropylene-based resin technologies aimed at cost-effective replacements for engineering polymers.
"New ways to make polar functional polymers will provide new tools for converters. Price compression in second generation polyolefins will occur with the continued encroachment and erosion of low density polyethylene supply and margins," Williams reports.
Christie sees focus on scrap reduction as an important development of the future. This will involve edge control from dies, splicing efficiency and accuracy, elimination of tail waste, feed blocks with controls for inter-layer uniformity, and predictive control systems.
Timm feels film orientation is coming. "Although simple in concept, making machine direction or cross-machine direction stretching viable requires considerable technological fine-tuning. I think future machines may be able to do complex in-line slitting, thereby reducing another step to the process."
Oliver thinks dies will have more layers and machinery will provide better mixing.
Hellmuth's group foresees blown film dies with wider processing range and faster, simpler resin changes, blown film dies with cooling systems that match cast film rates, flatter films produced by the blown film process to match cast film capability, increased automation and simplification at the operator level, a truly universal feed screw, and higher speed web handling systems that are more stable.
Halle predicts most blown film lines will be coextrusion in the next decade. "I think even now the majority of new lines are coextrusion even when they are for simple structures. You can make a monolayer film on a coextrusion line but not vice versa."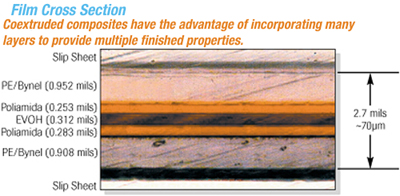 Application Advances
Expanded markets and uses are other focal points for capitalizing on the advantages of coextrusion and trying to reduce the influence of its disadvantages. Foster's thinking in this area is simple: "Anywhere you see a rigid package today, you may see a flexible package next year."
Perdikoulis offers a very futuristic remark: "Advanced control systems ultimately will have some simulation capability or 'intelligence' that will allow users to select the properties they want in a product, and the control system will specify the structure. Imagine selecting the shelf life requirements, strength, and heat seal characteristics and having the control system select the materials and adjust the layer ratios accordingly."
"Applications and markets will continue to diversify into what we now call the 'industrial segments,'" according to Marks. "The need for property enhancement and economics drove coextrusion into the packaging film industry. In the market for 'industrial films and laminations,' this need for coextrusion is now accelerating. Functionality needs vs. direct economic needs of an extrusion drive this today. Economic needs relate more to altering the assembly process, simplifying the assembly process, or both. Combining the technical advantages with product assembly changes may reduce total costs. In cases where it does not, the technical advantages are sufficient to propel coextrusion growth."
Oliver notes the recent appearance of a hybrid container that is a multilayer coated paperboard. "We are seeing this round container show up more frequently in the United States and in more large-size liquid container boxes that have been prevalent in Europe for some time. I think another application that will continue to grow is the stand-up pouch."
Looking at coextrusion growth globally, Christie notes, "Second and Third World markets will bypass many recent technologies and jump to leading-edge technology as they invest in new equipment and develop products for internal consumption and export."
Hellmuth's group reports "food and water packaging will top the list of products as the world strives to feed itself. Housing market pressure will push plastics to the forefront in an effort to conserve natural resources and provide an outlet for plastic package recycling. The group at Equistar Chemical thinks converters will find creative ways to use coextrusion to replace many laminated structures because of cost pressures and intensified competition: "This will involve a combination of resin engineering, equipment engineering, and innovation. The market also will see a significant jump in down gauging for certain applications that already seem over-engineered in total gauge. The 'supply chain' will drive creativity by accessing vantage points and knowledge bases that were previously not on the table for discussion. This will lead to new models for doing business and developing new products."
Magic Wand
All our experts, imagining they have a magic wand to make one significant change in coextrusion, want to see the following:
Christie: Adopt a uniform measure for claims from equipment suppliers, resin suppliers, and converters.

Foster: Erase all sources of layer distribution nonuniformity.

Halle: Tap the "simple" uses for coextrusion such as putting additives in specific layers where they can provide the maximum benefit with the minimum degradation of film properties.

Hellmuth: Ensure compatability of all materials with an additive to make their relative viscosities match for simplified processing.

Marks: Create coextrusion systems with extremely fast and efficient abilities to change from one resin to the next in all layers.

Oliver: Deliver perfect polymers to coextrusion equipment.

Perdikoulias: Use control systems to ensure precise structure composition for quality reasons and cost control.

Timm: Facilitate the easy combination of any mix of resins.

Williams: Offer faster transition times between polymer families to eliminate the fact that changeovers often kill ideation, creativity, and innovation.
Converters can hope our experts' wishes all come true.
---
David J. Bentley Jr. is a recognized industry expert in polymers, laminations, and coatings with more than 30 years of experience in R&D and technical service. He writes PFFC's monthly "PLC Probe" column. Contact him at This email address is being protected from spambots. You need JavaScript enabled to view it..
---
SUPPLIER INFO
Compuplast Intl., Mississauga, ON, Canada; 905/814-8923; compuplast.com
Mica Corp., Shelton, CT; 203/922-8888; mica-corp.com
Battenfeld Gloucester Engineering Co., Gloucester, MA; 978/281-1800; bge.battenfeld.com
DuPont Co., Wilmington, DE; 302/999-4350; dupont.com
Charter Films, Superior, WI; 715/395-8258; charterfilms.com
Cloeren Inc., Orange, TX; 409/886-5820; cloeren.com
Optex Process Solutions, Fulton, NY; 315/598-7955; This email address is being protected from spambots. You need JavaScript enabled to view it.
ExxonMobil Chemical Co. Films Business, Macedon, NY; 800/334-7987
Equistar Chemicals, Houston, TX; 713/652-7300; equistarchem.com
---