Published: November 01, 2007, By By Ann Hirst-Smith
---
Part 1
| Part 2 |
Part 3
---
Confident Coaters
Situated in Andoain in the "paper valley" of Spain's Basque country, Itasa is an independent specialist producer of release-coated papers and Spain's main commercial converting siliconizer. The company's premium release liner bases have a reputation for high performance, particularly in the self-adhesive label and specialty tape industries as well as in medical disposables.
The demand created by that reputation for quality has led Itasa to invest €16 million in new equipment, particularly a new coater from Bachofen + Meier (BMB), now in its startup phase, that will nearly double the company's current capacity when it is fully onstream.
Family-Owned Company
Itasa—Industrias de Transformaci&243:n de Andoain—is privately owned, established by two local families in 1974. Its original vision was to meet the demands for siliconized paper in two specialized end-use segments: the personal hygiene business and as a backing for Formica-brand surfacing products.
Itasa's target market was simply its home region, then poorly supported in this field, and the company commenced production with a homemade coating machine. However, when Spain joined the European Union in the late 1980s, Itasa's management team saw major development opportunities in the "common market" and decided to invest in meeting these opportunities in terms of plant, technology know-how, and personnel.
Today, 80% of Itasa's production is exported—50% within Europe and the balance in the US, Latin America, Mexico, Asia, and Oceania. In an age of globalization, however, Itasa chooses to pursue a business strategy that enables it to maintain its ISO 9001-accredited production at the one site, while developing sales in selected key markets across the globe.
Ideally Situated
Says Itasa's managing director, Francisco Pagola, "Our location in northwest Spain is logistically ideal. We are close to the ports of northern Spain and southern France as well as to transcontinental air connections."
With demand growing, Itasa installed its first roll-to-roll coater in 1989. It was a 1.65-m, 300-mpm, five-roll solvent-free or solvent- gravure Pagendarm machine with a roll-curing tunnel, auto-splicing, and other convenient features.
Says quality manager Eduardo Arocena, "This very compact and flexible machine, which is still in continuous use for short and trial runs, new product development, and pilot coating, allows us to make a variety of 'specials' at a very high level of quality. As the business developed, however, we needed higher productivity and the ability to be even more flexible in terms of web width, so it was time to look for a second coater, a big BMB, which was installed in 1997."
This 1.65-m-wide machine offers 500-mpm production via a five-roll coating head and air flotation drying. It features a web-cleaning facility, an electrostatic discharge facility, and in-line trimming.
The coater runs papers, films, and thermal-sensitive webs and optionally can offer ultraviolet curing and corona treatment, as well as the ability to make imprints in-line. The machine was rebuilt in 2000 to optimize its capacity.
Major Investment Decision
Even with this workhorse at the center of its production, Itasa's capacity has been at a saturation point in the last two years. CFO Emilio Arocena observes, "If we wanted to stay competitive and profitable, we had to invest to gain the cost-saving and productivity benefits of wider web coating, without compromising our high quality standards. That's why we ordered a new custom-built, 2-m-wide BMB coater.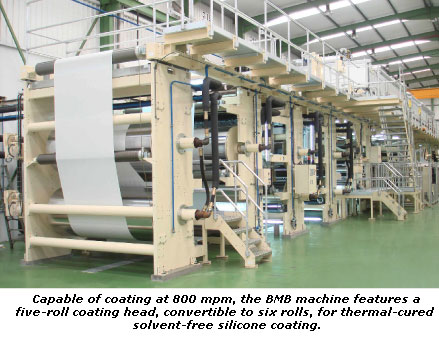 "Thanks to that investment, we are well positioned to meet our goal, and we have a big additional advantage in that the new machine also gives us the flexibility to meet our customers' increasingly demanding service requirements."
State-of-the-Art Coater
The new, tailor-made BMB automatic roll-fed coater is 2.3 m wide and already capable of coating at 800 mpm. It has many advanced features, including a Pesmel automatic roll feed that can handle 5-ton rolls; a cleaning system for the paper web; active and passive static discharge; anti-misting; and in-line trimming and roll slitting.
Its core capability is a five-roll coating head, convertible to six rolls, for thermal-cured solvent-free silicone coating. It has a 28-m, seven-section drying tunnel operating on an air flotation system, two remoisturizing steam boxes (with a regulated steam profile), and a battery of chilling rolls. The coater also has the flexibility to coat at different widths from 1.1 m and up and is supported by an advanced automatic silicone mixing plant.
High-speed coating of all types of paper release base is possible from 30 gm2 to 200 gm2 (krafts, polyethylene coated, clay coated, coated one side, and C2S), with equal or differential release characteristics for a variety of tape, label stock, industrial, and composite applications, as well as envelopes and self-adhesive graphic arts.
Finishing & Warehousing
With a January 2008 delivery date, a new in-line slitter will support the new coater, and additional finishing equipment for the older main coater is on order.
Installing a new wide-width coater had major space implications for Itasa. The new machine occupies much of what was previously raw materials warehouse space.
To compensate, the company currently is leasing an outside warehouse and is negotiating to obtain an additional 5,000 sq m of land around the present plant to build a new warehouse. The jumbo 5-ton master rolls for the coater require forklift handling, so the company is evaluating the possibility of a fully automated warehousing system for this proposed facility.
Implications for the Future
Export sales manager José María Pagola summarizes the benefits of this major investment: "The new coater gives us a real competitive edge through speed and productivity improvements. With the additional finishing and warehousing already in the pipeline, we are positioned strongly, as independents, to take new business in the face of the current industry consolidation, which leaves buyers in need of alternative choices in suppliers.
"We see a continuing, healthy growth in the medium term in the core markets we serve, particularly in labels. In the long term, there undoubtedly will be new end-use markets coming on-stream, through innovation in laminates and liner technology. There is still plenty to say in favor of siliconized papers!
"But having the capacity is not enough. We need to get out there and sell our products. We don't want to expand any further geographically; we still have more than enough room for growth in the territories where we are established, and our strategic focus remains Western Europe (particularly Germany, the driving engine of the European economy) and the USA.
"We are actively strengthening our sales team with knowledgeable people on the ground who can promote not only the technicalities but also develop new business with end-users. In terms of market segments, we are particularly keen to develop sales in specialty tapes and other emerging industrial applications."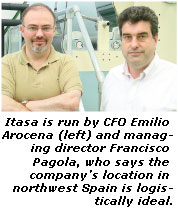 Formula for Success
Itasa's management team is enthusiastic about the future possibilities inherent in its broad selection of coating and finishing equipment, effectively run by paper-industry-trained machine minders. The production facility, as befits a producer of specialty release liners for demanding applications, is extremely clean and neat, and production continues 24/6 with four shifts/day. The laboratory staff works the same hours to conduct essential quality analyses and give feedback to the production team.
With an overall workforce of 70, Itasa is well positioned to develop its potential in its chosen markets for the foreseeable future.
---
Ann Hirst-Smith is an associate of AWA Alexander Watson Assoc., Amsterdam, Netherlands, and an independent journalist specializing in the fields of packaging and labels, self-adhesive materials, and large-format graphics.
---
CONVERTER INFO:
Industrias de Transformación de Andoain, S.A. (Itasa) | B° Sorabilla, s/n Apdo. 67 | 20140 Andoain | Spain | +34 943 30 42 00 | itasa.es.
SUPPLIER INFO:

Bachofen + Meier | bmbag.ch | PFFC-ASAP 301
Pagendarm | pagendarm.com | PFFC-ASAP 302
Pesmel | pesmel.com | PFFC-ASAP 303
---
---
Part 1
| Part 2 |
Part 3
---