Published: November 01, 2007
Covering the Full Spectrum of Industry News, Events & Activities
NEWS CLIPS
Techkon GmbH reports the establishment of Techkon USA in Reading, MA. Techkon supplies color measurement tools including SpectroPlate, SpectroDens, and scanning spectro-densitometer products.

Constantia Packaging, Vienna, Austria, retains Blaige & Company to divest its North American sub., Constantia Multifilm Packaging Corp., a fully integrated manufacturer of specialty flexible packaging.

The three principal shareholders of Artwork Systems recently reached an agreement to sell their shares to Esko NV, Gent, Belgium. Carsten Knudsen becomes CEO of the combined group. Guideo Van der Schueren becomes chief commercial officer leading marketing and sales operations.

Grafix GmbH, Stuttgart, Germany, acquires ConTemp GmbH, Meldorf, Germany, a manufacturer of chilling and fountain solution systems.

Mesirow Financial acts as exclusive financial advisor to S. Walter Packaging Corp. in its recent sale to Brynwood Partners.

Plymouth Printing, Cranford, NJ, is celebrating its 50th year in Cranford, opposite the Garden State Pkwy. From its original 10,000 sq ft in the same location, the company has grown to almost 50,000 sq ft. The 80-year-old company manufactures printed packaging components for the pharmaceutical and related healthcare markets.

ADM Tronics, Northvale, NJ, forms Aqua Based Technologies, a new division featuring products that are environmentally safe and include biodegradable qualities.

Saueressig GmbH & Co. KG and Pamarco Global Graphics enter an agreement to offer new design and engraving services to the North American laminates and vinyl floor coverings industries. Saueressig will provide artwork and origination in Vreden and Monchengladbach, Germany, and Pamarco will engrave gravure printing cylinders at its facility in Palmyra, NJ.
---
---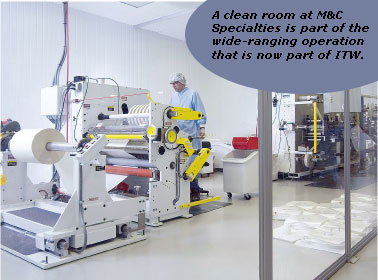 M&C Joins ITW Family
DANVERS, MA | ITW Performance Polymers, an Illinois Tool Works Co., has acquired M&C Specialties Co., Southampton, PA. M&C is a contract manufacturer of custom-fabricated die-cut adhesive components, tapes, and labels as well as adhesive subassemblies, foils, and double- and single-coated foams. M&C will continue to operate from its plants as a stand-alone unit, and all employees will remain with the business.
---
Sealed Air Acquires Ethafoam From Dow
MIDLAND, MI | The Dow Chemical Co. has signed an agreement for Sealed Air Corp., Elmwood Pk., NJ, to purchase certain assets of Dow's Ethafoam performance foam business. Financial terms were not disclosed. Sealed Air will acquire global rights to certain assets relating to the Ethafoam PE foam product lines, including a license to process technology, customer contracts, trademarks, and certain production and process equipment. Sealed Air also acquires the rights to the Lamdex trademark.
---
Foodservice Packaging Subject of Study
FALLS CHURCH, VA | The Foodservice Packaging Inst. (FPI) announces the publication of "Market Research Study on Foodservice Packaging Products."

More than 75% of the 1,400 quick-service restaurant (QSR) operators surveyed expect their foodservice packaging purchases to remain the same or increase in the next year. Only 2.4% said they expect their purchases to decrease. When asked by what percent they expect an increase or decrease, the result is a net increase of 2.1%.

The information collected for the survey included Incidence of Use; Product Volume; and Past and Next Year Purchases by QSR segment and by US region.

According to the study, the full-line distributor is the dominant source for foodservice packaging purchases, and QSRs reported purchasing foodservice packaging products from an average of 1.15 distributors.

For more information visit fpi.org.
---
Coex Line Adds Quality, Capacity
DALTON, GA | Windmoeller & Hoelscher Corp. reports the installation of a three-layer Varex coextrusion line at P&O Packaging, a manufacturer of custom monolayer and coextruded PE films used in laminating, converting, and other specialty packaging applications. The dual-purpose line can produce more than 1,000 lbs/hr of film in widths to 110 in.

P&O president Ben Brashears says, "The new W&H coex line is producing high quality in a perfectly flat film with gauge tolerances way above industry standards. … It gives us the increased capacity we needed, the technology to enter new markets, and the quality we are proud to offer customers."

Windmoeller & Hoelscher | whcorp.com | PFFC-ASAP 320

---

Donation Aids UML Lab
PAWCATUCK, CT | Davis-Standard has donated two extruders to the Univ. of Massachusetts Lowell (UML) to support educational and R&D lab operations. The donation was made by a leader in the medical device industry on completion of an R&D project. While the extruders were in good condition, they needed to be upgraded to meet UML's requirements. Davis-Standard rebuilt the machines and installed new discrete electronic controls and drives. The UML lab also features a Davis-Standard Killion lab line.

---

D&K Expands
JANESVILLE, WI | D&K Coating Technologies reports an expansion of production capabilities. The company has added 20,000 sq ft to accommodate a new coating machine and will be adding topcoating, micro gravure, gravure, and more. D&K says the expansion will allow it to improve toll and custom coating capabilities and services.

---

NPE 2009 To Use New Hall
WASHINGTON, DC | The next NPE, the international plastics show, will add the brand new McCormick Place West, Chicago, to its floor plan, replacing the older east building. The show, which will be held in the south and north buildings as well, is sponsored by the Society of the Plastics Industry (SPI) and takes place June 22–26, 2009.

"McCormick West is full of amenities and conveniences that will enhance NPE 2009 participation by both exhibitors and visitors," says William Carteaux, president and CEO of SPI.

The new five-level hall has 470,000 sq ft of gross exhibition space, a central concourse on each level, and 250,000 sq ft of meeting space divided among 61 rooms.

For more information ?on NPE 2009, visit plasticsindustry.org.

---

Stanford Becomes Part of Barry-Wehmiller
ST. LOUIS, MO | Barry-Wehmiller Companies reports the completion of its fifth acquisition this year with the addition of the business and assets of Stanford Products, Salem, IL. The business will be integrated with Accraply, a Barry-Wehmiller division headquartered in Minneapolis, MN.

Stanford has been a manufacturer of slitting, rewinding, and inspection equipment for the packaging and converting industries for more than 60 years. Standard also manufactures shrink sleeve labels, which complements Accraply's presence in this market.

Barry-Wehmiller chairman and CEO Robert H. Chapman says, "With more than six decades of leadership in the label and converting industries, Stanford adds an important market segment to the wide range of technologies and markets served by ?Barry-Wehmiller."

Says Seamus Lafferty, president of Stanford, "We are very excited about joining forces with Barry-Wehmiller and Accraply for the continued success of our combined businesses. The similarities in our approach to taking care of customers and our respective desires to be market leaders is certain to create synergies and push us to higher levels ?of achievement."

---

Winning Technology Foils Counterfeiters
ROCHESTER, NY | A new anti-counterfeiting solution from Kodak is the winner of the InterTech Technology Award from the PIA/GATF. The Traceless system is a forensically invisible authentication technology that deploys a combination of proprietary markers and handheld readers that allows customers to easily validate the authenticity of an item in the field or in distribution channels. The system's marker materials can be mixed with inks, toners, varnishes, and other items for analog and Kodak digital printing applications, as well as paper pulp, plastics, powders, pigments, liquids, and textiles. Reportedly, the markers have no effect on the characteristics of the end product or packaging.

---

Bobst Acquires F&K
BIELEFELD, GERMANY | The Grautoff family—the majority shareholder of Fisher & Krecke GmbH & Co. KG—has signed an agreement concerning the sale of its shares to Bobst Group S.A. in Lausanne, Switzerland. Dietrich Bernhard Grautoff, majority shareholder and chairman of the advisory board of F&K, says, "My family sells…very reluctantly. …we feel confident that a strategic connection with Bobst Group is the best solution to protect the future of the company." He adds that future product development, securing of buying markets, enlarged worldwide distribution, and necessary funding most likely will be assured. Production will remain in Bielefeld. Dietrich Bernhard Grautoff will be connected with the company as a member of the advisory board in the future. F&K managers Dr. George Grautoff and Andreas Kückelmann will remain on the management board.

---

Ampac Adds Floeter
CINCINNATI, OH | Ampac Packaging LLC has acquired privately held Floeter Flexible Packaging Group, Eberdingen, Germany, for an undisclosed amount. Floeter, founded in 1985, specializes in stand-up pouch converting. The acquisition includes two manufacturing locations in Germany (Eberdingen and Leipzig), one in New Delhi, India, and one in Chicago, IL. Floeter and its employees will become part of the Ampac Flexibles division of Ampac Holdings LLC. Marc Rapp, CEO of Floeter, will continue as an Ampac shareholder and president of Ampac's global pouching division. Floeter will continue as a standalone company reporting to George Thomas, VP and general manager of Ampac Flexibles.

---

---

PEOPLE
The board of directors at Walle Corp., Harahan, LA, elects Sean Keeney CEO. He succeeds Cecil Keeney, retiring after more than 25 years of service.

Dan Maurer joins Heidelberg USA, Kennesaw, GA, as director, product management postpress.

Iain Black is now part of the customer service team at Comexi North America, West Springfield, MA.

Jeff Waldvogel joins Mohawk Fine Papers, Cohoes, NY, as regional sales manager, Midwest.

At Toray Plastics (America), North Kingston, RI, Christopher Voght becomes national sales manager; Michael Brandmeier is appointed VP and general manager of the Torayfan Div.; Scott Van Winter becomes director and general manager of the Lumirror Div.; Jeffrey Lippy is now general manager of the PEF Div.; and Christopher Roy is named director of sales and marketing for the Torayfan Div.

The Montalvo Corp., Gorham, ME, names Sergio Sinesi and his company Maier Italia sales representative in Italy. JSC Complect Technika is named sales representative in Russia for Montalvo. Torben Lerris is named managing director at Danarota Technic?A/S, Bjert, Denmark, the European subsidiary of Montalvo.

Allied Pressroom Products, Hollywood, FL, hires two for the sales force: Frank Zimmerman for Illinois and Wisconsin and Scott Lemmers to support Indiana, Michigan, and Ohio.

Michelman, Cincinnati, OH, hires Marco Juarez as territory manager, Mexico, for the paper coatings business unit, and Chris Coyne becomes business manager, Paper and Flexible Packaging, in Europe.

Enercon Industries Corp., Menomonee Falls, WI, names two regional sales managers: Ryan Schuelke will cover California, Washington, and Oregon; Larry Sterna adds Quebec, Canada, to his New England territory.

Steven D. Smith is named VP, operations, at Filmquest Group, Bolingbrook, IL.

Exopack Holding Corp., Spartanburg, SC, promotes Paul Kearns to VP of corporate strategy development.

At Sonoco, Hartsville, SC, Rob C. Tiede is named division VP and general manager of the Flexible Packaging div. Brad D. Ross becomes division VP and general manager of the Packaging Services segment; Charles W. Coker becomes staff VP of customer and business development, replacing Eddie L. Smith, who is now VP—Industrial Products and Paper/Europe; Alan Hutchins is appointed division VP, global operations—consumer packaging.

Martin Automatic, Rockford, IL, names Gabrielle Dankwerth contract administrator to serve as a communication link with European customers. She is based in Bretzfeld, Germany. Rockford-based Kerry Beard will provide internal support for the European sales team.

Kiran M. Gandhi moves into the newly created position of senior VP operations for Jessup Mfg. Co., McHenry, IL.

Ciba Specialty Chemicals Corp., Leeds, UK, announces Mark Geeves as head of Ciba Color Services in the Americas and VP—Americas at MetalFX, a Ciba Color Services sub.

Chris Ball fills the newly created position of mechanical product manager at Lenze-AC Tech, Uxbridge, MA.

International Paper, Memphis, TN, elects Timothy S. Nicholls senior VP and chief financial officer.

Matt Lopes joins the Flexible Materials Business Area of Bobst Group North America, Charlotte, NC, in the newly created role of national sales manager.

---