Published: November 01, 2007
Narrow Web Converting Industry News, Events & Activities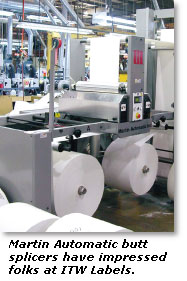 Butt Splicers Quick To Show Their Worth
ST. CHARLES, IL | ITW Labels recently installed its third Martin Automatic MBS butt splicer in less than 10 mos, and a fourth was expected by presstime.
Kevin Gold is general manager of the multi-plant company, a converter of custom and blank labels. He says, "We already had several turret rewinders, so we knew the advantages of automatic roll changing at the end of the press. And we selected a matrix removal system to eliminate press stoppages at the matrix windup. The butt splicer was the remaining piece to give us a completely nonstop printing and die-cutting process."
The first two MBS butt splicers, designed to run supported p-s stock, were installed on narrow web presses. Gold says the company saw double-digit improvement in throughput after running with the splicers for two months. The third splicer was installed on a die-cutting press, and the fourth will go on another flexo line.
Gold expects to install butt splicers on the rest of his presses later this year.
The Martin system includes an inertia compensated festoon, a patented splice unit to make non-overlapping butt splices, and two cantilevered unwind positions with Martin's lift-and-load roll loading system. All controls are mounted within the equipment, allowing automatic unwinding, splicing, and tension control.

Martin Automatic | martinautomatic.com | PFFC-ASAP 310

---

Little Things Mean a Lot
DEER PARK, NY | Overnight Labels, specializing in a variety of packaging options including labels, shrink sleeves, neck bands, and flexible packaging, knows it can be the "little" things that add up to environmental progress. That's why the company now gets its toner cartridges from Cartridge World (a member of the EPA Waste Wise program). Cartridge World gives its customers the opportunity to refill existing cartridges rather than contribute to unnecessary waste.

According to Overnight Labels, it takes almost a gallon of oil to make a new laser cartridge. More than 350 million of them are discarded each year.

Todd Dirolf of Overnight Labels says, "After winning the [FTA] award for Environmental Excellence—Process Improvement, we saw that little changes really do add up and we started to look for other ways to improve our waste output. Not only has [Cartridge World] helped us eliminate waste, but they're saving us a bit of money in the process."


Cartridge World | cartridgeworldusa.com | PFFC-ASAP 311

---

Eagle Adds Shrink Sleeve Labels
WEST CHICAGO, IL | Eagle Flexible Packaging reports the addition of shrink sleeve labels to its flexible film packaging capabilities. Thomas Tyndall, VP/general manager, says, "The anticipated growth of shrink sleeve labels is expected to reach 12%-14% through 2007, with continued growth projected for 2008 and beyond. We've added shrink sleeve labels to our…capabilities to help customers try new graphic concepts and shapes, and to bring products to market faster."

Editor's note | We chatted with Thomas Tyndall for October's "Experience Speaks" column. Read this interview at Getting Personal with Thomas Tyndall.

---

Merger Aids RFID Solutions
FRANKLIN, TN | Resource LabelGroup has merged with Mid-South Graphics, Nashville, TN. Both companies will be located in Franklin.

The merger expands the offerings of Resource LabelGroup into the technology-driven RFID sector, says CEO Allen Barnes. "Packaging buyers and consumer packaged goods companies are exploring technology at such a fast pace, and they're looking to their label suppliers to expand their service offerings beyond printed pressure-sensitive prime labels. It's imperative that label converters grow and change in order to become effective solutions providers.…"

---