Published: September 13, 2007, By Narrow web new products from: Martin Automatic, Mark Andy, Austik Div. of Sunbelt Sales and Marketing Assoc., Sato America, and Winkler +Dünnebier.
Narrow Web Machinery, Accessories, Services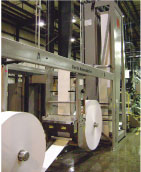 Butt Splicer for Envelope Lines
The MBE automatic butt splicer for the envelope market makes non-overlapping splices. Features company's patented built-in roll handling system to lift rolls to 1,600 lbs from the aisle, without the need for auxiliary roll loading equipment. Splice positioning system enables unit to make transfers so splices are positioned accurately for downstream processing or in relation to a cutter.

Martin Automatic | 815-654-4800 | martinautomatic.com | PFFC-ASAP 316

---

Press has Integrated Concept
The XP5000 press with servo drive technology provides precise preregister and reregister as well as control of every tooling unit, including the die station. Features an integrated concept for intuitive job setup and operation, and design gives full access to the entire operating system from any of press's control panels. Troubleshooting can be carried out on- or off-line.


Mark Andy | 800-700-mark | ?markandy.com | PFFC-ASAP 319

---

Print, Convert Labels Faster
The Mini-6 Model DM-680, with cutting action and label size of previous model (6 x 6 in.), offers improved features including speed, safety, and simplicity. Reregisters, laminates, die-cuts, and converts preprinted labels into finished rolls. Said to solve the problem of putting lamination on variable-information printed labels.


Austik Div., Sunbelt Sales and Marketing Assoc. | 860-413-9940 | diamond-10.com | PFFC-ASAP 317

---

Printer is RFID-Ready
The GL4e Series RFID-ready printer is field-upgradable and provides extensive support to encoding Class 1 Gen 2 tags. With near-field antenna technology, printer can encode precisely to the position on the label that guarantees optimum read performance and allows users to print bar code labels economically, company says. Also can meet UHF frequency standards worldwide for global implementation.


Sato America | 704-644-1650 | satoamerica.com | PFFC-ASAP 318

---

Make More, Better Envelopes
The 102RE envelope manufacturing machine offers a 20% increase in output and improved changeover times over its predecessor. Handling of preprinted paper rolls is said to be simplified and product quality improved. Products include medium and small envelopes; straight seal flap and mailing wallets; inner and outer side flaps; standard windows and multiple windows; and seal flaps with remoistenable gumming, self-seal, or p-s gumming ?(cold glue/hot melt).


Winkler+Dünnebier | +49 (0) 26 31/2 11 12 | w-d.de | PFFC-ASAP 320

---