Published: August 01, 2007, By Edited by Claudia Hine, Managing Editor
Digital Printing
Minnesota-based Modernistic now can provide the true crisp imagery that comes with printing four-color process and white. Previously, when a client's design called for white print, they had to be satisfied with the simple absence of color, reversing type or graphics out of the background to provide contrast on a white substrate.
This proved to be time-consuming and costly, requiring more colored ink for background, longer drying and curing times, and unsightly white edges on cut substrates. But with a Durst flatbed UV inkjet digital printer, clients are said to get four-color quality along with the money-saving bonus of printing white ink onto colored or clear substrates.
Printing with opacity and sharpness, the white ink option reportedly affords customers a wider range of dark or clear substrate choices, opening up a world of possibilities for point-of-purchase display and packaging design.
But that's not the only bonus realized with the digital printer. Print production is faster and more economical, says Modernistic's CEO, Jim Schulte. The Durst digital printer produces up to 1,500 sq ft/hr, significantly reducing run times. In most cases, Modernistic achieves further reductions in production time and expense by eliminating the need for topcoating and lamination, thus decreasing the cost of ink and media.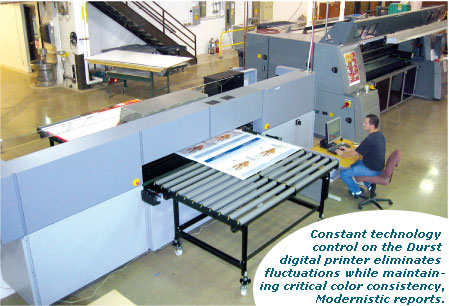 Says Schulte, "It produces a superior, quality product. The added bonus is that it offers convenience, speed, and cost savings, too. For example, clients will sometimes request additional runs on big jobs. Rather than going through the time-consuming, costly set-up process of rerunning on our screen printing press, we can run their job on the Durst. Not only do they save time and money, but they benefit from quick access to limited runs or even trial or seasonal runs."
A Broad Spectrum
Versatility for large-format graphics is crucial to Modernistic's customers as well. "Digital printing capability coupled with flexibility in size and a variety of substrates makes this a perfect match for creating a broad spectrum of large-format graphics," says Scott Schulte, Modernistic's president. "It can handle just about anything." Currently, the most popular substrates Modernistic is running through the Durst are styrene, cardstock, and banner vinyl.
"We've built a reputation for delivering the most professionally produced, superior graphics around. The addition of the Durst to our equipment list is just another indication of our commitment to continually pursue the most advanced systems and processes necessary to deliver what our customers have come to expect—excellence in everything we do!"
---
---
CONVERTER INFO:
Modernistic Inc.
1987 Industrial Blvd. So.
Stillwater, MN 55082
651/291-7650; modernisticinc.com
SUPPLIER INFO:
Durst Image Technology—PFFC-ASAP 301. durstus.com
---