Published: August 01, 2007
Products
A Shrink L(ei)ble
When Stratis wanted a unique, distinctive label for its new Hilo Gold Noni juice, it went to ?Seal-It, a div. of Printpack located in Farmingdale, NY. With graphics inspired by the Hawaiian Noni fruit, Seal-It created a full sleeve shrink label for the product. Seal-It's heat-shrink PET-G label is rotogravure printed in seven colors, and a neckband made of clear PVC adds tamper evidence. Reportedly, the PET-G characteristics allow it to shrink to the contours of the bottle, and the high-gloss impact of the film enhances the intensity of the graphics for high shelf appeal.
---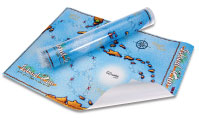 WinningDesign
A flexible board game that appeals to travelers was made possible with synthetic paper from Yupo Corp. Based on the idea of Caribbean travel, Island Run is printed four-color process on Yupo's 78# text, allowing the game to be packaged in a tube. Reportedly, the material is durable enough to be used on beaches, at pools, etc., lies flat after storage in the tube, is tear- and stain-resistant, and is 100% waterproof (without requiring lamination). The game's graphic designer, Bruce Leone of Ink Inc., says Yupo's paper also makes the inks "pop" on the smooth surface.
SUPPLIER INFO:
Yupo Corp.—PFFC-ASAP 310. yupo.com
---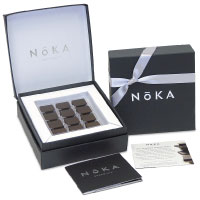 Sweet Keepsake
NoKA Chocolates hopes those who buy or receive as a gift their Encore Boxes of luxury chocolates will not only enjoy the handcrafted sweets inside but will make a keepsake of the box as well. Presentation is important to the company, and the packaging is part of the NoKA Chocolate "experience." The black and silver boxes, featuring a hinged, telescoping lid, are converted by Paul T. Freund, Palmyra, NY.
---