Published: July 01, 2007
Machinery, Accessories, Services
Automatic Features Mark Slitter
Ashe Converting Equipment, Ipswich, UK; +44 1473 710 912; ashe.co.uk
The Sapphire S2T high-speed turret slitter attaches the leader to the core, winds the product to a given length or diameter, cross-cuts the web, and then brings another set of cores into play so the process can begin all over again. This is all done automatically. Outputs at speeds to 700 mpm; incorporates an advanced management information system; offers closed-loop tension controls; and is said to minimize downtime.
PFFC-ASAP 415
---
Flip Webs at Any Speeds
Webex, Neenah, WI; 920/729-6666; webexinc.com
Turn bays are designed to flip webs over or to change web path by 90 deg. Available in multiple styles and configurations, turn bays are suited for most web materials at any speed range. Designed for easy installation and adjustable alignment, bars fit above or below other machinery and come in both horizontal and vertical configurations.
PFFC-ASAP 416
---

Get Smooth, Uniform Slit Rolls
Webco Engineering, Westborough, MA; 508/366-7384; webcoeng.com
The Tds-Hd high-speed, two-drum slitter/rewinder features shaftless rewind; single- or twin-motor drives; multiple bowed rolls with remote control power adjustment; auto roll unloading sequence; and more. Said to run a diverse variety of materials and produce uniform, smooth rolls with good roll density and slit separation.
PFFC-ASAP 417
---

Spiral Wrap Easy to Clean
CS Hyde Co., Lake Villa, IL; 800/461-4161; cshyde.com
The FST p-s silicone adhesion system makes it easy to apply to printing rolls. Used as a spiral wrap around printing rolls, product is said to be especially effective where ink collects on the rolls. Non-stick surface makes it easy to clean, company says. Both the skived PTFE and adhesive system can take heat to 500 deg F, and system works equally well in a cold process.
PFFC-ASAP 418
---
Find Treatment Levels
Jemmco, Mequon, WI; 262/512-9559;
jemmco.com
The EZ Read Poly Test Pen determines treatment levels between 38 and 40 dyne/cm. Described as fast and easy to read, product is suited for production situations in which it is necessary to determine the presence of treatment quickly.
PFFC-ASAP 419
---
Shafts Have Strength
Goldenrod Corp., Beacon Falls, CT; 800/465-3763; goldrod.com
Company offers multiple bladder shafts as small as 25 mm dia for tape, ribbon, and bagmaking machines. Design features three expanding rubber gripping ledges at 120 deg apart to center and grip cores. Shafts are machined completely from one piece of solid steel for high strength and low deflection.
PFFC-ASAP 420
---
Display Tension Economically
MAGPOWR, Oklahoma City, OK; 800/624-7697;
magpowr.com
Digital tension meter is called a low-cost method to display web tension in areas of the web where access to a tension control unit is not required or not convenient for the operator. Meter features a simple LCD readout with 0.6-in. bright red digits and a selectable decimal point. High-impact plastic case and sealed front panel ensure operation in wash-down or dusty environments.
PFFC-ASAP 421
---


Rewind System Aids Productivity
Proslit/Comexi Group, Girona, Spain; +34 972 477 744; proslit.com
The Eikon slitter/rewinder features an automatic blade and counter-blade laser positioning system, including core laser pointer. Turret rewind system is said to offer a significant increase in productivity. Web tension controls are called well suited for films and laminates.
PFFC-ASAP 422


---
Slit into Strips for Signs
Rosenthal, Northbrook, IL; 847/714-0404; rosenthalmfg.com
The Smartrim Trivision slitter converts sheets of printed graphics into strips quickly for three-way signs. Features heavy-duty score slitting. Options include cutoff and roll feed. Said to be fast and easy to use. Custom sizes are available in web widths to 200 in.
PFFC-ASAP 423
---
Inspect for Defects in Real Time
Surfscan Technologies, Cardiff, Wales; +44 (0) 29 2079 4986; surfscantech.com
The CHECKpress system offers 100% real-time defect inspection. Can be customized for specific requirements and installed easily onto any press, company reports. Said to provide accurate and repeatable defect detection, to operate at high speeds, and to be able to detect the smallest specks in a very busy area. Can scan on almost any web width.
PFFC-ASAP 424
---
Inkjet Printer Uses Less ink
Matthews Marking Products, Pittsburgh, PA; 412/665-2488; matthewsmarking.com
Family of high-resolution inkjet printing systems uses the IP9000 controller for printing on one or two sides of secondary packages such as cartons or trays. Company says systems offer high print quality with minimal maintenance requirements and low ink consumption compared to DOD inkjet systems (as little as 2% of the ink to print the same number of characters).
PFFC-ASAP 425
---
Three Types of Slitting Offered
GL&V USA, Lenox, MA; 413/637-2424; glv.com
The Cameron 1000 Series center surface duplex slitter/rewinder is available in standard widths of 80 in. with rewind capacities to 40 in. dia and speeds to 1,500 fpm. Shear, razor, and score slitting can be provided with quick interchange in mode. Unit can be provided with select analog control or with PLC process control for counter balance and core loading.
PFFC-ASAP 426
---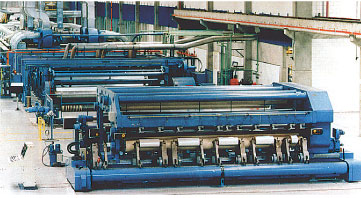 Slitters Have Many Features
Atlas Converting Equipment, Bedford, UK; +44 1234 852553; bobstgroup.com
Primary slitters feature center winder; advanced computer control; automatic/manual knife positioning; auto/manual rewind arm positioning; automatic cutoff at rewinds; improved operator ergonomics; choice of unwind options; and more. Maximum web width is 10,000 mm; machine speed is 1,200 mpm.
PFFC-ASAP 427
---
Clean Hot Oil Systems
MultiTherm, Malvern, PA; 800/225-7440; multitherm.com
PSC Plus process system cleaner is designed to clean out larger hot oil systems. Formulated to break down sludge deposits and resin residue, product is compatible with all of company's fluids and most other petroleum-based heat transfer fluids.
PFFC-ASAP 428
---
Accurate Slits with Servo Control
ALS Ltd., Northamptonshire, UK; +44 (0) 1933 225 755; als.ltd.uk
The Sibtec advanced-level slitter has twin-axis digital servo control for both indexing and cutting, said to result in high-accuracy slitting. Changeover between jobs is instant, and slitter is suited for heavy-duty, 24-hr operation. Working widths are 65, 72, and 82 in. Can cut up to four different widths per cycle.
PFFC-ASAP 429
---

EB System for the Lab
Energy Sciences, Wilmington, MA; 978/694-9000; ebeam
The EZ Lab system is designed to enable in-house testing and development of low-voltage EB formulations, including curing EB inks and coatings; curing EB laminating adhesives for various combinations; curing EB PSAs; and surface treatment of materials for new product development.
PFFC-ASAP 430


---
Perforate In-Line or with Slitter
REM Mfg., Hackettstown, NJ; 908/852-1814; remmfg.com
The Model 2210 perforator offers infinitely adjustable length (repeat) controls that can be adjusted on the fly from the PLC/servo interface. Can be supplied as an in-line unit or integrated into a duplex or simplex slitter/rewinder. Standard three-blade perforating knife assembly with micrometer depth adjustments penetrates the web, creating the perforation.
PFFC-ASAP 431
---
Slit with Accuracy, Speed
Tidland Corp., Camas, WA; 800/426-1000; tidland.com
Automated slitter positioning system is said to reduce costs and improve efficiency and reliability. With fewer moving parts, the frequency and complexity of maintenance are reduced. Latest technology reportedly increases the speed and accuracy of knife positioning.
PFFC-ASAP 432
---
Handle Light Webs with Lower Tension
Martin Automatic, Rockford, IL; 815/654-4800; martinautomatic.com
The MDR (magnetic driven roller) system is for handling light webs at lower tension levels and higher operating speeds. Technology can be applied to both web transport systems and to company's line of high-performance unwinds. Applies a magnetic link between web transport rollers and drive system. This reduces or eliminates the negative impacts on a web resulting from roller inertia, bearing friction, speed change, and boundary layer air.
PFFC-ASAP 433
---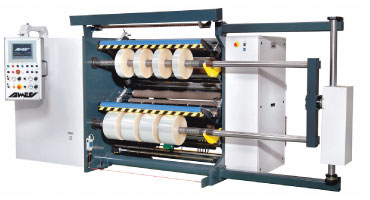 Cut Downtime with Slitters
Bimec, Vanzaghello, Italy; +39 0331 307491; bimec.it
The STM Series of high-speed, duplex slitter/rewinders is designed for high productivity and minimal downtime, the company reports. Slitters are suitable for finished rolls with maximum diameters of 450, 600, or 800 mm.
PFFC-ASAP 434
---
Process Plates in Stable Position
Degraf, Lacchiarella (MI), Italy; +39 0 2 900 90 196; degraf-group.com
Concept 305 P is a processor for plates to 36 x 48 in. The movement of the brushes, oscillating in opposing directions, reduces processing time and eliminates plate shifting while in contact with the brushes. Result is said to be a perfect and stable position of the plate, which optimizes the mechanical action of the brushes. Integrated solvent density meter measures the percentage of polymer in washing solvent, topping it with fresh solvent when set-up values are exceeded.
PFFC-ASAP 435
---
Mate Dissimilar Shafts
Stafford Mfg. Corp., North Reading, MA; 800/695-5551; staffordmfg.com
Line of rigid clamp-type couplings for mating dissimilar shafts and drive components includes inch and metric sizes and smooth or keyed design. Available in steel and stainless steel, couplings help maintain and upgrade drive systems in all types of processing, mixing, and conveying equipment.
PFFC-ASAP 436
---