Published: July 01, 2007, By Edited by Deborah Donberg, Associate Managing Editor
Covering the Full Spectrum of Industry News, Events & Activities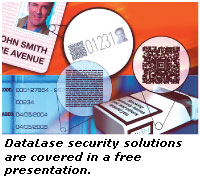 Talking About Security
DataLase, Norcross, GA, is offering free of charge a copy of a recent presentation from a Product & Image Security (PISEC) conference. Trevor Wilson, VP of business development for DataLase, gave the presentation, detailing product, brand, and document anti-counterfeiting solutions.

The presentation contains examples for security and anti-counterfeiting solutions for laminated pharmaceutical labels; passport, ID, and security cards, cigarette carton security; and table coatings.

For more information visit datalase.com.
---
---
Celebrating Productivity
Ukrplastic, located in Kiev, Ukraine, held an opening day ceremony in early June to celebrate the installation of a Triplex Combi Horizontal coater/laminator from Nordmeccanica. The machine allows three-ply lamination in one pass at production speeds to 2,000 fpm. Interchangeable coating head technology can be set in a variety of alternative production configurations.
SUPPLIER INFO:
Nordmeccanica—PFFC-ASAP 410. nordmeccanica.com
---
---


Features Enhance Blown Film Line
This summer will see the installation of a three-layer Windmoeller & Hoelscher Varex blown film extrusion line at the Lexington, OH, facility of Next Generation Films.

The 126-in. line features a customized high-output configuration with the capability to extrude up to 2,000 lbs/hr. It includes W&H's Multinip haul-off; the Optifil P2 gauge control system with dual-lip air ring; and a Maxicone C die with a diameter of 31.5 in.
SUPPLIER INFO:
Windmoeller & Hoelscher—PFFC-ASAP 411. whcorp.com


---
---
Film Winder On Board
With the addition of a Kampf lightweight film winder, Contract Converting, Greenville, WI, expanded its capabilities to serve customers in precision slitting/rewinding, roll finishing, and packaging. The company runs all printed and unprinted materials and all grades of paper, tissue, boardstocks, films, foils, laminates, and nonwovens.
SUPPLIER INFO:
Kampf Machinery Corp.—PFFC-ASAP 412. kampfusa.com
---
---
Security Company Joins BPA
GRAHAM, NC—Consulting company Security and Risk Management Group (SRMG) has joined the Brand Protection Alliance (BPA) as its first associate member, expanding the BPA's technology offerings in the investigative and diversion detection services area.

BPA president Lynn Crutchfield says, "Their extensive background in corporate security and brand protection, combined with their worldwide network of proven security professionals, will allow SRMG to provide BPA with first-class solutions to problems such as counterfeiting, product diversion, and fraud."
---
Brady Adds Sorbent Products
MILWAUKEE, WI—Brady Corp. has acquired Sorbent Products Co. (SPC), Somerset, NJ. SPC manufactures and markets synthetic sorbent materials used in a variety of industrial maintenance and environmental applications for spill cleanup, containment, and control. It has operations in the US, Belgium, and Hong Kong.

Brady supplies solutions that identify and protect premises, products, and people. These include high-performance labels and signs, safety devices, printing systems and software, and precision die-cut materials.
---
Three Pouch Studies Offered
BURNSVILLE, MN—Allied Development reports the availability of three studies on pouches.

According to Retort Pouches—Global Markets, and Technologies—2006–2011, global retort pouch consumption has exceeded 10 billion pouches/yr, with consumption projected to reach nearly 19 billion pouches by 2011. Cost of the study is US$4,495.

Stick Pouches—Global Markets, Economics, and Technologies—2006–2011 is said to be the first study dedicated to the stick pouch industry. Consumption of these pouches has reached nearly 200 billion/yr, the study reports, with some segments growing more than 30%/yr. Cost is US$2,995.

Stand-up Pouches—Global Markets, Economics, and Technologies—2005–2009 examines future prospects for this segment. Cost is US$3,995.

Discounts are available on multiple purchases. For more information call 952/898-2000.
---
Heidelberg Focuses on Packaging
By Yolanda Simonsis, Associate Publisher/Editor
KENNESAW, GA—Heidelberg USA hosted its first annual Packaging Inforum and Open House May 16-17 for companies both traditionally familiar with Heidelberg's product offerings in the commercial printing field as well as for those package converters perhaps less familiar but well immersed in the conversion of folding cartons. The event was well attended by more than 160 of the nation's top package printers at the company's headquarters, where a recently expanded Print Media Demonstration Ctr. (PMDC) is located. Attendees were impressed with the one-stop-shop approach Heidelberg now offers.

Admittedly, it felt a little odd to break bread with the competitive groups over the course of the event. Commercial printers have become increasingly interested in the production of folding cartons in an attempt to re-invent themselves because of declining revenues in the traditional commercial printing field. Many commercial printers have learned it takes more than just a desire to fill downtime on a press with package printing jobs; it takes dedication, an understanding of the complicated dynamics at play in the package manufacturing industry, and a commitment to deliver consistent quality in order to minimize waste.
Heidelberg's world-renowned reputation in the commercial printing field is expanding into the package printing arena where it now offers a full complement of package converting products, from prepress to press to postpress. Heidelberg ceremoniously unveiled the new 6,000-sq-ft packaging addition to its now 40,000-sq-ft PMDC, debuted the Diana X 135 folding carton gluer (pictured), and previewed its Drupa 2008 very-large-format (VLF) press offerings. Demonstrations also were given on the Dymatrix 106 CSB high-performance, full-size format die-cutter with stripping and blanking; the Varimatrix 105 CS full-size format die-cutter with stripping; the KAMA ProCut 74 half-size format die-cutter with foil stamping; and the ECO 105 entry-level folding carton gluer.

Guests were able to attend a series of educational sessions and interactive product demonstrations along with a behind-the-scenes tour of the company's "systemservice" support call center.

An evening keynote speaker, John Bernardo of Sustainable Innovations, addressed the importance of sustainable business operations in a packaging environment, and a $5,000 endowment award from Heidelberg was made to Ferris State Univ. in the name of Corey Gustafson of Johns Byrne.

Heidelberg invited seven vendors to show their newest products. Participating were Atlas Die, Carton Craft, WH Leary, HHS America, Capital Adhesives, C&A Corp., and National Starch.
---
AIMCAL Offers Summer School
FORT MILL, SC—The Assn. of Industrial Metallizers, Coaters and Laminators (AIMCAL) announces the ninth season of its Summer School, four days of focused technical sessions. The courses will be held at the Radisson Univ. Hotel, Minneapolis, MN, August 6–9.

AIMCAL says the courses provide job-enhancing, practical information for engineers, operators, technicians, technical managers, and sales people. Fees are $1,495 for AIMCAL members and $1,595 for nonmembers.

For the first time AIMCAL is offering Summer School in India, with two days of focused sessions at the Pragati Maidan Exhibition Centre in New Delhi, August 20–21.

For more information on either Summer School, visit aimcal.org.
---
The PLACE To Be
NORCROSS, GA—The 2007 TAPPI PLACE Conference is scheduled for September 16–19 at the Hilton St. Louis at the Ballpark in St. Louis, MO. The event will showcase the latest innovations in materials, equipment, and process control as well as new developments in interactive packaging, waste reduction, transparent barriers, peelable seals, breathable controlled transmission films, converting solutions, performance packaging, and productivity enhancement.

Accompanying the conference will be a new technology showcase, a tabletop trade fair, and end-user presentations on sustainability, product security, and safety/regulatory issues faced by the industry.

For more information visit tappiplace.org.
---
Flint Acquires Day Intl.
LUXEMBOURG—Flint Group has completed the acquisition of Day Intl., Dayton, OH, a manufacturer and distributor of printing blankets, sleeves, pressroom chemicals, and printing supplies. Day will operate as a business unit of Flint.

Dennis Wolters, Day CEO, will remain in that role.
---
Klöckner is Sold to Equity Firm
GORDONSVILLE, VA—Klöckner Pentaplast Group reports an affiliate of The Blackstone Group, London, UK, has signed a contract to acquire the company and all its holdings from Cinven and JPMorganPartners. Blackstone is a private equity firm. The purchase price is US$1.8 billion.

Lionel Assant, managing director of The Blackstone Group, says, "Klöckner Pentaplast has a strong international market position and performance.…We will continue to support [its] aggressive growth and investment strategy.

The management of the Klöckner Pentaplast Group will remain in place.
---
Lenticular Packaging Reported
MEMPHIS, TN—Shorewood Packaging, a business of International Paper, has partnered with a custom plastic sheet extruder to produce packaging using Lenstar lenticular plastic, a polyester-based resin sheet designed for the lenticular market. The company also partnered with two approved lenticular printers.

Lenstar is said to offer high clarity, brightness, and strength.
---
Quality Management Extended
CHAROTTE, NC—Bobst Group and Ei3 Corp. report the release of InView Quality Management, an extension of the Bobst Group North America suite of Internet-powered services for converting manufacturers.

Bobst Group's Flexible Materials division now can deliver InView Quality Management, developed and hosted by Ei3. The program includes operator dashboards, quality test forms, machine monitoring, SPC algorithms, and reports designed to meet the unique needs of quality management in web converting.

It can be bundled together as part of a complete Bobst Group Service Plan or can be used individually. Bobst will handle all the machine integration and network security requirements.
---
---
PEOPLE IN THE NEWS
Degrava Systems, Roswell, GA, appoints Stephen Frazzano midwest sales manager and Robert Anderson western sales manager.

CC1, Portsmouth, NH, names Roger B. Mattila executive VP of sales and marketing.

Fujifilm Graphic Systems U.S.A., Valhalla, NY, welcomes Steve Pritchard as national account manager.

Ron Schmidt, director of OEM sales for Maxcess Intl., is elected president of the Converting Equipment Mfrs. Assn. (CEMA), Fort Mill, SC.

Timothy Raymond, senior VP of sales and marketing for North America at Krones, Franklin, WI, is appointed to the company's North American board of directors.

Heidenhain Corp., Schaumburg, IL, announces three national sales and product managers: Kevin Kaufenberg for Electronics, Semiconductor, and Metrology Div. (including medical markets); Chris Weber, Machine Tool Div.; and Tom Wyatt, Automation Div. (including drive technology).

The board of directors of Argotec, Greenfield, MA, names president Bruce Wilby CEO.

Tom Fitzgerald joins Mitsubishi, Lincolnshire, IL, as a district sales representative for the Midwest.

Terry L. Serie is selected VP of industry information and public affairs for the Paperboard Packaging Council, Alexandria, VA.

Extrusion Dies Industries, Chippewa Falls, WI, appoints Ronald J. Allbritton technical service and sales specialist.

Jeffrey Kane is named global sales manager for Precision AirConvey Corp., Newark, DE.

The Specialty Papers business area of Stora Enso, Stevens Point, WI, appoints David Diekelman VP, business and product development.
---