Published: July 01, 2007, By By Edward Boyl,e Contributing Editor
In-Mold Labels
It's no secret that desktop publishing and color copiers have left the commercial print market reeling—and looking for ways to reel in new business. Some have added labels and small packaging to their product mix with the help of traditional sheet-fed offset presses and versatile new narrow web flexographic presses that can handle a wider range of substrates and incorporate a greater variety of converting processes in-line than ever before.
After nearly 70 years as a commercial offset printer, General Press Corp. decided to follow the trend to labels. But instead of becoming just another competitor in the already crowded flexographic roll label business, the company chose instead to capitalize on its offset printing expertise and convert in-mold labels.
James Wolff, president of General Press, says, "We made a decision four years ago that conventional printing just wasn't profitable anymore, and the margins are so tight that we were looking for another market niche. We made trips to Europe to see what they were doing. They seemed to be into the in-mold sector, so we decided to make an investment in that area." General Press wasn't the first to bring in-mold label technology to the US, but it has been quite successful doing so. Just four years ago, paper products comprised 100% of its product mix. Although Wolff says his company was about one year "premature" in predicting the in-mold label trend in the US, today a full 65% of its output is plastic in-mold labels.
"We were prepared to make the capital investments required," Wolff says of his leap into in-mold. "We knew we wouldn't be successful overnight, and we knew we'd have to absorb losses along the way. [But] in-mold labeling has been prominent in Europe for many years, and there was growing demand in the United States. We wanted to offer North American customers a domestic supplier as well as enter the market as an international supplier."
Press Modifications
To do so, the company partnered with MAN Roland to develop a modified press design that would handle very thin synthetic labels. The result was an eight-color, 40-in. Roland 700 perfector with a label printing package and in-line coater. It includes MAN Roland's printnet PECOM press control and automation, as well as auto plate loading and blanket wash.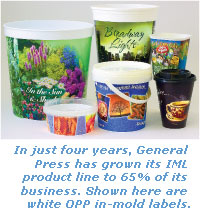 In addition to an infrared dryer and IR thermal air dryer, the press has interdeck ultraviolet and end-of-press UV dryers. For printing synthetic substrates, there is ionized air in the delivery and anti-static systems on each printing unit.
Although General had specified nearly every detail of the equipment, Wolff knew printing on plastic would provide new challenges and a steep learning curve. His foresight proved to be on target. The company fumbled its way through its first several jobs, says Wolff, as it learned the nuances of printing on nonabsorbent thin film.
Like many commercial printers new to printing on plastic, General Press quickly identified surface energy as one variable over which it needed to gain more control.
Surface Modifications
"To ensure substrates were at optimal dyne levels," explains Wolff, "we added an Enercon corona treater to our operation to bump-treat materials prior to printing." Enercon supplied a 40-in. Universal Roll treater with ceramic electrodes and a 3kW power supply. The surface treater is mounted between the unwind and the sheeter. The corona treating system consists of two major components: the power supply and the treater station. The power supply converts standard 50/60 Hz utility electrical power into single phase, higher frequency power that is supplied to the treater station.
From Thin to Thick
The success of its first Roland printing press has led to the purchase of two more systems: a seven-color Roland 700 and a six-color Roland 500, both with in-Iine coating. But General Press is not going to restrict its new presses to plastic label projects. "The new presses will go from printing OPP [oriented polypropylene] film to 24-point credit cards," Wolff says. "That's the range of thicknesses our current ROLAND 700 handles now, so the new presses will fit right in."
Changing from job to job shouldn't be a problem, in spite of the diversity of jobs. General is networking its presses with printnet PECOM, which will automate a variety of makeready steps and provide other computer-integrated manufacturing benefits over time.
When it comes to surface treating, the company is confident it will be ready to handle the next challenge. Wolff says, "There's no telling what new substrates will be engineered over the next several years." With in-line surface treatment, General Press feels prepared to pioneer offset printing on next-generation materials.
---
---
Water No Problem for OPP-Labeled Water Bottle
After General Press Corp. entered the in-mold label market, one of its first new customers was a large water bottler, which came to General Press with an identity problem. Its paper labels were dissolving in the ice-water baths used to cool its product in stores during the summer months.
General Press suggested switching from paper to OPP film labels, which are waterproof. Typically, these types of films are run roll-to-roll on flexographic presses. With General Press's new MAN Roland 700 series offset press, the company is able to feed sheeted filmstock and print, cure, and deliver flat, stacked labels. This was a huge bonus for the water bottler as it was able to utilize existing labeling equipment to apply the labels onto the bottles without investing in costly retooling.
Initially, tests were performed on a 75-micron opaque film that ran with great success. Later, a 57-micron clear film was tested and performed even better.
"Imagine, a sheet-fed offset printer feeding, printing, and delivering a 57-micron clear OPP film," says James Wolff, president of General Press. "Our film supplier tells us we may be the only offset printer in the United States with the capability to print on such a lightweight, cost-effective film."
---
---
Want More Info on IML?
Visit our Converter Events for details on the In-Mold Labeling Conference scheduled for October 10–12 in Scottsdale, AZ.
---
---
CONVERTER INFO:
General Press Corp.
110 Allegheny Dr.
Natrona Hts., PA 15065
724/224-3500; generalpress.com
SUPPLIER INFO:
MAN Roland USA—PFFC-ASAP 320. manroland.com
Enercon Industries Corp.—PFFC-ASAP 321. enerconind.com
---