Published: March 01, 2007, By Edited by Deborah Donberg, Associate Managing Editor
Covering the Full Spectrum of Industry News, Events & Activities
Extruders' Performance No Surprise
Rexam has been a customer of Davis-Standard for 20 years, so when it recently installed five Davis-Standard Thermatic extruders at its Union, MO, plant, the results were not a surprise. Mark Borzillo, production engineering manager at the facility, says, "These people are professional, the equipment is delivered in a timely fashion, and startup services are excellent." The extruders, which include screen changers, melt pumps, and control systems, are used for manufacturing multilayer sheet used in barrier containers for the shelf-stable food market. Borzillo says the facility's goal is to run as many quality parts as possible 24/7, adding, "Our Davis-Standard equipment has performed very well under these conditions."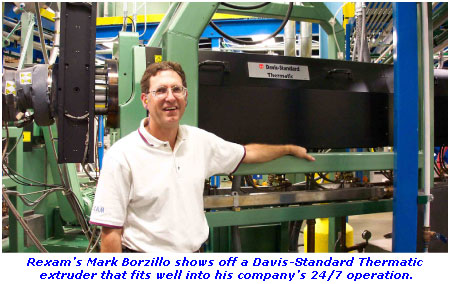 He says the advanced control technology provided by the Thermatic extruders enables Rexam to maintain stable operating conditions, simplify troubleshooting and maintenance procedures, and reduce changeover time. SUPPLIER INFO:
Davis-Standard—PFFC-ASAP 342. davis-standard.com
---
---
Demanding Excellence
Scott Dickman, CEO of Oracle Packaging, Winston-Salem, NC, considers his new Heidelberg Speedmaster XL 105 offset press a key to growing the company's healthcare business. "Our customers demand excellent quality, speed to market of new initiatives, cutting-edge product bundling innovations, and a competitive total delivered cost," he says. "Meeting these demands doesn't happen by accident. To that end, we must invest in industry-leading equipment like our new Heidelberg press." Oracle's targeted industries include pharmaceutical, biologic, and nutraceutical packaging.
SUPPLIER INFO:
Heidelberg—PFFC-ASAP 343. us.heidelberg.com
---
---
DuPont Ahead of Schedule
WILMINGTON, DE—DuPont reports it has successfully commercialized a patented manufacturing process to remove more than 97% of trace levels of perfluorooctanoic acid (PFOA), its homologues, and direct precursors from its fluorotelomer products. The products, designated LX Platform, are expected to be drop-in replacements for current DuPont products. This is said to meet key commitments of the EPA voluntary stewardship program for product content three years ahead of schedule. LX Platform products do not require regulatory re-qualification and will continue to be listed on existing global regulatory clearances. They will be used for surface protection in segments such as paper packaging, fluorosurfactants, coatings, and more.
---
Machines Will Run at CMM
NASHUA, NH—As CMM 2007 draws closer, more details are emerging on new features at the show. PennWell, owner and producer of the event, says a Flexible Packaging Technology Center will feature a new Bobst/Schiavi electronic flexo press from the ten-color C.I. EF 50 Series; Profama's new Pratica 1200 slitter/rewinder; and more. Says show director Jim Enos, "The leading request of every CMM attendee survey conducted over the last several years is to see more running equipment at the show. We are delighted we can provide attendees with a hands-on opportunity of experiencing running equipment producing actual jobs."

Joining Bobst/Schiavi and Profama as major sponsors of the Flexible Packaging Tech Center are Comexi, Hudson Sharp, and Air Trim. All expect to have equipment running. Running equipment also will be featured in a new Narrow to Mid-Web Technology Center produced in cooperation with the DiTrollio Flexographic Technology Inst.

PennWell reports more than 360 exhibiting companies have signed up for CMM 2007, scheduled for June 4–7 at the Rosemont Convention Center outside Chicago. For more information, visit http://cmm07.events.pennnet.com.
---
Teel Builds and Expands
BARABOO, WI—Teel Plastics is building a new headquarters and an expanding extrusion division in Baraboo, expected to be completed this spring.

The new facility reportedly will incorporate Teel's commitment to lean manufacturing and provide space for companywide growth.

What is called an environmentally conscious building will go up on 80 acres of land that also will accommodate the gateway Business Park.
---
PackPrint is Postponed
RESTON, VA—The Graphic Arts Show Co. (GASC) has decided to delay the first PackPrint, which was jointly sponsored with the Flexographic Technical Assn. (FTA) and was scheduled to co-locate with Graph Expo 2007 at Chicago's McCormick Pl. September 9–12. Says GASC, "Because we continue to believe strongly that the marketplace needs and will ultimately support PackPrint, we will consider producing this event in the future. … We appreciate the support of the [FTA] and expect our partnership to continue as we determine the future of PackPrint. … Meanwhile, converting and related technologies will be very prominent among the displays at what promises to be a record-breaking Graph Expo 2007."
---
EFI Acquires Jetrion
FOSTER CITY, CA—EFI, a supplier of digital controllers, superwide–format inkjet printers and inks, and print management solutions, has signed an agreement to acquire Jetrion, a sub. of Flint Group, for approximately $40 million in cash. Jetrion, headquartered in Ypsilanti, MI, provides inkjet printers, inks, and custom printing systems for the label and packaging industries.

Guy Gecht, CEO of EFI, says, "Jetrion's advanced technology and very talented team are great additions to our inkjet business and are a key element in fulfilling our strategy to expand our presence in the industrial inkjet market. We are especially impressed with Jetrion's packaging and label printing expertise, and we see this as an emerging market opportunity for digital printing, given the increasing demand for short runs, variable content, and fast turnaround in these segments.…"

Jetrion is expected to post revenues of approximately $16 million–$18 million for the full year 2006. It is anticipated to show top line growth of 30%–40% in 2007 and again have an immaterial impact to pro fama earnings as EFI makes investments to expand the Jetrion product line and distribution.
---
Alliance Aids Global Customers
LOVELAND, OH—xpedx has entered into a global sales and service alliance with Antalis, Paris, France, a distributor of paper and packaging supplies and equipment as well as visual communication support materials and promotional products in 37 countries.

The alliance will enable xpedx customers in North America to access a wide offering of products and services at the overseas operations. Antalis customers in Europe, Asia, South America, and South Africa that have operations in North America now can get paper, packaging, graphics, and facility supplies and equipment needs fulfilled by xpedx.
---
Indicating-Ink Agreement
PARSIPPANY, NJ—Applications in Intelligent Chromatics (AiC), a div. of Sun Chemical, announces an agreement to be the exclusive distributor of Sterilization Indicating Inks from NAMSA, Northwood, OH. The inks are based on pigment technology that does not use heavy metals, are used mainly for medical applications, and print as an area that changes color permanently when adequate sterilization treatment by chemical or radiation has been applied. They require no special requirements related to their applications and are said to be safe to handle and easy to clean. Jean-Do Turgis, business development manager at AIC, says, "These inks can be used on flexible and retort packaging, labels, and specialty tapes produced by converters who work with pharmaceutical and healthcare consumer product companies."
---
Yupo Revs Up Production
CHESAPEAKE, VA—Yupo Corp. America reports new capacity improvements to address what the company calls a robust demand for its synthetic papers.

Yupo's expansion strategy includes significant capital investments at its Chesapeake facility, along with recent additions to warehouse space and improvements to ream packaging systems and secondary slitting operations. The expected result of these improvements is an increase in production output to 20%.
Loan Volume Up in Packaging
CHICAGO, IL—BMO Capital Markets researched more than 50 highly leveraged lending transactions in the packaging sector in 2006 and reports its findings in the December issue of "The Converter." (Highly leveraged loans are defined as transactions with cash flow leverage, or Funded Debt to EBITDA, of at least 3.0x.) Following are some highlights: Packaging leveraged loan volume increased significantly in 2006. M&A activity continues to be driven by private equity investment as financial sponsor-related highly leveraged loan activity is up 32% for the year. The pace of this activity is not expected to slow.

The most significant usage of highly leveraged packaging loans year-to-date in 2006 was private equity LBOs and strategic acquisitions.

For more information visit bmocm.com/publications/theconverter or contact Doug Lawson at 312/461-5471.
---
Color-Change Ink Agreement
CHESIRE, UK—DataLase has entered into an agreement with XSYS Print Solutions, headquartered in Stuttgart, Germany, in which XSYS will develop the DataLase Packmark solution for its global network of subsidiaries and distributors. The DataLase process features an additive or coating that changes color when exposed to a low-power CO2 laser.

Reportedly, the agreement will benefit both companies, combining DataLase's expertise in laser-responsive, color-change chemistry with XSYS's established experience as a global manufacturer in the printing systems and inks market.
---
Partnership Brings Inkjet Solution
GRANDVILLE, MI—X-Rite and Hewlett Packard (HP), Palo Alto, CA, report a strategic partnership will offer the HP Designjet Z Photo Series printer, a color-managed inkjet solution with true plug-and-play color accuracy and consistency.

The product incorporates an embedded spectrophotometer based on the X-Rite Eye-One technology and controlled from an intuitive HP Color Center. The spectrophotometer is mounted on the printer carriage with completely self-contained optics and electronics, said to simplify accurate color-matching and enable automated ICC profiling and HP advanced closed-loop color calibration.
---
F&K Press Uses Radiant Energy
AICHSTETTEN, GERMANY—Flex-pack converter UV-Flex has taken delivery of Fischer & Krecke's first CI flexo press designed to use Sun Chemical radiation-curable WetFlex ink technology. The ten-color press, designated FLEXPRESS 16S and slated for commissioning in March, applies wet-on-wet EB-curable inks or adhesives that cure instantaneously, eliminating the need for interstation drying or thermal oxidation systems to incinerate VOCs. It does not produce CO2 emissions.
Suited for printing and in-line laminating aluminum foil, film, and coextrusions, the press has a print width of 53 in. and repeat lengths of 12.6–41 in. while using the same print stand frame and print units as those F&K uses for processing solvent- or water-based inks. Other features include quick changeover, rigid construction, high speeds, and precision impression settings.

Properties of Sun's WetFlex inks, designated UniQure, required extensive press modifications, says F&K. Inks required temperature control to ensure optimum processing under all production conditions while inking and wash-up cycles of the Autoclean system were adapted to UniQure ink properties.

The WetFlex ink system is said to allow higher graphic resolution because it is possible to use finer screens (up to 80 l/cm) and finer aniloxes, and it permits more homogeneous dot structure.

UV-Flex managing director Rainer Schröpfer says, "The WetFlex process has the potential to put flexo printing to an even wider acceptance. However, to tap [its] full potential…a high-end flexo press is required. This is why we decided in favor of Fischer & Krecke."
SUPPLIER INFO:
Fischer & Krecke—PFFC-ASAP 344. fischer-krecke.com
Sun Chemical—PFFC-ASAP 345. sunchemical.com
---
Investments at Loparex
WILLOWBROOK, IL—Loparex has made capital investments to add paper coating and film blowing capacity and streamline operations in North America. Included is a high-speed paper coating line at the Hammond, WI, facility. A second multilayer blown film extrusion line installed at the Hammond facility produces layflat, bag-free polyolefin films, critical in release liner applications. Loparex also reports it will shut down some coating lines in its Dixon, IL, operation in the coming months. Coater 10 in Dixon will continue to produce solvent and solventless release liner products. The company says these changes follow recent capacity expansions in Asia Pacific and Europe.
---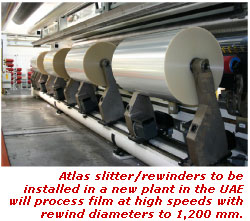 New Plant Leads to a Big Order
LAUSANNE, SWITZERLAND—The Bobst Group reports a recent order from JBF-RAK, based in the United Arab Emirates (UAE), includes three primary and four secondary Atlas slitter/rewinders with roll handling systems and a General K5000 high-performance, 2,450-mm-wide vacuum metallizer for converting BOPET film.

Reportedly, the sales contract is one of the largest accepted by Bobst Group Business Area Flexible Materials UK operations since Atlas and General became part of the group.

JBF-RAK is a joint venture company established between JBF Industries of Mumbai, India, and Ras Al Khaimah Investment Authority of the UAE, in which JBF will build a new plant in the UAE. The plant will comprise three polyester film lines with a production capacity of 300 tonnes of BOPET film/day, mostly for export to the US, EU, China, and other parts of Asia.

The new Bobst equipment will be installed in this plant in phases and is expected to be in full production during the second half of 2007.
---
QuadTech Sells Lines to MEGTEC
DE PERE, WI—MEGTEC Systems has acquired web guidance systems and silicone coater product lines from QuadTech, Pewaukee, WI, a sub. of Quad/Graphics. QuadTech president Karl Fritchen says, "[We] decided to exit this business area and focus more on expanding our press control portfolio. … I am confident MEGTEC will do a fantastic job manufacturing and servicing this customer base."
---
---
PEOPLE IN THE NEWS
Folke Wegner leaves his position as managing director at Fischer & Krecke, Bielefeld, Germany, and Dr. Georg Grautoff takes over that responsibility.

Bruce Betancourt is named VP of sales for the Cosmetic Packaging group at Shorewood Packaging, Memphis, TN.

Advanced Vision Technology, Atlanta, GA, announces Bruno Carrer as Canadian sales manager. He will be headquartered in Toronto.

Joachim Jung, managing director of IST Metz, Nürtingen, Germany, passed away January 4 after a short illness. He was 59.

At the Converting Systems Group of Davis-Standard, Pawcatuck, CT, Fabian Umbach is appointed global business manager liquid coating for the company's ER-WE-PA line in Erkrath, Germany.

Yupo Corp., Chesapeake, VA, promotes Shigeru Takano to president, while departing president Osamu Sasaki remains with the company as advisor. In addition: Sumio Nomura becomes executive VP; Marty Fiorillo becomes VP of distribution, sales, and marketing; Andrew Madden is now VP of sales, thermal, p-s labels, and general label applications; Ed Burtner is promoted to VP of manufacturing; and Mike Licata becomes director of technical services.

Bob Klas Sr. has stepped down as CEO and chairman of the board at Tapemark, West St. Paul, MN. Bob Klas Jr. becomes CEO, and Andy Rensink moves into a new role of president/chief operating officer.

Maxcess Intl., Oklahoma City, OK, names Tom Herold national sales manager for Fife, MAGPOWR, and Tidland customers in the US and Canada.
---