Published: March 01, 2007, By By Yolanda Simonsis, Associate Publisher/Editor
Large Format
Trust, integrity, commitment—these are the three tenets by which Huston Patterson (HP) conducts business. Self-described at 100 years young as among the oldest privately owned, large-format package printers in North America, HP's goal is to become the largest such company whose unparalleled value and performance provide clients with an experience they simply won't get elsewhere. And HP is counting on clients wanting to repeat that experience over and over.

Located in the heart of Amish country in downstate Decatur, IL—where principles frequently can take a front-stage position as part of everyday living—president and CEO Thomas Kowa is unabashedly proud about proclaiming his company's commitment to offering what he feels is the pinnacle in service and technology.

At the outset of PFFC's interview, Kowa accounted for the difference between HP and its competitors: "First of all, we don't have sales reps anymore. They're client service managers. And we don't have a customer service department anymore. They're client service representatives. Everybody has customers, but at HP, everybody's known as a client. It's just another of those little things that sets us apart from everybody else."

It doesn't concern Kowa when his suppliers, such as press manufacturers or plate or screen suppliers, ask if they can bring their customers (Kowa's competitors) for a visit. Kowa enthusiastically responds: "Bring 'em on in! It doesn't concern me at all. It's like 'Catch me if you can.' They don't have the people we have here, and that's what makes the difference." Kowa insists on hiring people he can trust, who have integrity, and who are committed to working hard. "I can teach them everything else," he says.
Finding its Roots
The company's roots go back to 1895 with Herald & Review Printing and Stationery, a commercial printing division of the Decatur Herald & Review newspaper. In 1939 Ernie Huston and Jessie Patterson purchased the company, forming it into Huston Patterson and moving into a nearby building in 1953. In 1961, with print revenues of $200,000, Robert Kowa purchased the letterpress business from HP and grew the business in '78 to run three shifts and weekends, which required new presses to keep up with all the work. In the mid '80s HP added another commercial printing segment for top sheets and labels for packaging and point-of-purchase (POP) displays, purchasing still more equipment in '89 to accommodate the packaging and greeting card markets.

They were "heavy into greeting cards, gift wrap, and stationery, representing about 85% of our work," recalls Kowa, with the remaining 15%–20% representing commercial work. Realizing the company was "too dependent on one client at that time, we installed our first blanket coater on a five-color, 64-inch press. It was far superior to varnish. It dried quick, had better gloss and rub factors, and it was easy to handle on the end of the press. That's how we started in the packaging business. Then we added another blanket coater on our 40-inch press and got more into package printing." Kowa recollects, "In '98 I got a call on a Wednesday; our greeting card client was sold, and that was it. Fortunately we had started developing a new market to become less dependent on one particular client. Knock on wood, it worked out real well!"

Between 2001 and 2005, HP doubled annual sales to $20.4 million, printing primarily carton labels, top sheets/boards, and POP displays. Kowa adds with a smile, "As we were winding up 2005, I let it be known to our people that in 2006, I wanted to increase our print revenues 20% without adding new equipment. Some were thinking, 'This guy's crazier than I thought!' But by the end of July 2006, we were 21.9% and rising! Now they all believe. And we didn't add any new equipment, although we added more people."
Leading the Pack
Kowa credits the company's success to the culture they've been developing over the course of the past few years, including employee training and certification, a client procedures integration team, a custom-designed preflight program, a client feedback system, and the chief experience officer (CXO) who leads the program.
In particular, the addition of the CXO position has made a lasting impression where it counts—with HP clients. "It's not new to other industries, but it is new to the print industry," explains Tim Trotter, strategic planning human asset development director at Verse One, HP's management resource group advisor. Not unlike a patient advocate in a hospital whose job is to work fairly on behalf of the patient, HP's CXO is "responsible to the clients of Huston Patterson," Trotter says. "That concept is huge to the client who feels they've got someone watching over their order and who's second in command at HP. When it comes to the client, that's where the buck stops."

The buck stops at CXO Jeanice Gillett, who heads up the client experience program, designated HPx. Her responsibilities include providing clients with unprecedented, high quality process and procedures in the areas of quality, performance, accountability standards, client relations, and employee training. Coming from a pharmaceutical background, Gillett was involved in quality control and assurance, research and development, and regulatory compliance, as well as handling all client complaints, recalls, investigations, and responses. With such a background, coupled with experience in prepress technical services, Gillett visits clients with a team that also include HP's chief operating officer Steve Frantz, client services manager Tina Deardorff, director of sales special projects Tonya Kowa, and VP of manufacturing Don Ellis.
Teaming Up
The sole purpose of the team visit is to sit down over the course of a few hours, sometimes a whole day, with all the client's plant supervisors, including line operators, to determine how HP can make it easier to do business with them. It can be as simple, says Kowa, "as switching from metal to nylon bands on pallets, or maybe the guy running equipment doesn't want their labels wrapped because it's inconvenient." Gillett says, "One client suggested placing a specific number on his packing slips and other items. It saved him an hour and a half of tracking time on that job. When we shipped his next job, we got e-mails saying, 'This was great! It was exactly what I needed. I'm really glad you came!'"

Random client surveys sent by the HPxPERTS (HPx Performance Evaluation Response Tracking System) address their experience on a particular job. "Some people don't like to fill out surveys," comments Gillett, "but if someone's done an extremely good job or had a problem, they may answer the survey." The goal, she says, is to learn what might make the next experience easier.
Miles of Smiles
Gillett's responsibilities don't stop there (see sidebar). She also heads up (what Kowa says "may sound hokey to others") the Smile Squad and coordinates the Employee of the Quarter, elected by his/her peers. A "goody room" is stocked with treats for employees and clients alike. Handouts include candy, buttons/pins, clothing, food, etc., and all client proofs are sent with a heaping handful of candy. Kowa says, "When they open it up, the candy falls out, and they love it."

Even for a typically ordinary press check, clients look forward to visiting the Decatur facility. A fully equipped office, a fully loaded kitchen (where cookies have been known to be baking), and a private restroom lets them work in comfort. A 24-seat theatre, owner's suite, and conference rooms are in expansion plans to accommodate clients during training, press checks, or color approvals.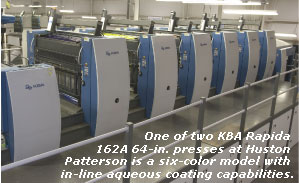 Technology Leader
There's no skimping when it comes to technology. The company's large-format capabilities include a six-color KBA Rapida 162A 64-in. press with in-line aqueous coating, which was purchased post-Drupa 2004 and installed in 2005. A second KBA Rapida 162A 64-in. press has seven colors with in-line ultraviolet and aqueous coating capabilities. Kohl Madden soybean inks are standard throughout. A Roland 800 55-in. press accommodates six colors with a tower coater/perfector.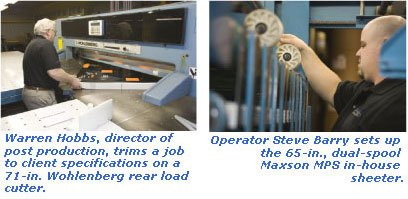 Other equipment includes a Kongsberg XL20 CAD unit that permits HP to create spot coats for knockout areas without losing valuable press time. A 65-in., dual-spool Maxson MSP sheeter facilitates the availability and consistency of sheeted substrates when needed. A Screen computer-to-plate system permits fast turnaround and quality reproduction. A 71-in. Wohlenberg rear-load cutter balances out the company's equipment holdings.

A custom-designed software program, dubbed HPx Preflight, provides clients with instant information through client portals, including pricing, job tracking, shipping information, preflight, and file transfer.

Tom Kowa knows HP is on the right track. First off, his clients tell him so. But he's also received recognition for the company's branded HPx Program from the Assn. of Independent Corrugated Converters as a finalist for the Innovator of the Year Award. Kowa also was recognized for his leadership in PFFC's "Experience Speaks" column. The key, says Kowa, is in exceeding expectations.
---
---
School's in Session
Huston Patterson's chief experience officer Jeanice Gillett coordinates the HPx Academy for all employees, and she'll be rolling out another program for clients as well in the near future. Presently the Academy includes seven category levels: General 100 (with eight courses ranging from print and basic color through problem solving); Pre-Press 200 (with seven courses addressing front end, platemaking, screening, and flight checking); Sheeting 300 (comprising two courses including stock); Press Room 400 (with four courses on basic press, densitronics, color lab, and UV/special techniques); one Packaging 700 class; Client Services 800 (on job ticket entry and communications); and Accounting 900.

The ultimate goal of HPx Academy is to train and certify all employees, but eventually HP will hold a complimentary separate program for clients.
---
---
CONVERTER INFO:
Huston Patterson Corp.
123 W. North St., Decatur, IL 62525
800/866-5692; experiencetheevolution.com

SUPPLIER INFO:
Verse One—PFFC-ASAP 330. verse1.net
KBA North America—PFFC-ASAP 331. kba-usa
Kohl & Madden, a member of the Sun Chemical Group— PFFC-ASAP 332. manroland.com
Kongsberg—PFFC-ASAP 334. esko.com
Maxson Automatic Machinery Co.—PFFC-ASAP 335. maxsonautomatic.com
Screen Group—PFFC-ASAP 336. screen.co.jp
Wohlenberg—PFFC-ASAP 337. wohlenberg.de
---