Published: March 01, 2007, By Edited by Deborah Donberg, Associate Managing Editor
Covering the Full Spectrum of Narrow Web News, Events & Activities
Color and More Color
MARBURG-ELNHAUSEN, GERMANY—A Solaris Colorsat ink-dispensing system developed in a partnership between Sun Chemical and GSE Dispensing is helping Römer Etikett meet today's tough label requirements.
Alexander Römer, managing director of the German label converter, explains how label requirements have changed: "Take Nestlé, for example. Five years ago a single order of a million labels would involve just one print run after setup. Today we get the same order, but the requirements involve 200,000 labels in orange, the same in, say, red or blue, and then perhaps a mixture."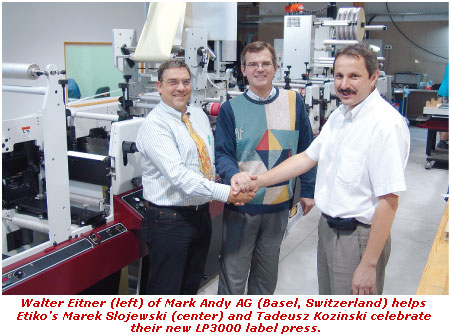 He adds, "We blend up to 70 different colors per month on average. Accurately producing a large variety of special colors in small amounts is absolutely vital. Brand owners want the same consistency today as they did six months ago—and this ink-dispensing system enables that to happen. We have had a 30% improvement in ink room set-up costs."
SUPPLIER INFO:
Sun Chemical-PFFC-ASAP 315. sunchemical.com
GSE Dispensing—PFFC-ASAP 316. gsedispensing.com
---
Opening Up Markets
SZCZECIN, POLAND—Label converter Etiko has added a Mark Andy LP3000 flexo press to its production plant near Szczecin. The eight-color, 13-in., UV press joins three Mark Andy Scout models that print mainly thermo labels for the fresh food market.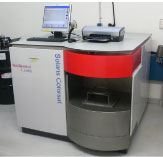 The new press features delam/relam, turner bars, motorized register control, a laminating station, an additional waste rewinder, and two screen cassettes. It also offers Mark Andy's Gizmo, a device for manufacturing multilayer labels.
Etiko hopes to broaden its market appeal through an enhanced range of labels with the LP3000. One example: The company expects the screen printing capability will enable it to serve higher quality markets such as household cleaning products and cosmetics.
SUPPLIER INFO:
Mark Andy—PFFC-ASAP 317. markandy.com
---
Name Change, New Structure
BURR RIDGE, IL—Graphic Solutions Intl. has a new name: GSI Technologies. In addition, the company has reorganized into two divisions: Industrial Graphics and Functional Printing.
The Industrial Graphics Div. includes flexography, hot stamping, web- and sheet-fed screen printing, and fotofinish (photo-etching) to deliver p-s labels, aluminum nameplates, and PC panels. The general manager of the division will be Art Bowers, former GSI sales manager.
The Functional Printing Div., to be headed by general manager Adam Laubach, will produce medical electrodes, passive and powered RFID products, smart card inlays, and electroluminescent lamps.
---
Tape Suited for Sports Injuries
WINDSOR, CT—Scapa North America offers RenKon 208, a heavyweight stretch tape designed for injury prevention and compression management in athletic environments.
Tape is made with high-twist cotton yarns for maximum conformability and consistent stretch. Cloth is single-coated with a zinc oxide-impregnated, porous adhesive system that delivers excellent holding power. Tape unwinds quickly and easily.
---
New RFID Programs at Avery
WESTLAKE VILLAGE, CA—Avery Dennison Retail Information Services (RIS) is offering integrated RFID solutions that specify ROI as their central business objective. Solution components for apparel and footwear retailers include consulting services, case- and item-level technologies, tags, labels, label printers and applicators, software, EAS loss prevention, anti-counterfeit and anti-diversion products, and supply chain efficiency processes.
Avery Dennison RIS is launching a new set of antenna designs based on printed ink technology. "Our new designs allow us to produce tickets and tags on very thin label stock, making the RFID element less obtrusive," says director of marketing Phil Calderbank.
Avery also announces an alliance in which it markets its line of item-level RFID tags and labels, label printers, and printing software with the TrueVUE RFID platform from Vue Technology, Lake Forest, CA.
In other Avery news, Avery Dennison Corp., Pasadena, CA, now is making patents available for its inlay production process that uses small subassemblies, called straps, to create labels or inlays at high rates of speed.
In addition, Avery Dennison has acquired RF IDentics, Grand Rapids, MI, called "a great complement to the technology transfer program for our converter partners…."
---
UPM Raflatac Plans New Facility
FLETCHER, NC—UPM Raflatac announces plans to build a new p-s label stock factory in Dixon, IL, 105 miles west of Chicago. The facility will focus on serving label converters in the US Midwest and reportedly will feature the company's latest coating and finishing solutions. Completion is expected in the first quarter of 2008.
Also announced is a new terminal to provide slitting and distribution services from Rochelle, IL, which opened in the third quarter of 2006.
---