Published: February 01, 2007, By By Dr. William Llewellyn AWA Alexander Watson Assoc.
---
Part 1
| Part 2 |
Part 3
|
Contract Servicing Directory
|
New Products
---
Metallizing Matures
The current vogue for barrier-coated pouches and other packaging has been central to making the vacuum coating and metallizing processes such dynamic niche converting markets in recent years. Today, metallized materials are focused primarily on films, which represent 66% of the market globally (see Figure 1).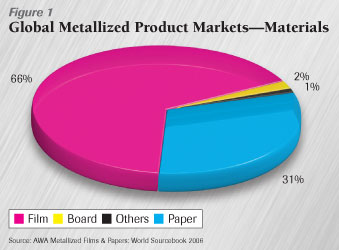 Asia Pacific, inclusive of India, is the second largest regional producer of vacuum-coated products and is forecast to overtake Europe as the largest regional producer/user by 2007–2008 (see Figure 2). While there is a decline in global market share in the traditional North American and European markets, South America is back on the radar screens once again.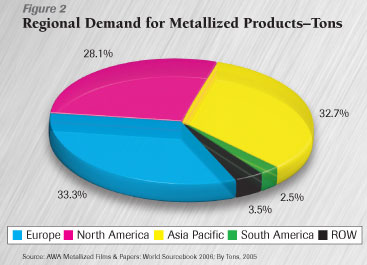 Packaging is the key market for metallized papers and films (see Figure 3). With a 65% share, it's the biggest user of metallized materials (including inner liner applications for cigarette packs).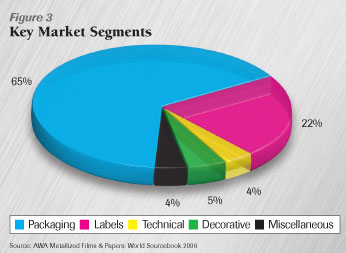 Flex-Pack Drives Metallized Films
Barrier-coated flexible packaging—pouches and sachets—is driving strong growth in metallized films. Indeed, flexible packaging applications account for 88% of global metallized film usage today.

Technology "leapfrogging" in the developing economies to the east of Europe and in Asia Pacific (a region where flexible packaging currently is growing overall at 7.5%/yr, though with regional differences) is helping to maintain positive dynamics. In North America and Europe, however, there are signs that growth is slowing and the market is moving toward maturity.

Most metallized films—more than 56%—are polypropylene (PP)-based, but polyester (PET) has a sizeable 37% market share, with the remaining 7% spread across other films such as polyvinyl chloride (PVC), nylon, and acetates.
Metallized Film Labels Attract Attention
There are many opportunities across the globe for metallized films in labeling applications. Metallic graphic elements are a proven consumer attraction on labels on supermarket shelves. The beer market—where pressure-sensitive film labels are enjoying major growth—is a prime example, as is the use of metallized PP films for wraparound labels on soft drinks and mineral waters.

We are seeing innovative developments in glue-applied film label bases, and the new wave of "sustainable" films, such as polylactic acid (PLA), also will bring new openings for metallizing.
Metallized Papers Need Development
Labeling applications, particularly glue applied, remain the major market for metallized papers, with 64% of overall use. Packaging (mainly cigarette pack inner liners) is the second largest segment.

The static/declining glue-applied label market is affecting overall growth of metallized papers adversely, except in Asia, but metallized papers will continue to find new label niches, such as "monoweb" wraparound labels for bottled mineral waters. There is also the possibility of innovation in terms of "smart papers" and RFID applications for metallized papers—contingent, of course, on the development of appropriate and successful barrier properties.

Overall, however, we see a lack of development in metallized papers outside the established realms of labels and cigarette packaging, which certainly will constrain growth.
Threats: Environmental and Other
In some regions of the world, such as the Nordic countries and Germany, the environmental image of aluminum is extremely negative. As pressure from legislation heightens consumer awareness, especially in the packaging and labeling area, this could have a negative influence on the market for metallized materials.

Additional threats to traditional metallized materials include other coatings, improvements in the printed results that can be achieved with metallic inks, and pressures to reduce costs.
Looking to the Future
We can expect to see continuing growth in applications such as clear oxide coatings, high-performance coatings for flexible packaging, pattern metallizing (where there is good future potential as RFID antennae), shrink sleeves, and applications in product authentication and brand security. These and many other applications undoubtedly offer many opportunities to grow the market for metallized materials, particularly in the world's developing economies.

However, there remains a real need for innovation in the metallizing industry outside the established labeling, packaging, and inner liner applications. Metallizing can bring major functional benefits in the industrial arena as it has in the packaging arena—in application areas such as solar control film—and companies across the metallizing supply chain have to be ready with next-generation processes and products to broaden their options.
---
Dr. William Llewellyn is a senior consultant for AWA Alexander Watson Assoc., Amsterdam, Netherlands.The research for this article was undertaken for the company's new market report, "Metallized Paper & Films Market Assessment and World Sourcebook 2006—Markets, Materials and Technologies." For more information visit awa-bv.com.
---
Part 1
| Part 2 |
Part 3
|
Contract Servicing Directory
|
New Products
---