Published: February 01, 2007, By Edited by Deborah Donberg Associate Managing Editor
Covering the Full Spectrum of Narrow Web Industry News, Events & Activities
Digital Press Adds Capabilities
FAIRFIELD, NJ—A new Hewlett Packard Indigo ws4050 digital press is going through its paces at Logotech. VP Leslie Gurland says, "The Indigo will allow us to expand our capabilities in unique labels, prototypes, unsupported film, and special promotions."
The installation of the digital press coincides with a major expansion of Logotech's prepress and design department. Anita Sparrow, Logotech's art director, says, "The press will be great for someone who wants to make an exact prototype or wants a short run of extremely high quality labels." She adds, "But also, because the cost of consumables has come down in the digital market and speed has increased, digital converting increasingly makes sense for orders as large as 16,000 to 30,000 feet—as much as three times longer than in the past."
SUPPLIER INFO:
Hewlett Packard/Digital Printing Solutions—PFFC-ASAP 315. hp.com
---
Wine Label Study Offered
AMSTERDAM, NETHERLANDS—A 2006 AWAreness Report entitled "Global Wine & Wine Label Market & Technology Review" is available from AWA Alexander Watson Assoc.
The study includes market volumes and growth rates by region, types of labeling formats, and new materials and converting techniques. It also outlines the market structure and the present and future demand for wine labeling by geographic region.
For more information visit awa-bv.com.
---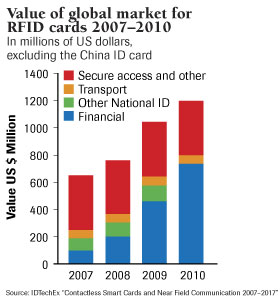 Boom Times for RFID
CAMBRIDGE, UK—RFID business is booming, reports independent analyst IDTechEx. Quoting sources that will be presenters at "RFID Smart Labels USA," to be held in Boston, MA, February 21–22, IDTechEx finds the technology growing in areas where it is already in use (think transportation) as well as in new markets, such as livestock tagging. And, this growth is worldwide.
The biggest market for RFID is contactless smart cards, says IDTechEx, noting, "the China National ID card and system is the biggest rollout, but an even larger budget of at least $15 billion is planned for the UK National ID card. Then there is continued growth in secure access applications and the start of the process of converting over 3 billion financial cards from Visa, MasterCard, American Express, and JCB to RFID."
For more information visit idtechex.com
---
Get Materials Quickly
ST. PAUL, MN—3M reports converters in need of smaller quantities of label materials for short runs or custom orders now will be able to receive materials faster with the updated Master Program and two-day service.
Reportedly, the program now can better serve customers with pre-slit 6- and 4.5-in. rolls stocked in Illinois and southern California, ready to ship within 24 hrs. Two-day service includes custom-slit, full-width master rolls stocked in Ohio and southern California and ready to ship in two working days.
---
P-S Label Agreement
BOUCHERVILLE, QC, CANADA—ETI Inc. Converting Equipment and Nordson Corp., Westlake, OH, are using complementary technologies in narrow web converting. ETI's technology produces p-s labels using a siliconizing process and Nordson's hot melt adhesive coating systems. The new equipment prints, siliconizes, and applies adhesive to labels in-line.
---