Published: December 31, 2006, By Edited by Deborah Donberg, Associate Managing Editor
Covering the Full Spectrum of Narrow Web News, Events & Activities
Letterpress Aids Productivity
LYON, FRANCE—French label printer Stic' Image has installed a Viva 420 press from Codimag, a five-color letterpress model featuring an in-line varnish station.
This is not the converter's first experience with Codimag—a Viva 340 13-in. unit has been in operation there since 1999. Explains Stic' Image's Michel Journois, "…With the 420 [16-in. model] we can increase our productivity with larger widths and longer repeats, along with new technologies like servo motors."
He adds, "We [were] extremely efficient with the Viva 340 on short and medium runs. However, we reached limits on long runs we usually do in flexo. With the 420, we can compete against flexo with letterpress and…develop new markets using the same well-known printing technology."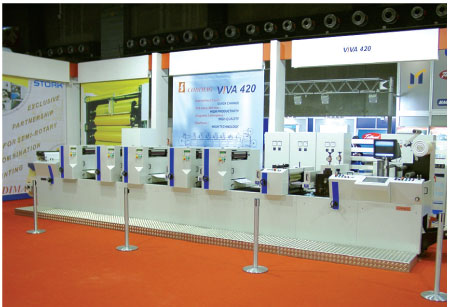 The new press includes extended automatic and remote control features, including register and ink density management. Reportedly, it also allows short makeready times without having to change cylinders for repeat size changes.
SUPPLIER INFO:
Codimag—PFFC-ASAP 305. matik.com
---
RFID Keeps Rolling
JEFFERSON CITY, TN—Nashua's Tennessee facility, which provides direct thermal, thermal transfer, laser, and EDP labels to a wide range of industries, wanted to produce RFID labels on a dedicated line. To that end, the company purchased the Omega RFID Converter from AB Graphic Intl.
The complete system for converting rolls of printed labels features a varnishing unit, UV and IR/hot air drying, two die-cutting stations (including matrix stripping), cross-perforating, and slitting/rewinding. The delamination/relamination section with liner compensation includes two label applicators capable of applying RFID, EAS, and other inlays.
Nashua's Tom Kubis says, "The Omega RFID converter has enabled us to join new business partners and customers throughout North America, such as Alien, who supply RFID inlays. Nashua is now officially an Alien preferred converter."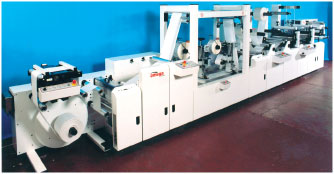 He adds, "The Omega [line] is consistent with the setup and operation of a press, and that made training less of an issue." SUPPLIER INFO:
AB Graphic—PFFC-ASAP 306. abgint.com
---
Label Company is Sold
CHICAGO, IL—Mesirow Financial acted as excusive financial advisor to Rx Label Technology Corp., a portfolio company of Pfingsten Partners and Hilco Equity Partners, in its sale to Cenveo.
Rx Label makes p-s prescription labels for the US retail pharmacy market and generates annual revenues of approximately $40 million. Terms of the cash transaction were not disclosed.
---
Domino Announces Acquisition
CAMBRIDGE, UK—Domino Printing Sciences has acquired 100% of the equity in Easyprint A/S from Easyprint Holding ApS and Vald. Nielsen & Son Export A/S. Easyprint, based in Karlslunde, Denmark, specializes in the design, manufacture, and distribution of innovative thermal transfer overcoding (TTO) equipment. The value of net assets acquired is approximately DKr 2 million.
---