Published: January 01, 2007, By Edited by Deborah Donberg, Associate Managing Editor
Covering the Full Spectrum of Converting Industry News, Events & Activities
Metallizer Does the Job—Consistently
API Foils, Rahway, NJ, manufactures hot stamping foils for a wide variety of products. With business on the increase, the company purchased an EHF vacuum web coater from General Vacuum Equipment (GVE).

Joe Departo, general manager at the Rahway facility, says, "We wanted a machine that would provide product consistency and improve our manufacturing capabilities.…[Our] products require a high quality, automatically controlled metallizing process that produces consistent quality metallized films from run to run. General's EHF metallizer not only produces batch-controlled aluminum metallizing but also provides the HRI [High Refractive Index] coatings needed for our diffraction and holographic products."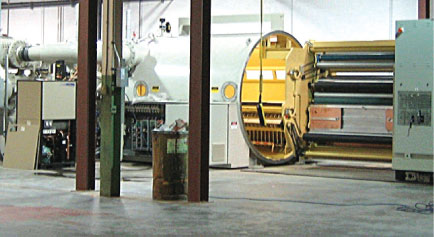 The new metallizer, which is designed for high-volume production of a wide range of plastic films, has a web width of 2,250 mm, speeds to 840 mpm, and features a closed loop automatic deposition system said to provide precise coating thickness and evaporation conditions.
SUPPLIER INFO:
General Vacuum Equipment—PFFC-ASAP 420. www.bobstgroup.com.
---
---
New Press Brings Benefits To UK Converter
A 51-in.-wide Flexotecnica N8G press reportedly is allowing converter Wipak UK to offer customers a wide range of achievable configurations with high quality printing. Wipak, located in Welshpool, Powys, specializes in the production of printed film packaging for the perishable food sector.
The new press, with a repeat range of 14.6–35.4 in., is a gearless model with two downstream units to apply both continuous or in-register patterned varnishes, lacquers, or coatings to either front or reverse surfaces.

Other features include tool-free changes of plate and anilox sleeves; the Viscocolor 2200 computer-aided viscosity control; and the Speedy Clean automatic wash-up system.

Flexotecnica's computerized FNC-3000 Print Monitoring & Management System is said to aid high-speed printing, as does automated splicing on both the shaftless unwind and rewind units.
SUPPLIER INFO:
Flexotecnica—PFFC-ASAP 421. flexotechnica.it
---
---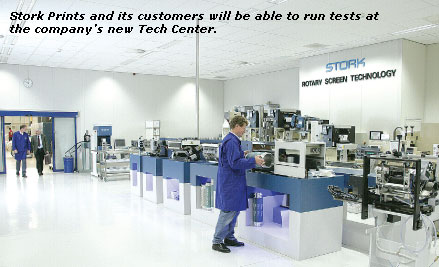 Stork Center Has a Lot to Offer
BOXMEER, THE NETHERLANDS—The Stork Prints Group announces the opening of its 2,300-sq-m Technology Center in Boxmeer, reportedly a significant investment in rotary screen printing research, development, and training.

Stork says the center's five rotary screen printing lines will make it easier and faster for label printers, graphics industry converters, and industrial coaters to test new ideas and applications. It also will enable Stork to conduct its own trials.

Graphics lines include an RSI (Rotary Screen Integration) line with a 3-m hot air and curing system that will be used for trial runs of RFID antennas. A 10-in.-wide, four-color press is for narrow web test runs, and a full-specification RSI unit is for a wider range of substrates, including solid board.

A Codimag two-color, semi-rotary screen press also will be in use.
---
A Winning Combination
CHICAGO, IL—Three concurrent events—CPP Expo, Pack Expo, and Process Expo—formed a supply chain event that drew a combined attendance of 45,676 at Chicago's McCormick Pl. October 29–November 2.

CPP organizer H.A. Bruno says 22% of those attending indicated converting/package printing and related services as the primary business. The number visiting CPP Expo is estimated at 6,140, with 3,490 interested in package printing equipment/supplies; 3,106 in coating/laminating; 2,573 in slitting/rewinding; and 2,272 in finishing equipment. Organizers say 52% of the 132 exhibiting companies on the show floor have reserved space for future CPP events.

Reporting international sales and some "surprising" leads at CPP, Nordmeccanica's Giancarlo Caimmi says, "We have been very pleased with the show…. We love the idea of the marriage of CPP Expo and Pack Expo in the same venue."

Raul Matos, Karlville Development, agrees: "…Our success depends on converter customers' success in the pouch and shrink sleeve business. CPP Expo with Pack Expo is an ideal venue to maximize our exposure into the marketplace."

The shows again will co-locate Oct. 15–17, 2007, at the Las Vegas Convention Center, as well as back at McCormick Pl. Nov. 9–13, 2008.

For more information visit cppexpo.com.
---
Ampac Agreement Announced
CINCINNATTI, OH—Ampac Packaging has entered into an agreement with Prudential Capital Group, Chicago, IL, and Falcon Investment Advisors, Boston, MA, to recapitalize the company for an undisclosed amount. The influx of new capital will enable Ampac to continue to pursue strategic and organic growth in the flexible packaging sector.

John Baumann will remain president and CEO, and he and other key management executives will retain ownership interest, along with Prudential and Falcon.

Dianna Carr, VP of the Prudential Capital Group, says, "Our investment strategy has been to focus on middle-market companies with consistent growth stories and solid management teams. Ampac is a great fit—it has done an excellent job of growing the company over the last several years and has a terrific management team that will continue to lead the company to further success and growth in the future."
---
GOA 2007 Promises Hot Stuff
MIAMI, FL—Graphics of the Americas (GOA) returns to the Miami Beach Convention Center March 2–4, bringing the latest in graphic arts/communications. GOA, in its 32nd year, is produced by the Printing Assn. of Florida (PAF).

Expected are 500 exhibiting companies and more than 24,000 attendees, including digital printers, package and label printers, prepress professionals, POP designers, variable data printers, and more.

Included on the 500,000-sq-ft exhibit floor will be the Adobe Theatre; a Web to Print Pavilion; Design City; Printer's Showcase; the Wide Format Sign & Banner Hall; and the XML-PDF Pavilion.

The conference program, running from February 28–March 4 and produced by Xplor Document Univ., will feature 22 courses of content in more than 200 classes. Attendees also will be offered six additional conferences: PDF Forum and Tutorials for Production Print; XML Forum and Tutorials for Production Print; Creative Suite Power tour; Digital Technologies to Grow Your Bottom Line (Spanish speaking only); and CIP4 User's Group Meeting.

At the GALA Award Banquet and Reception, to be held Friday night, March 2, PAF will present the 2007 GALA (Graphic Arts Leaders of the Americas) awards to Thomas Quadracci, executive chairman of Quad/Graphics, and Francisco Alberto Avila Ruiz, owner of Imprefin SA de CV.

Other special events include the Conlatingraf assembly; a South Beach-themed appreciation party; International Buyer Program matchmaking; and an Xplor evening event. Show hours are Friday, March 2, 11:00 A.M.–6:00 P.M.; Saturday, March 3, 10:00 a.m.–6:00 p.m.; and Sunday, March 4, 11:00 a.m.–4:00 p.m.

For more information visit graphicsoftheamericas.com.
---
Royal Adhesives Adds Line
SOUTH BEND, IN—Royal Adhesives and Sealants has completed its acquisition of the assets of Basic Adhesives' industrial water-based adhesives product line. The acquired line includes adhesives sold primarily to the flexible packaging market.

Royal will transfer production of these products to its new 25,000-sq-ft water-based adhesives manufacturing center located within the 240,000-sq-ft South Bend operation. Until the transition is complete, Basic will continue to toll manufacture the products.
---
New Technology, New Tools
CHICAGO, IL—The 2006 edition of Graph Expo and Converting Expo was the largest US national graphic communications and converting exhibition since 2000, reports the Graphic Arts Show Co. (GASC), organizer of the event. The emphasis on new technology and new tools "typified an extraordinary transition in the printing, publishing, and converting industry," adds GASC.

Held October 15–18 at Chicago's McCormick Pl., the show featured more than 630 exhibitors filling over 440,000 sq ft of booth space. The education program of nearly 70 sessions drew a record number of ticket sales, says GASC, with participants choosing to attend more sessions than in the past. Six sessions were sold out.

In 2007 GASC will join with the Flexographic Technical Assn. to offer Graph Expo and the debut edition of PackPrint. The dates are September 9–12. For more information visit gasc.org.
---
Associations in Alliance
RESTON, VA—The Print Industries Market Information and Research Organization (PRIMIR) and the Printing Equipment and Supply Dealers' Assn. of Canada (PESDA) have formed an alliance in which all PESDA members will become members of PRIMIR.

PESDA president Evan Cambray says, "Responding appropriately to high quality market intelligence will advance the prosperity of supplier operations. Graphic technology and consumable providers are a vastly understated component within the print supply chain."

PRIMIR president William K. "Kip" Smythe notes that the alliance will provide PRIMIR with valuable input on the Canadian market as well as additional research dollars.
---
Ink Collaboration Reported
WIDNES, CHESHIRE, UK—DataLase (formerly Sherwood Technology) announces a collaboration with Zeller+Gmelin Corp., Eislingen, Germany, a manufacturer of UV specialty printing inks. Zeller+Gmelin will market a complete range of inks produced using DataLase's patented process. This will be done via a non-exclusive agreement that will enable Zeller+Gmelin to develop the DataLase Packmark solution and distribute it to its global network of subsidiaries and distributors.
---
Showcasing the PLACE at CMM
CHICAGO, IL—TAPPI's PLACE Div. will sponsor a pavilion at CMM Intl. 2007, reports PennWell, owner and producer or the show.

"The TAPPI Pavilion will add a new dimension to CMM for converters looking for the latest advancements in coatings and laminating for the flexible packaging marketplace," says show director Jim Enos. "At the same time it provides TAPPI PLACE members with the opportunity to showcase their products to several thousand converters from around the world."

CMM 2007 will take place June 4–7 at the Donald E. Stephens Convention Center in Rosemont, IL. For more information visit http://cmm07events.
---
Opening Up in Virginia
RICHMOND, VA—Payne, a supplier of self-adhesive tear tape technology, has established a second print operation in Richmond, complementing the company's UK plant. The multimillion investment in the new facility includes a new six-station Rotomec gravure press with advanced registration equipment and digital controls; a laboratory and compliance test area; and a working prepress department.

Reportedly, the fully integrated facility delivers increased flexibility and improved speed to market for Payne's US customers and provides improved security for printed tear tape solutions to its multinational customers.
---
Smurfit-Stone Consolidates
CHICAGO, IL—Smurfit-Stone reports the management consolidation of two Illinois sheet feeder plants—Bedford Pk. and Hanover Pk.—into Innovative Packaging, its sheet feeder facility in Milwaukee, WI.

According to John Knudsen, senior VP of manufacturing for the Corrugated Container division, "Given the competitive nature of our business with our converting customers under intense margin pressure, we need to continue to pursue a lower-cost business model to better serve our customers at the best possible price.…"

John Lingle and Terry Paulson, two of Innovative Packaging's original founders, will continue to manage the business.
---
---
PEOPLE IN THE NEWS
At The Montalvo Corp., Gorham, ME, Rolf Olsen is named VP of sales, and Joseph Croyle is promoted to applications specialist.
Jeanice Gillett is promoted to the new position of chief experience officer (CXO) for Huston Patterson, Decatur, IL, to head the HPx program designed to "enhance the client experience." The company also is celebrating more than 100 years of business, having started in 1895.
Filmquest Group, St. Charles, IL, hires Gary R. McKowen as VP.
Tony Hamilton joins Brandtjen & Kluge, St. Croix Falls, WI, as UK sales manager for folding and gluing equipment.
Following his recently announced retirement as executive VP of corporate development at Paper Converting Machine Co., Green Bay, WI, Frederick W. "Rick" Baer joins the board of directors of Barry-Wehmiller Companies, St. Louis, MO, PCMC's parent company.
Rotometrics, St. Louis, MO, hires Phil Taylor to serve as regional salesperson for southern California.
Two appointments are announced at the Performance Packaging Div. of Appleton, Appleton, WI: Ladd Zigman becomes account manager for the national sales team, and S. Anthony (Tony) Pace is named process engineer.
New eastern region district sales representative for Mitsubishi Lithographic Presses, Lincolnshire, IL, is Tom Kaz. He will cover the state of New York.
---