Published: December 14, 2006, By Edited by Deborah Donberg, Associate Managing Editor
Covering the Full Spectrum of Industry News, Events & Activities
Speeding Things Up
Since Warneke Paper Box Co., Denver, CO, installed an eight-color Speedmaster CD 102 press from Heidelberg, productivity has increased by 35% due to quicker makeready times and faster run speeds, reports owner Steve Warneke. "The CD 102 has the more automated Preset Plus feeder and delivery and switches between different substrates quickly."

The all-Heidelberg shop with its 68 employees produces packaging materials for high-end national clients in the pharmaceutical, medical, food, and cosmetics industries. The company uses foil laminate, foil-type and foil stamping boards, UV and conventional inks, and the InkLine automatic ink supply system from Heidelberg.
SUPPLIER INFO:
Heidelberg—PFFC-ASAP 380. us.heidelberg.com
---
---
Keeping Tobacco Cartons Safe from Counterfeiting
A leading tobacco carton manufacturer in China is running the first Omet Varyflex press designed specifically for the Chinese tobacco industry, reports Matik North America, distributor for Omet.
The servo-drive, modular press is 20 in. wide and features ten print stations and two in-line die-cutting stations. It is primarily a flexo press, but one rotogravure unit and one (Omet C.A.S.T.) silk screen unit can be interchanged into any of the print stations.

Because a particular requirement of this converter was the ability to produce anti-counterfeiting packaging, the press is equipped with multiple hologram application units. The Holo-King Unit, a hologram inserting unit, runs to 330 fpm with up to six independent strips of holograms. By incorporating two of the hologram inserting units, the converter can insert a total of 12 hologram strips across the web. In addition, a hologram paper unit allows the in-line production of hologram paper and cartons.

After the substrate has been printed and received all value-added options, it can be laminated and varnished. The board is then fed into the die-cutting stations, and the boxes are embossed, creased, and die-cut.
SUPPLIER INFO:
Matik North America—PFFC-ASAP 381. matik.com
---
---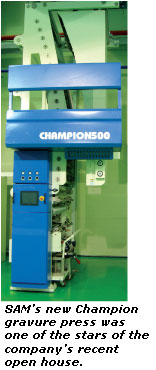 Sung An Celebrates Expansion
ANSAN CITY, SOUTH KOREA—Sung An Machinery (SAM) reports a major expansion in manufacturing capacity with the opening of a new 218,000-sq-ft facility, located in an industrial complex about 50 km from Seoul.

Established in 1960, SAM began exporting its converting and plastics machinery to international markets in Asia. In 2006 the company began exporting to Europe and North America.

At a recent open house to celebrate the expansion, SAM introduced the high-speed Champion gravure press, which runs at 500 mpm and features a trolley design, HMI indicated doctor positioning with job memory, and an integral performance dryer. Also on display was a new extruder, the newest precision roll coater, and the second-generation HIFLEX in-line flexo press. "Expanding our manufacturing presence with the new facility will clearly demonstrate our strong commitment to the world converting and plastics markets," says D.H. Shin, president and CEO of SAM.



---
Anniversary, New Headquarters
MENTOR, OH—Chemsultants Intl. marks its 20th anniversary by opening a new ten-acre Development Center featuring a 35,000-sq-ft building, state-of-the-art testing, product development, research, and training facilities. Included will be an Arrow pilot coater; new solvent recovery equipment; new in-house plasma treatment capabilities, new slitting capacity, and more. The site has enough space for two additional buildings, including one to develop fuel cell membrane technology, a new company initiative with implications for alternative energy development. Chemsultants received a 2006 federal appropriation from the Dept. of Energy to conduct research in this area.
---
Group Focuses on Digital Print
ROCHESTER, NY—Durst Phototechnik has created a Packaging & Industrial Group to focus on emerging specialty printing applications. In conjunction with this, Durst's US subsidiary has named Christopher Howard head of the region's Packaging and Industrial business and started a North American campaign for the Rhopac large-format digital press. The company believes "digital inkjet technologies have reached the point where applying inks onto virtually any surface is not only possible but is an increasingly precise, efficient, and productive process."
---
'Science' Spoken Here
By Yolanda Simonsis, Assoc. Publisher/Editor
RENO, NV—The annual fall technical meeting of the Assn. of Industrial Metallizers, Coaters and Laminators (AIMCAL) is the place where "science" is the medium of communication.

The annual fall meeting is not for scientifically faint of heart; for those looking for a broad education on vacuum web coating or web coating/laminating, it's difficult to find a better technical program in the industry. William M. Stratton III, VP & general manager of Adhesive Research, ARclad Div., summarized his first-time experience as follows: "I've attended different meetings offered by other organizations that more directly address my specific interest in tape coating and splicing; however, in this setting I don't feel as inhibited to discuss issues because I'm able to learn about subjects on a broader level with other converter attendees who are not direct competitors as well as with the vendors who attend these meetings. They are able to provide feedback and best practices. This meeting provides a great opportunity for networking with other coaters and vendors serving the converting industry, while also providing a chance to discover new technologies to improve our company's processes."

Held October 22–25 at the Peppermill Resort in Reno, AIMCAL claimed a record attendance with more than 250 participants (spouses brought the total to 275). Serving both the vacuum web coating and coating/laminating segments of the organization's membership, the meeting offered a dual track of sessions, as well as a tabletop exhibit sponsored by CMM Intl.

Rory Wolf of Enercon Industries, Menonomee Falls, WI, won best coating and laminating paper for "New Atmospheric Plasma and Photografting Approach for Permanent Surface Tension and Coating Adhesion." In like fashion, John Madocks of General Plasma, Tucson, AZ, was awarded best vacuum coating paper for "High Rate Deposition of Reactive Oxide Coatings by New Plasma Enhanced Chemical Vapor Deposition Source Technology."

For information on obtaining a CD containing the presentations for this year's AIMCAL Fall Technical Meeting, visit aimcal.org.
---
Film Company Growing in NA
WINSTON-SALEM, NC—Specialty BOPP manufacturer Treofan Group reports it is close to doubling capacity at its plant in Zacapu, Mexico. The company will invest approximately $45 million in expanding production and R&D facilities, including a new state-of-the-art, 8.2-m, high-speed production line from Brueckner.

Peter A. Briggs, Treofan CEO, says, "With this new investment, we are entering a period of expansion following the successful restructuring of our global business. We have a clear strategy to grow our business beyond our market-leading position in Europe."
---
Cham with New Focus
CHAM, SWITZERLAND—Cham Paper Group (CPG) reports it will focus its Hunsfos, Norway, mill on high quality uncoated paper. The coater, which has a maximum annual capacity of 40,000 tonnes, will be shut down soon.

The mill has belonged to the Cham Paper Group since 1999. CPG expects the move to make a positive contribution to operating profit after a number of years running at a loss. As part of the repositioning, the Hunsfro mill will receive more autonomy and no longer will be managed as a cost center but as a profit center.
---
China Paper Show a Success
WASHINGTON, DC—China Paper Shanghai 2006, held this fall at Intex in Shanghai, China, drew nearly 400 Chinese and international exhibitors and 7,000 attendees. This represents growth of more than 30% over the last show.

According to show organizer E.J. Krause & Assoc., one of the reasons for the show's success is that "the paper industry in China has unlimited potential and continues to develop at a rapid pace." China produced 56 million tons of paper in 2005, an increase of more than 13% over the previous year and more than a 24% increase since 2003. At this rate, E.J. Krause predicts, China will be producing more than 80 million tons of paper by 2010.

For more information visit ejkrause.com.
---
Polykote Builds New Facility
WARMINSTER, PA—Polykote Corp., a custom contract coating, laminating, slitting, converting company, is building a larger, high-tech facility in Forks Township, PA. The 26,000-sq-ft facility is scheduled for completion in late December and will be fully operational in the first quarter of 2007, reports John Guzzo, president of Polykote.
---
Wal-Mart Packaging Initiative
CHICAGO, IL—Wal-Mart Stores revealed details of its new packaging initiative during a keynote address entitled "The Wal-Mart/Sam's Club Packaging Vision" at Pack Expo, held October 2–November 7 in Chicago.

The initiative features a packaging scorecard used as a measurement tool that allows suppliers to evaluate themselves relative to other suppliers. The scorecard is based on specific metrics that evolved from a list of favorable attributes announced earlier this year, designated the "7 Rs of Packaging": Remove, Reduce, Reuse, Recycle, Renew, Revenue, and Read.

The metrics are as follows:
15% will be based on Material Value
15% will be based on Product/Packaging Ratio
15% will be based on Cube Utilization
10% will be based on Transportation
10% will be based on Recycled Content
10% will be based on Recovery Value
5% will be based on Renewable Energy
5% will be based on Innovation
Suppliers will receive an overall score relative to other suppliers, as well as relative scores in each category.
More than 2,000 private label brand suppliers now have access to the packaging scorecard. For all others, an automated online demonstration is available at
scorecardlibrary.com.
The initiative, which is part of a plan to reach a 5% packaging reduction across Wal-Mart's supply chain by 2013, reportedly will prevent millions of pounds of trash from reaching landfills, save energy, and reduce emissions.
---
Amerikal, Oxy-Dry Partner
WAUKEGAN, IL—Amerikal Products Corp. announces a strategic partnership with Oxy-Dry Corp. to develop and manufacture Oxy-Dry Ecoclean, a Genesis product. The partnership is the first of its kind for Amerikal and will allow Oxy-Dry customers to begin using Ecoclean in an effort to replace petroleum-based and hazardous washes.

Robert T. Danielson Jr., VP of business development for Amerikal, explains, "…Ecoclean is made of nonhazardous materials such as soy and other renewable resources developed in the United States. We are hopeful that more printers and suppliers will begin demanding environmentally responsible chemicals and washes in their pressroom…."
---
---
PEOPLE IN THE NEWS
Dover Flexo Electronics, Rochester, NH, promotes John Lariviere to inside sales manager.

Thomas M. Mohr is appointed president and CEO at Applied Extrusion Technologies, New Castle, DE.


New product engineer at NDC Infrared Engineering, Irwindale, CA, is Joel Robinson.

Advanced Software, Yardley, PA, adds Craig Bromer as VP of sales and marketing.

The industry suffered two losses recently: Josef (Joe) Fuchs, retired senior VP for Bobst Group USA, Roseland, NJ, passed away June 12 at the age of 67; Robert Duff Wyatt, who worked for DuPont Co., Wilmington, DE, in sales, marketing, and management positions for 31 years and then started his own company, died of melanoma July 19 at the age of 61.

At Flexcon, Spencer, MA, Dave Rosen is named executive VP, international, and Steve Tomas becomes director, flexible electronics. Both are newly created positions.

Torben Rysgaard is now VP, Polyester CTP Div., for ECRM Imaging Systems, Tewksbury, MA.

Harper Corp. of America, Charlotte, NC, promotes Bonnie Hudnall to customer service team leader.

At ISO Poly Films, Gray Court, SC, Valerie Anderson becomes quality assurance manager.

At HumanEyes Technologies, New York, NY, Jeffrey Miller joins as sales director, Americas.

Novatec, Baltimore, MD, appoints Donald Wood regional VP for systems sales in the western US.

Michael Abbeduto is director of customer service at Mitsubishi Lithographic Presses, Lincolnshire, IL.
---