Published: June 30, 2006, By Lynn G. Crutchfield, The Brand Protection Alliance
---
Part 1
|
Part 2
|
Part 3
| Part 4
---
Fighting Fraud
Converters often are approached by customers for help in implementing a brand protection strategy. Today, there is a significant and broad-ranging platform of professional brand security solutions available, and making the choice can be difficult and confusing for all involved.
Therefore, it makes sense to have a working knowledge of the way both the client and converter can work toward the optimal solution for a problem, without the fear of compromising the success of the venture or the converter's own profile.
The Brand Protection Alliance has formulated a simple "route map" that will help you get to the solution quickly, cost effectively, and successfully.
Come Out of Denial!
The first step, of course, is for the brand owner to recognize and admit there is a problem. A brand theft problem is bad PR for the product image, bad for sales, and—perhaps much more damaging—can lead to a loss of brand integrity fueled by declining consumer confidence.
Whether the problem is counterfeiting, diversion, or some other type of organized brand theft, it cannot begin to be solved until the brand owner is ready and willing to share it with a trusted solutions provider. That often will be a converter that regularly prints elements of the product's packaging.
Confidentiality is Key
At that point, it is essential to establish an atmosphere of confidentiality. In order to allow for free and open discussion to relevant supplier-partners in your supply chain, all involved should sign—and be bound by—non-disclosure agreements.
As the project moves towards implementation, the discussions should be narrowed to a "need-to-know" basis. Operating in this manner will ensure your solution will be kept secure. After all, how secure is a solution that everyone knows about?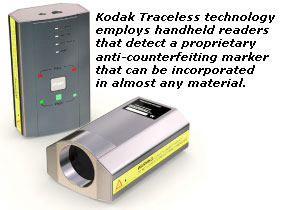 Easy to Authenticate, Hard to Duplicate
When you design a solution, you will want it to be easy to authenticate but difficult to duplicate, and it must, of course, exactly address the needs of the brand owner's particular problem.
Here, it is worth involving experienced, knowledgeable, specialist solutions providers that will know how to help achieve the results you want, without making the common mistake of over-engineering a solution.
As a rule, off-the-shelf security and authentication products are as easy to duplicate as the attacked products themselves. Customized solutions offer the highest and most effective levels of protection over the long haul.
Practical Issues
Be practical and cost-conscious when you are mapping out your preferred solution: The unit cost of the protection device is only one aspect of the brand security "package." Begin your research program with a simple goal of pass/fail authentication.
Today, there are many proven products readily available to narrow web converters, and maybe you will find this is all your brand owner/customer needs.
If you need to expand beyond this, you should have established that fact before selecting a particular pass/fail technology, or you may have to rethink your solution all the way down the line.
But whatever the situation, don't wait until you have an ultimate solution defined. Take some interim measures. Every day that goes by with the brand unprotected increases the likelihood it could be destroyed!
Choosing the Right Time
Undeniably, the best time to implement a brand protection program is before a problem arises. Sadly, for too many companies, it is already too late.
For the attacked brand owner, the problem of organized brand theft results in irrecoverable revenues and profits, erosion of brand equity and reputation, deterioration of market share due to loss of consumer confidence, costly litigation, and all too often, human harm.
The Commitment
Given the magnitude of these risks, brand owners cannot afford to hide their heads in the sand or simply hope their problems will go away. Although achieving effective brand protection is difficult work, it is not an impossible task. Basically it only requires three things:
An acceptance of the problem and a willingness to defeat it
An experienced and knowledgeable partner or partners to assist in the fight
A plan and the commitment to stay on course with that plan.
Converters can be ahead of the game by being ready for the time the brand owner comes along with a problem by arming and equipping themselves with at least a cursory knowledge of what technologies, products, and services are available.
---
RESOURCE
The Brand Protection Alliance
The Brand Protection Alliance has been established to work with both converters and brand owners alike to take brand security further than simple cosmetics, because today's fraudsters are sophisticated criminals. It is a resource organization that will assist, confidentially, in the design, development, and implementation of customized, secure solutions against consumer product counterfeiting and diversion.
---
---
Lynn G. Crutchfield is president of the Brand Protection Alliance (BPA), which was established in 2005. Crutchfield also is a member of the start-up team that founded Acucote in 1987. As president, he oversees marketing and product development activities for the company. He can be reached at 336/578-1800; brandprotectionalliance.org.
---
---
---
Part 1
|
Part 2
|
Part 3
| Part 4
---