Published: July 10, 2006, By Edward Boyle, Contributing Editor
Label Printing
In some industries, such as pharmaceuticals, "content labeling" is second in importance only to the product itself when a company is developing and marketing a new product, at least in the watchful eyes of such regulatory agencies as the US Food and Drug Administration. Everything from contents to side effects must be defined clearly and extensively, which sometimes can be difficult to do within the confines of a small pharmaceutical bottle label.
Many companies initially met this requirement simply by including a printed sheet in the package along with the product itself; many companies still do, but that, of course, can be done only if the product actually comes in a package.
Label converters developed an innovative solution to this problem in the early 1970s with the introduction of Extended Text Labels (ETL). An ETL comprises a multi-panel printed sheet that is attached to the product with a pressure-sensitive base label and can be "opened" accordion style to display all the required information.
Inprint Systems Ltd. (purchased by CCL Industries in September 2005), with plants in the Netherlands, the UK, Italy, and the US, has been a leader in the production of ETLs virtually since their introduction and has played a fundamental roll in their evolution.
The overall company now produces those labels at four former Inprint plants and six existing CCL facilities. Given this number of sites, manufacturing can be shared to minimize total production time, carried out closest to a customer's premises to improve communication and minimize delivery time and cost, or any combination for the most cost-effective solution.
Resolving Variable Text Issues
A few years ago, Inprint's UK plant worked with another UK-based company, DataLase Inc. (formerly Sherwood Technology), to solve a problem that long has plagued its pharmaceutical and agro-chemical customers, among others: economically and efficiently printing additional variable text, such as lot numbers and expiration dates, directly on the base polypropylene-laminated label.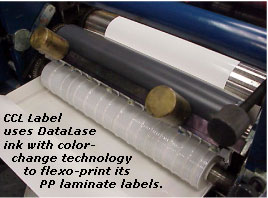 Additionally, for pharmaceutical companies, it is essential every label be clearly legible because each one of them is passed through an Optical Character Recognition (OCR) reader on the production line to verify the batch details. Furthermore, the labels need to be indelibly marked to comply with industry legislation.
"That's very difficult to do on top of a laminated label," notes John Dultz, process improvement manager for St. Louis-based CCL Label (formerly known as Inprint USA). "You have to find something that will stick to it and will not rub off. So our efforts were to find a material that we could print underneath the laminate that could be activated through the laminate without damaging it."
Ink Additive Creates Image
Today, CCL's "Expanded Content Label" (ECL) is preprinted with all the non-variable information and finished with a PP laminate. The labels then are supplied to pharmaceutical companies, for example, where they are incorporated into the production line. Pharmaceutical ECL labels typically will have a strip under the PP laminate that is left blank so the lot number and expiration date of the product batch can be applied on the label during the pharmaceutical production line.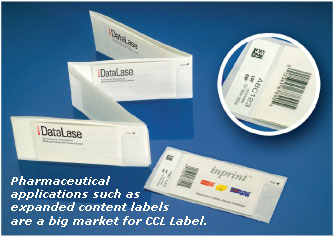 CCL reports it is able to accomplish this using DataLase's unique color-change chemistry, also called DataLase, a high-speed method for applying virtual labels, anti-counterfeiting solutions, codes, and other graphics to what is said to be an infinite array of materials at full production line speeds. It is a robust, inert additive that forms a positive image once exposed to low-level energy emitted from a CO2 marking laser.
The DataLase ink undergoes a color change process and creates a variable image, such as a batch code or expiration date, that is stable and has high contrast, Dultz explains. Compared to more traditional coding and marking methods, it also has higher fidelity, he says. This means data printing can be achieved without applying ink at the point of coding, but rather by causing a change of color in the substrate by the application of laser energy.
The DataLase solution reportedly is extremely flexible and can be used for a wide range of marking applications, including on-product, primary packaging and labels, secondary packaging, and industrial parts. The chemistry can be added to inks, coatings, processed plastics, and an array of packaging and printing materials such as paper, board, foil, and metals in addition to edible substances such as tablets and confectionery.
At CCL, p-s paper stock is supplied by Fasson Roll and Raflatac. OPP laminate films are supplied by ACPO and Achem. Flexographic printing is accomplished on presses from Propheteer, Gallus/Arsoma, and Allied Gear & Machine Co. (no longer manufactured).
ECLs in general combine p-s labels and loose, folded leaflets and booklets to create what Dultz says is an integrated, more cost-effective, secure, and user-friendly approach to product packaging. ECL constructions include the following benefits:
Allow more space for information
Can be applied automatically using standard labelers
Adapt to nearly any container type
Offer leaflet-to-label compatibility
Can incorporate tamper-evident devices and holograms for added security
Reseal for repeated reference
Reduce packaging, improve production line speeds, and provide greater security and cost savings
Create functional, interactive promotions
Spur immediate sales with games, contests, and sweepstakes
Reward loyal customers with encapsulated premiums
Encourage trial by including product samples.
DataLase also can be incorporated between the layers of the laminated label, allowing the laser marking to take place through the transparent top laminate layer on ECL labels, forming an indelible, tamper-resistant image trapped under the laminate.
ECL development has been so successful that Dultz says pharmaceutical customers account for some 50% of Inprint's sales at the time of this interview.
---
CONVERTER INFO:
CCL Label (formerly InPrint USA)
208 Spring Drive
St. Charles, MO 63303
636/946-2439; inprint.com

SUPPLIER INFO:
DataLase Inc. (formerly Sherwood Technology)—PFFC-ASAP 301. datalase.com
Fasson Roll, div. of Avery Dennison Corp.—PFFC-ASAP 302. na.fasson.com
UPM Raflatac—PFFC-ASAP 303. raflatac.com
ACPO—PFFC-ASAP 304. acpo.com
ACHEM Technology America—PFFC-ASAP 305. achem-usa.com
Propheteer Intl.—PFFC-ASAP 306. propheteerintl.com
Gallus Group—PFFC-ASAP 307. gallus.org
---