Published: July 10, 2006, By Edited by Deborah Donberg, Associate Managing Editor
Covering the Full Spectrum of Industry News, Events & Activities


Wet-on-Wet Process Debuts
GIRONA, SPAIN—Comexi welcomed more than 500 customers to its Girona headquarters recently for the commercial launch of WetFlex, a wet-on-wet printing process developed and patented by Sun Chemical in cooperation with Comexi and Energy Sciences Inc.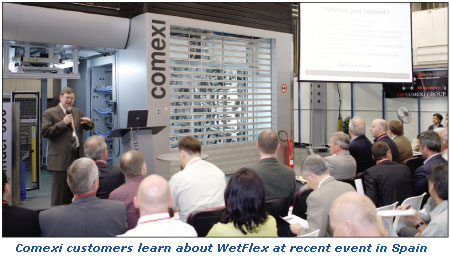 The flexographic process uses Sun's UniQure inks, which are wet-trapped and cured using a single EB unit at the end of the press. This eliminates the need for inter-station drying and reportedly results in higher quality products at a lower cost. Sun Chemical says the UniQure ink system offers low odor and high color strength, does not contain any VOCs, and can be used on retrofitted presses.
---
Acquisition Adds Resources
MANILUS, NY—Applied Films has entered into a definite agreement to be acquired by Applied Materials, Santa Clara, CA. Thomas T. Edman, president and CEO of Applied Films, says, "This [agreement] combines our expertise and technology for deposition of thin-film coatings for large-area applications with the leader in deposition equipment for semiconductor applications. The combination of our two companies will bring us tremendous resources to draw from…."


Digital Data Standard Published
RESTON, VA—NPES The Assn. for Suppliers of Printing, Publishing and Converting Technologies reports ISO 16612-1, Graphic technology—Variable printing data exchange—Part 1: Using PPML 2.1 and PDF 1.4 (PPML/VDX-2005) has been published as an ISO-standard digital data format for representing final form graphical page content for variable data print applications.

PPML/VDX is designed for use with job ticketing formats such as CIP4's Job Definition Format (JDF) and represents full-color page data in a way that is compact, independent of product workflow and printing device, and suitable for open exchange.

For more information contact NPES at 703/264-7200 or visit npes.org.
---
Silicone Coating Line Ready
ROCKLIN, CA—Silicone release liner manufacturer Tribex Corp. reports the completion of a new 65-in., high-speed UV silicone coating line. Substrate coating will include SCK papers, polycoated papers, polyesters, LDPE, HDPE, and BOPP. Custom manufacturing of specialty films, foils, and papers will be available.

Tribex also announces the addition of quick-turn, small-volume runs as well as direct-from-inventory shipments of small-volume, standard release liners.
---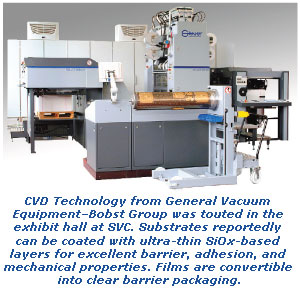 Emphasis on Education at SVC
By Claudia Hine Managing Editor
WASHINGTON, DC—The Society of Vacuum Coaters held its 49th Annual Technical Conference April 22–27 at the Marriot Wardman Park Hotel. The conference featured a full agenda of technical presentations, short courses, and tutorials, plus an exhibit hall with more than 150 booths.

David Glocker (Isoflux Inc.) announced the 2006 Mentor Award recipients, and H. Angus Macleod (Thin Film Center) presented the Nathaniel Sugerman Award to Carlo Misiano. Misiano retired from Centro Tecnologie del Vuoto in 2001 and started a research company, Romana Film Sottili.

In its fourth year of existence, the Student Scholarship Committee has awarded five scholarships totaling $25,000. Director Paolo Raugei (Galileo Vacuum Systems) said three more will be awarded in 2006.

John T. Felts (Nano Scale Surface Systems) introduced elected directors William D. Sproul (Reactive Sputtering Consulting); Ludvik Martinu (Ecole Polytechnique), and Pamela Diesing (SAGE Industrial Sales). Officers are Angus Macleod, vice president, and Peter Martin, president.

For more information on the conference, click here. Also visit SVC at svc.org.
---
---
ON THE MOVE…
Pinnacle XL, Milwaukee, WI, a consultant to the converting industry, announces the appointment of David A. Markgraf as VP of sales and marketing.

At Dow Chemical Co., Houston, TX, Jeff Wooster is named senior value chain manager, Food and Specialty Packaging for Plastics, and Rob Cotton is named North American applications leader for Food and Specialty Packaging for Dow's plastics business.

Peter Wood is named slitting product manager at Tidland, Camas, WA.

Coburn Graphic Films, Lakewood, NJ, names Guy Leigh VP sales and marketing.

SKF USA, Norristown, PA, names George Dettloff president and CEO to succeed the retiring Sten Malmstrom.

Acucote, Naperville, IL, names Bud Gray business development manager–brand protection.

Stan Braycotton is named product manager for Atlas Converting Equipment, Bedford, UK, part of Bobst Group Business Area Flexible Materials.

Bobst Group USA, Roseland, NJ, promotes Doug Herr to national sales manager, Folding Carton Business Area, and Terry Brock to southeastern regional sales manager for folding carton equipment.

Bob Coultrip becomes regional manager for the Midwest at Water Ink Technologies, Lincolnton, NC.

Sam Dyer rejoins Keene Technology Inc. (KTI), South Beloit, IL, to be in charge of special accounts and applications.

Printing expert Frank Romano joins the Graphic Communication Dept. at Cal Poly, San Luis Obispo, CA, as research professor.
---