Published: June 15, 2006, By Edited by Deborah Donberg, Associate Managing Editor
Covering the Full Spectrum of Converting Industry News, Events & Activies
EUROTALK
Controlling Chemicals
By Corey Reardon, AWA Alexander Watson Assoc.

Many EU government initiatives address environmental control and safety at work. Perhaps the most significant for our industry is REACH.

REACH provides an EU regulatory framework for the Registration, Evaluation and Authorization of Chemicals, replacing 40 existing legislations and creating a single system for all chemical substances across the EU. While still the subject of much debate, it is expected to be law by 2008, imposing added responsibility on industry to manage the risks inherent in the use of chemicals, particularly in relation to adhesives, inks, and other coatings.

Manufacturers and importers into the EU will be required to collect data on the properties of chemical substances they use in their products and—if they are used in sufficient quantities—register them in a central database managed by the EU Chemicals Agency. The database will be accessible to everyone, including consumers.

While our industry's core activity is not the manufacture of chemicals per se, we make extensive use of them. No doubt some of these chemicals will be withdrawn in the face of the high cost of registration with REACH (in terms of collecting the highly detailed data) and toxicological concerns.

Suppliers importing to or exporting from the EU may have to rethink product formulations and take the unavoidable subsequent costs of implementation. As a result, converters may be faced with a new platform of products with different on-press and performance characteristics but the same established end-user specifications.

There is concern this could compromise the European converting industry value chain, with international buyers choosing to maintain current standards and switch their purchasing and converting to non-EU countries not subject to REACH controls. AWA Alexander Watson Assoc. is an international market research consultant company for the converting and packaging industries.
---
---
One is Better Than Two
Replacing two presses with a new, automated one was the goal at Intl. Gamco, a manufacturer of pull-tab tickets located in Omaha, NE. Following three years of research, the company chose a Rapida 105 41-in., six-color, sheet-fed press with aqueous coater from KBA North America.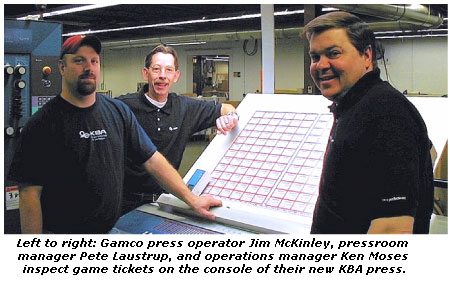 While Gamco wanted the efficiencies of automation, there were other requirements as well, explains operations manager Ken Moses. "In our niche, we need to provide the highest quality to our customers as well as supply them with the ability to produce their jobs from start to finish in-house. …we also have to provide high security."

He adds, "The KBA Rapida…[gives us] the capability to move into UV coating if the market demands it. The automation gives us faster makeready and a faster speed than our other presses…[and] features a completely automatic plate changer and an ink system that is more beneficial to us than we originally thought."

Says Moses, "The quality of our work has improved due to the new press. It has given us the ability to turn work around faster and more efficiently."
SUPPLIER INFO:
KBA North America—kba-usa.com
---
---
Going with a Winner
Printer and bagmaker Tempo Plastics Ltd., Innisfil, ON, Canada, recently installed a new Chronos gearless press from Flexotecnica, a member of the Cerutti Group. Tempo knew it was going with a winner: This is its second Flexotecnica press, and a third is on order for delivery in mid-2006.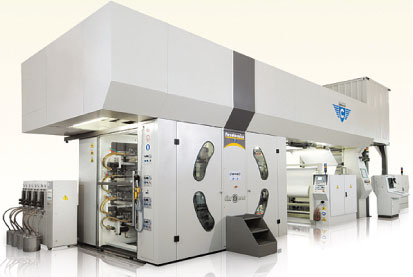 The newest press features a 50-in. web width and has eight-color capability. Additional features include the Speedy Clean automatic wash-up system; FNC 3000 register control system; and flying splice unwind and transfer rewind, both with O.D. of 1,000 mm.
SUPPLIER INFO:
North American Cerutti Corp.—cerutti.it
---
---
Foodservice Disposables Study
CLEVELAND, OH—US demand for foodservice disposables is projected to climb 4.2%/yr to $14.4 billion in 2009, with growth driven by rising disposable personal income levels and increased spending on food eaten or prepared away from home. These predictions are from a new study by The Freedonia Group.

Of special importance to foodservice disposables demand will be trends toward healthier and more sophisticated offerings in limited service restaurants and expanded promotion of takeout options by other establishments. Efforts to increase efficiency and maintain sanitary conditions in large-scale food operations also will contribute.
U.S. Foodservice Disposables Demand (million dollars)
% Annual Growth
Item
1999
2004
2009
04/99
09/04
Total Demand
9,469
11,740
14,420
4.4
4.2
Serviceware
4,454
5,375
6,445
3.8
3.7
Packaging
4,080
5,280
6,710
5.3
4.9
Napkins & Others
935
1,085
1,265
3.0
3.1
®2005 by The Freedonia Group
According to the report, the fastest advances among foodservice disposable products will be in packaging, forecast to increase at 4.9% annually through 2009. The ability to protect food and to reheat it in the same container will be important factors. Lids and wraps are expected to post the fastest gains, with most container types registering above-average growth. For more information visit freedoniagroup.com or call 440/684-9600.
---
Sun in MetalFX Agreement
NORTHLAKE, IL—A licensing agreement will allow Sun Chemical to make and sell MetalFX inks, a technology that can be used to print up to 104 million metallic colors.

The colors can be created by printing process color inks over MetalFX base silver ink. The color specification is controlled through the MetalFX software and swatch books. The process inks have defined values, making it possible for Sun to produce inks that are compatible with the system.

Sun announces it will support MetalFX sales at five locations: St. Charles, IL; Santa Fe Springs, CA; Atlanta, GA; Philadelphia, PA; and Grand Prairie, TX.
---
CMM Names Two
NASHUA, NH—CMM has appointed two team members to its show management team from PennWell, which acquired the CMM show recently.

As marketing manager, Andrea Flaherty will help spearhead the marketing outreach initiatives of CMM Intl. Lindsay Pater assumes the role of conference coordinator for the 2007 show's education program as well as other future CMM events.
---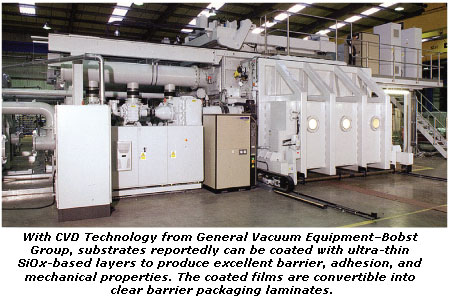 Emphasis on Education at SVC
By Claudia Hine, Managing Editor
WASHINGTON, DC—The Society of Vacuum Coaters held its 49th Annual Technical Conference April 22–27 at the Marriott Wardman Park Hotel. The conference featured a full agenda including technical presentations, short courses, tutorials, and 150+ booths in the exhibit hall.

David Glocker (Isoflux Inc.) announced the 2006 Mentor Award recipients: Hana Baránková (Uppsala Univ.) for the development of numerous novel plasma sources; Leon McCrary (Denton Vacuum retiree) for his contributions to the commercialization of large-scale optical coating technology; and Jim Seeser (JDS Uniphase retiree) for his contributions to the field of sputtering.

H. Angus Macleod (Thin Film Center) presented the Nathaniel Sugerman Award to Carlo Misiano, who has worked in thin-film technology his entire career. A constant contributor to SVC, he has produced more than 80 research papers and holds more than 40 patents.

The Student Scholarship Committee awarded five scholarships totaling $25,000. Director Paolo Raugei (Galileo Vacuum Systems) reported three more scholarships will be awarded in 2006. The scholarship program got a big boost from Dr. John B. Fenn Sr., a Nobel laureate who shared some of his Nobel Prize by donating $50,000 to the SVC Foundation for use in the scholarship program. Fenn's son, John Fenn Jr., a past president of SVC, said he hopes the donation will help create a self-funded scholarship. Fenn Jr. said he is disappointed in the lack of scholarship applications from people already working in the industry and encourages vacuum coating professionals to apply for scholarship funds.

SVC will break from tradition next year and hold the 50th Annual Technical Conference at a convention center. The Kentucky Intl. Convention Center in Louisville is the site for the 2007 conference, which will be held April 28–May 3. For more information visit svc.org.
---
Real-World Testing for Topas
GLOUCESTER, MA—Battenfeld Gloucester reports its Technical Center is the place Ticona tests its Topas cyclic olefin copolymer for use in flexible packaging.

Ticona uses blown film, cast film, and sheet extrusion equipment at the center to duplicate process conditions in customers' plants, says Randy Jester, staff engineer at Ticona, Florence, KY.

"When we contact a customer about using Topas copolymer in an application," says Jester, "we can provide real-world data on how the resin performs on a blown film or cast line. The ability to do prototype work on Battenfeld Gloucester equipment lets our customer go to their customer with realistic samples for feedback."
---
X-Rite and Amazys to Merge
GRANDVILLE, MI—X-Rite and Amazys Holding AG, both providers of color measurement solutions, will merge. Amazys develops, markets, and supports hardware, software, and services to measure and communicate color under the GretagMacbeth brand.

X-Rite CEO Michael C. Ferrara says, "[We are] excited about the opportunity to achieve greater scale, reduce operational costs, and leverage combined R&D efforts. …this is a strategic combination that will provide value for our shareholders, customers, employees, and partners." For now, the two will operate as separate companies.
---
Restructuring in View at Praxair
INDIANAPOLIS, IN—Praxair Surface Technologies will consolidate its laser-engraved ceramic anilox roll technology and operations for wide web markets at its Charlotte, NC, manufacturing plant and for narrow web markets at the Alsip, IL, manufacturing plant near Chicago.

According to Dave Dotson, Praxair operations director, "Our market-focused centers of excellence in Charlotte and Chicago will aggressively employ World Class Manufacturing strategies to achieve operational excellence. A new emphasis is being placed on continuous improvement to drive our processes to be better and faster for the benefit of our customers."
---
SSCC Sells Packaging Segment
CHICAGO, IL—Smurfit-Stone Container Corp. (SSCC) has entered into a definite agreement to sell all of the assets of its consumer packaging segment to a company formed by Texas Pacific Group (TPG) for approximately $1.04 billion in cash. TPG has arranged fully committed financing for the transaction, expected to be completed by the end of the second quarter.

Businesses to be sold include four coated recycled boxboard mills; 39 consumer packaging converting operations in the US, including folding carton, multiwall and specialty bag, flexible packaging, label, contract packaging, and lamination businesses; and one consumer packaging converting plant in Brampton, ON, Canada.

SSCC has named Steven J. Klinger president and chief operating officer, effective immediately. He replaces John M. Riconosciuto, who resigned May 10 to lead the consumer packaging businesses being sold to TPG.
---
Ipex Proves Its Global Reach
BIRMINGHAM, UK—Ipex 2006 was held April 4–11 at the NEC Arena in Birmingham, welcoming 52,432 individual visitors. Organizer IIR Exhibitions reports the event, focused on printing, publishing, and media, exceeded all expectations, especially in terms of international status, adding 40% of the visitors came from overseas.

Among the popular features of the show was the INNOV8 theater featuring a daily program of briefings, presentations, and debates charting the future course of the industry, with each day focusing on different countries and sectors. Other attractions included the Flexible Packaging Centre of Excellence, Vendor Seminar theaters, and a JDF Pavilion. For more on Ipex, see PFFC, May 2006, p8. Also visit ipex.org.
---
Kampf to Rep Two
WINDSOR, CT—Kampf Machinery Corp. has been appointed the exclusive agent in North America for Bielloni Converting and Dolci Extrusion. Kampf will handle sales, spare parts service, and technical support for both companies.

Joining Kampf is Nick Dimopoulos, who has been promoting Bielloni and Dolci in North America for several years.
---
Matik to Rep Senntech
WEST HARTFORD, CT—Matik North America will represent Senntech slitter/rewinders in the US, Canada, and Mexico. This will give owners of existing and new Senntech slitter/rewinders access to Matik's experience with the sales and servicing of converting machinery. The announcement follows the purchase of Senntech Converting by Goebel Beteiligungs in 2005.
---
Watch for Printable Electronics!
GLEN ALLEN, VA—A new study from market research firm NanoMarkets reports the market for inks, substrates, and other materials in printable electronics (PE) is expected to reach $1.9 billion by 2010, rising to $8.9 billion in 2013.

The next few years will be a key period for PE as a whole, says the report, but crucial development work has to take place at the materials level for future revenue opportunities to be realized in all segments of the value chain.

According to the authors of the study, while the industry remains focused on applications such as displays and RFID, PE also provides the means for innovative companies to create the next break-out application that generates tens of millions of dollars in revenue "in the blink of an eye."

For more information visit nanomarkets.net.
---
---
PEOPLE & PLACES
On the Move
General Vacuum Equipment, Heywood, UK, part of Bobst Group Business Area Flexible Materials, announces Greg Tullo of SE Assoc. as agent to Bobst Group USA Flexible Materials North America.

The Society of the Plastics Industry, Washington, DC, promotes Walt Bishop to VP in charge of trade shows.

Brian Marvelley is named president and CEO of Battenfeld Gloucester Engineering Co., Gloucester, MA.

Steve Elving joins Filmquest Group, St. Charles, IL, as new customer development and sales consultant.

Several changes are announced at Polymer Packaging, North Canton, OH: Sheila Kari joins the sales team as regional manager for the Chicago-based market; John Dameron will serve as regional manager for the St. Louis area; Andy Averett is director of imported products; and John Valleroy joins the sales team, to be based in Atlanta, GA.

The Envelope Mfrs. Assn., Alexandria, VA, honors longtime members Walter Hiersteiner, Tension Envelope Corp., and Richard Evans, John Dickinson Stationery (ret.), with the Monument Award for service to the industry.

Mike Ostrowski becomes VP of sales and marketing at Myllykoski North America, Norwalk, CT.

Daryl Franks, Enovation Graphic Systems, is appointed president of the Assn. for Graphic Arts Training (AGAT).

International Paper (IP), Stamford, CT, reports the retirement of president Robert M. Amen. Also at IP, Wayne Brafford is named senior VP, printing and communications papers; Paul Herbert is named senior VP, strategic initiatives, a new position; and Carol Roberts is named senior VP, IP–packaging solutions.

Tony Guerini is now technical services manager at Duracote Corp., Ravenna, OH.

Praxair Surface Technologies, Indianapolis, IN, appoints Tamara Mullis inside sales representative for the printing division of North American markets.
---