Published: May 31, 2006, By Deborah Donberg and Nsenga Byrd Thompson, Editor Staff
Flexo Forum
It was quiet in downtown Louisville on Saturday, April 29, one week before the Kentucky Derby. But inside the Kentucky Intl. Convention Center, Info*Flex exhibitors were beginning to set up for their own runs.
The Flexographic Technical Assn. (FTA) Forum '06 opened that night with a reception, and both the Annual Forum and the Info*Flex exhibition got underway on Sunday. The event ran through May 3.
Subtitled "The Inside Track to Success," the Forum offered more than 1,600 attendees information on an impressive range of topics, including pressroom/production practices, supply chain management, color management, emerging technologies, sales/marketing, education/training, and RFID/printed electronics.
Participating in Info*Flex 2006, the tabletop exhibit that ran Sunday and Monday afternoon, were 196 flexo suppliers. Once again, FTA helped fill the aisles with clever scheduling: No Forum sessions were held during Info*Flex hours.
Class Act
Paul Brauss, president of Mark Andy, delivered the keynote address. His topic was "World Class Manufacturing," defined as "competitive performance that depends on a blended management approach that marshals resources for continual rapid improvement."
He listed key reasons converters have experienced lower margins: Labor costs are a large fraction of their overall cost equation; the converting industry has not implemented "best practices" to the extent other industries have; the converter must improve yield of raw material usage to remain competitive; new equipment is needed to support new materials and an aging fleet of older design presses; and all converters are looking for the higher-end products to produce (e.g., security labels and RFID).
Decision categories include people, procedures, and plants, Brauss said, and he discussed specifics in each category down to organizing, sorting, etc.
The session included FTA business and personnel announcements as well as a look at PackPrint 2007, which will share McCormick Pl. with Graph Expo next year and allow attendees one-badge access to both shows. The new event will feature flexible packaging, converting, folding cartons, tag and label/narrow web, flexographic printing, digital printing, and components/computerization. PackPrint, managed by the Graphic Arts Show Co., is endorsed by and created in conjunction with the FTA.
Talking Green
Among the "emerging technologies" discussed in that session was PLA (polyactic acid), material produced from corn, an annually renewable source. Rich Eichfeld, VP of business development at Plastic Suppliers, said PLA is not only environmentally friendly but it also has many other benefits, including printability (although materials using water-based inks may have to be treated first). Eichfeld also said PLA is compostable, has good layflat, good odor barrier, good gloss and clarity, great rigidity, and is resistant to oil and grease.
PLA has a tendency to be rigid, so tensions must be taken down dramatically, Eichfeld said, and minor changes may be required for equipment and inks. Several companies offer PLA, and current applications include window envelopes and bread bags.
Eichfeld acknowledges it will take a collective effort to get the information on PLA out into the industry, but he believes that can happen.
Award-Winning Evening
At the awards banquet, Joseph Trungale presented Bruce Riddell as the 44th inductee into the FTA Hall of Fame. Currently VP of technical development at Spectrum Label Corp., Hayward, CA, Riddell has had a 38-year career in flexography promoting advancements in the technology and volunteering his time with many organizations.
Honored with the President's Award for distinguished service to the flexo community were David M. Haradon (The Haradon Group), Michael Impastato (the Flint Group), and Steve Smiley (Vertis).
The 2006 Technical Innovation Award went to Mark Andy for its Integrated RFID Tag-Insertion Solution. The evening also included environmental awards, author's awards, the Harper College of the Year Award, and the AFTA Apprentice of the Year Award. The highlight of the evening, as always, was the presentation of the Excellence in Flexography Awards. Following is a look at a few of the winners. For a complete list, visit flexography.org.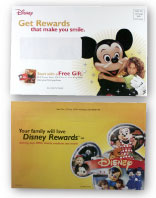 A Magical Envelope
Commercial Envelope Mfg. Co., Deer Park, NY, nabbed Best of Show and a Gold Award in the Envelope—Process, Coated, category for its Bank One "Disney Get Rewards that Make You Smile" entry. The envelope is manufactured using prepress equipment from Esko-Graphics and a central impression (CI) press from Flexotecnica, running at 800 fpm. One judge comments, "This really showcases what flexo can do on the right substrate."




Fine as Wine
In the Narrow Web—Uncoated category, LSK Label Co., El Dorado Hills, CA, receives a Gold Award for the Ernest and Gallo Twin Valley Merlot label. This label includes 12 colors on classic laid, uncoated stock, printed on a Gallus press with ultraviolet ink. Multiple rotary screens create a coated paper look. Judges rave, "This label takes flexo to the next level in the wine industry." The company also takes the Silver Award for the Ernest and Gallo Twin Valley Chardonnay label in the same category.








Attractive and Durable
Exopak, Spartanburg, SC, receives a Bronze Award in the Wide Web—Process, Film, category for its MAGCO "Safer than Salt" Commercial Ice Melter bag. The bag is printed on a CI press running solvent and electron beam inks at line speeds of 500 fpm. The customer required heavy but flexible film and inks with high fade resistance, which are said to be weaker than standard inks. Judges comment that the bag is a "good example of a difficult design made easier with excellent art and applying everything learned through careful press characterization."







Cool and Refreshing
In the Wide Web—Screen, Film, category, Hood Packaging Corp., Burlington, ON, Canada, takes a Silver Award for its Coca-Cola Classic Shrink Wrap entry. Utilizing prepress and plates from Southern Graphic Systems, the job requires tight register and runs at 600 fpm on a CI press from Fischer & Krecke.
---
---
Best of Show
Wide Web: Glenroy Inc., Menomonee Falls, WI, for Huggies Lavender & Chamomile Wash
Mid Web: Label Technology, Merced, CA, for Victoria's Secret Very Sexy for Her Body Lotion Packet
Narrow Web: Paragon Label, Pataluma, CA, for Frances Coppola Presents Rosso Wine Label
Combined Corrugated: Wellpappe Auerswalde, Lichenau, Germany, for Samsung DVD-SR 420 Box
Preprinted Linerboard: SCI, New Berlin, WI, for P&G Baby Care Pampers Cruisers
Envelope: Commercial Envelope Mfg. Co., Deer Park, NY, for Bank One Disney Get Rewards that Make You Smile
---