Published: May 31, 2006, By PFFC staff
---
Part 1
| Part 2
---
Machinery, Accessories, Materials & Services
Wind Rolls, Save Material
Menzel Machine Co., Spartanburg, SC; 864/576-5690; menzelus.com
The multiple A-frame winding system for continuously running plastics extrusion lines winds product rolls to 2 m dia. Requires very little operator involvement and is said to offer material savings due to fewer stops and web tails. Reportedly, system also offers quality and safety improvements as product is not touched by any material handling equipment.

---
Verify Makeready Accurately
Erhardt + Leimer, Spartanburg, SC; 864/486-3000; erhardt-leimer-us.com
The NYSCAN Image Inspector:2 reportedly offers an accurate, easy-to-use tool to verify makeready against client-approved electronic artwork. At the end of makeready, camera on the press captures a reference image that can be compared immediately to approved PDF artwork. User establishes acceptance parameters for each custom job, and these are used to control the comparison.

---


Cylinders are Repairable
Pearl Technologies, Savannah, NY; 315/365-3742; pearltechinc.com
A repairable air cylinder is designed so converters can utilize existing inventories in conjunction with new ACR Series cylinders and repair parts available from company. Offered in three models: a rotating and nonrotating shaft blow through as well as a continuous-motion replacement for ball and die applications.



---
PE Offers Toughness
Nova Chemicals, Pittsburgh, PA; 412/490-4000; novachemicals.com
Surpass FPs016-C high-performance PE has been developed for blown film applications requiring premium toughness without sacrificing processability. Octene PE features company's Sclairtech technology utilizing a proprietary single-site catalyst. Performs in a broad range of applications.

---
Control Thermal Transfer Line
Matan Digital Printers, Rosh Ha'ayin, Israel; +972-3-9002720; matanprinters.com
The SpotBoard electronic board for company's thermal transfer line enables individual control over the energy levels of each printing station separately. This maximizes the quality of spot colors and combinations of process colors and spots. Also offers automatic energy leveling compensation across the width of the print, enhancing print quality for uniform areas.

---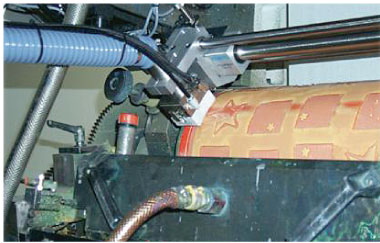 Plate Cleaner for Napkin Machine
Omet, Lecco, Italy; +39 (0) 341 282661; omet.it
Automatic plate-cleaning system for company's napkin machines is said to eliminate machine stops for cleaning and guarantee consistent print quality. Cleaning head moves transversally on printing unit and is adjustable for all functions.

---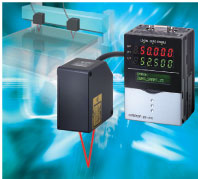 Inspect at High Speeds
Omron Electronics, Schaumburg, IL; 866/88-omron; omron.com/oei
The ZS smart measurement sensor combines 2-D CMOS imaging with precise laser measurement to create a high-speed, high-sensitivity inspection system. Customizable gain setting lets users optimize performance for specific environmental conditions. Features simple plug-and-play installation and separate sensing heads and amplifiers.



---
Proofing Support Offered
GretagMacbeth, New Windsor, NY; 845/565-7660; gretagmacbeth.com
The EFI Colorproof XF directly handles N-color ICC profiles (containing up to six channels) generated by company's Multicolor and Generic Output Profiler (GOP) technology from ProfileMaker 5 Packaging. GOP-generated profiles allow printer to replace spot colors in an existing profile without generating new test charts to reprofile the press.

---
Move Rolls With Safety
Goldenrod Corp., Beacon Falls, CT; 800/465-3763; goldenrodcorp.com
Roller ledges facilitate moving rolls on and off the shaft body in compliance with OSHA-recommended upper limits of forces for horizontal pushing and pulling. Ledges minimize both the initial (breakaway) force and sustained force and are said to be evenly spaced around the circumference as required to help make sure one always is located at 12 o'clock.



---
Print Many Types of Nonwovens
Bell-Mark Corp., Pine Brook, NJ; 973/882-0202; bell-mark.com
Flexo printers for the nonwovens industry are designed for printing on spunlaced, airlaid, and needle-punched substrates. Equipment is engineered to meet the requirements of narrow web printing on wide web configurations. Applications include filtration products, disposable diapers, industrial, food service, personal care wipes, and products for the medical/hygiene marketplace.

---





Mechanical Arm for Larger Rolls
Battenfeld Gloucester Engineering Co., Gloucester, MA; 978/282-9268; bge.battenfeld.com
The Gripper is a mechanical arm for three of company's winders: Models 1002, 1002DS, and 1027S. This pneumatic device, which is said to retrofit easily, hooks onto the end of a winding shaft, lifts it, and swings it away from the machine, maintaining its hold until a cart arrives for roll removal. Helps reduce changeovers by allowing larger rolls to be run.






---





Gauge at Reduced Cost
NDC Infrared Engineering, Irwindale, CA; 626/939-3809; ndcinfrared.com
Company announces a cost-reduced version of Pro.Net, its PC-based supervisory system combined with stand-alone "Mission Critical" product measurement and control hardware. New version will manage up to two product scanners and measurement sensors, reportedly making it well suited for many extrusion, nonwovens, calendering, and simple coating applications.





---
Color Server is Efficient
Creo Print On-Demand Solutions Group, Billerica, MA; 978/439-7212; creopod.com
The Production Stream Server powers the HP Indigo lines of presses. Said to provide users with a professional workflow, extended variable data printing capabilities, and high image quality, color server features unified workflow to deliver fast, efficient routing of jobs.

---
Holographic Overwrap Offered
Applied Extrusion Technologies, New Castle, DE; 302/326-5731; aetfilms.com
XBOSS coextruded BOPP unprinted overwrap film is directly embossable and reportedly offers good surface gloss, clarity, and moisture barrier. Also has a wide sealing range and consistent COF. This holographic overwrap is said to give a package a subtle but alluring shelf presence.

---

Control Ink, Reduce Waste
EPG/Essex Products Group, Centerbrook, CT; 860/767-7130; epg-inc.com
The KeyColor T ink control system provides user-friendly, computerized, touchscreen control of fountain ink keys for sheet-fed or web applications. Reportedly allows press operators to adjust ink key settings rapidly from a central, streamlined ink desk to speed makeready and reduce waste.



---
Turret Rewinder is Upgraded
KTI/Keene Technology Inc., South Beloit, IL; 815/624-8989; keenetech.com
The JR Series turret rewinder now offers an automatic core loader and a finished roll removal system. A semi-automatic core loader also is available. By reducing labor requirements of rewind operation, production efficiency is increased. New options also are said to promote a safer working environment. Automatic tail taping now is available as well, as is standard tail gluing and core gluing options.

---
Jacket for Heidelberg Presses
Prodeco No-Mark, Kenmore, WA; 425/827-2573; no-mark.com
Company has expanded its PressBoss Anti-Track jacket line to include the Heidelberg Quickmaster press. Surface is Diamond-grade No-Mark SiliClean that can last up to 12 mos or more.

---
Apply Glue to Envelopes
Valco Cincinnati, Cincinnati, OH; 513/ 874-6550; valcocincinnatiinc.com
The MCP25-MS microprocessor combines glue application and inspection in one control, said to offer high flexibility and performance. Offers repeatable application patterns with accuracy to ±1 mm and monitors bead placement and adhesive pattern at speeds exceeding 2,000 envelopes/min.

---


Get Precise Shaft Alignment
Stafford Mfg. Corp., North Reading, MA; 800/695-5551; staffordmfg.com
The Accu-Clamp is a one-piece rigid coupling for applications requiring an axial runout less than 0.001 TIR. Incorporates integrally machined, self-centering clamping collars at both ends. Permits precise shaft alignment, eliminates the conventional longitudinal slot, and provides a close-tolerance bore and keyway.



---
New Controller Displays Text
Eurotherm, Leesburg, VA; 703/443-0000; eurotherm.com
Company has added Model 32H8 to its 3000 Series temperature/process controllers. This 1/8 DIN controller and indicator with text display offers high accuracy input, five on-board process recipes, and company's patented Instant Accuracy system.

---
Recycled Solvent Like New
Eurograv, Surrey, UK; +44 1932 3362 62; flexoplatemounting.com
The Atex certified Renzmann Roto distillation machines incorporate self-cleaning rotor and an optional nitro-cellulose safety package designed to prevent an exothermic reaction inside the machine. Resulting distillate is said to be as effective as new solvent and can be reintroduced into the solvent circuit or the cleaning system.

---
Coating Adds Life to Knives
Lund Precision Products, Hudson, MA; 978/562-4444; lundonline.com
BrazeCoat ultra-high-density carbide coating can be applied to shear bars (stationary knives) to improve wear resistance and service life. Dense, low-porosity hardfacing material can be applied in thicknesses from 0.002–0.100 in. or more, with carbide densities to 70% by volume, embedded in a metallic matrix. Metallurgically bonded to base metal, resulting coating can achieve over 65 Rockwell C hardness values.

---