Published: May 31, 2006, By PFFC staff
---
Part 1 |
Part 2
---
Machinery, Accessories, Materials & Services













Release Liners Ready to Go
Rayven, St. Paul, MN; 800/878-3776; rayven.com
Any-Pak release liners are suited for products including plastic bags, mailing envelopes, pouches, and security bags. Liners are constructed with a 2-mil PP as the substrate and a release coating said to work well with hot melt and PSAs. Company says product will be packaged and ready to ship within 24 hrs from time of purchase.
>
---
Laminator Suited for Retort
Nordmeccanica, Edgewood, NY; 631/242-9898; nordmeccanica.com
The Quadruplex offers four-ply lamination in one pass. Interchangeable coating head technology allows virtually any combination of 100% solids or water- or solvent-based adhesives. Featuring a wide range of laminating/coating configurations, machine is designed mainly for retort packaging applications.

---
Control Taste and Odor
Ampacet, Tarrytown, NY; 914/631-6600; ampacet.com
Additive masterbatch 101787 removes taste- and odor-causing molecules in LDPE, LLDPE, and EVA films for use in food and nonfood packaging applications. Readily removes organic and inorganic compounds in the presence of water.

---
Anilox Rolls are Long Lasting
Apex Europe, Hapert, The Netherlands; +31 (0) 497 36 11 11; apex-groupofcompanies.com
Laser-engraved, ceramic-coated anilox rolls feature Ultra Melt laser technology, vaporizing 100% of the ceramics and ensuring a perfect cell geometry. Rolls are said to offer long life and improved cleaning characteristics.

---




Keep Heat Transfer Fluids Clean
Mokon, Buffalo, NY; 716/876-9951; mokon.com
ClearFlo and ClearFlo Plus systems reduce contamination in heat transfer fluid systems while reportedly minimizing downtime and maintenance costs. System filters heat transfer fluids continuously, removing particles as small as 10 microns without disrupting operation. Improves efficiency, can triple the life of a heat transfer fluid pump, and reduces the frequency of oil changes, company says.





---
Get Custom Anilox Engravings
Praxair Surface Technologies, Charlotte, NC; 800/234-3131; praxair.com/printing
Proline laser-engraved anilox engravings can be customized for coating and print applications to provide thinner, more uniform ink films on any substrate, company says. Available on various composite lightweight roll bases and sleeves to meet any press configuration or weight requirement.

---
Resin Lowers Costs
ADM Tronics, Northvale, NJ; 201/767-6040; admtronics.com
Santel Toridex NZ-3 glossy, heat-resistive, aqueous resin and coating is said to lower processing costs compared with more conventional technology by eliminating use of zinc compounds or any other metal modifiers or catalysts. Also said to resist grease and oil.

---
Engraving Brings Benefits
Pamarco Global Graphics, Atlanta, GA; 800/533-5396; pamarcoglobal.com
ThermaFlo engraving reportedly features a harder ceramic surface, consistent cell geometry, smoother cell surface, flatter bottoms, and an extended range for cell volumes. Benefits, company adds, include efficient ink release, easier cleaning, better ink metering, more resistance to doctor blade scoring, and cleaner print without loss of density.

---
Sheeter has High-Speed Cutter
Maxson Automatic Machinery Co., Westerly, RI; 401/596-0162; maxsonautomatic.com
Dual-knife rotary sheeter is described as an affordable model. Employs a high-speed (1,300 fpm) cutter outfitted with a delivery system that includes a reject gate and a stacker that uses a scissors lift load table. Allows for heavy cutting loads on material to 0.040 in. thick while maintaining accuracies of ±0.015 in. on sheet lengths. Requires no squareness adjustment.

---
Guiding Systems with Options
Danarota Technic, Bjert, Denmark; +45 75 57 27 11; montalvo.com
MontalvoSimplex digital guiding systems offer DeviceNET/computer interface connectivity, allowing save-and-recall web setups. Systems provide the ability to communicate with multiple guiding systems and duplicate functions remotely from operator interface. Available in a wide range of options, including wide band, spot, ultrasonic, IR spot-type, line-follower detectors, line-scan detectors with polarized optics, and Eagle Eye wide brand detectors with external point adjust.

---
Gravure Coat with One Cylinder
Faustel, Germantown,WI; 262/253-3333; faustel.com
The Vari-Coat gravure system can deliver a variety of coatweights from a single cylinder. This is accomplished by controlling and varying the internal pressure in an enclosed doctor applicator that works in conjunction with special cylinder. Also said to offer improved air exclusion in the cylinder and coating. Lower recirculation rates lead to higher operating speeds, company adds. System applies the coating in reverse roll direction for smooth laydown.

---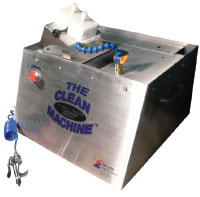 Deep-Clean Anilox Cells
Integrity Engineering, Princeton, MN; 763/856-4040; perfectproofer.com
The Clean Machine automated hand proofer cleaning system reportedly reduces cleaning time, improves drawdown consistency, and increases the useful life of hand proofers and anilox rolls. Hydronic cleaning action deep-cleans anilox cells without damaging the roll. Universal adapter accepts all known brands of hand proofers.



---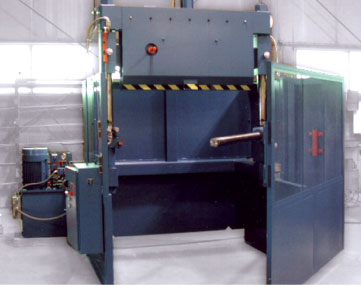 Remove Defective Materials
Precision AirConvey, Newark, DE; 302/999-8000; precisionairconvey.com
Model 52 and Model 62 roll splitters automatically remove defective and/or out-of-spec stretch film, paper, foil, and other materials from their cardboard cores. In less than 1 min, roll splitters separate the waste material from the core cleanly by applying hundreds of lbs/in. roll width of uniform cutting force to the entire length of the roll without touching the core itself. Splitters feature an OSHA-approved safety system with several layers of protection.

---


Load, Unload Rolls Easily
Schlumpf, Windham, ME; 877/460-4535; schlumpf-inc.com
The MRT-330-AL manual roll turner with 330-lb capacity includes a new auto leveling feature that compensates for varying roll widths and weights automatically. Said to ensure exact horizontal and vertical positioning for easy loading, unloading, and turning even the heaviest rolls with minimal effort and with no external power source. Expanding mandrels for multiple core size can be changed in seconds with no tools.



---
Vertical Coater Brings Results
Leybold Optics, Cary, NC; 919/657-7100; leyboldoptics.com
The AluMet 1800V has a vertical configuration said to achieve high throughput and perfect coating results. Fully controlled by an IPC system, system reportedly handles all materials with ease. Company offers two versions: one for customers with highest throughput demands and one for smaller batch sizes.

---
Magnet Protects Anilox Rolls
HarperScientific, Charlotte, NC; 866/ 588-8686; harperscientific.com
The ProMag grade 35 neodymium rare earth magnet (PMBK) with bracket is designed to hang on the inside of any size ink pail or bucket. This 1-in.-dia magnet captures the metal that comes off anilox rolls before it circulates back to the anilox and damages the roll. Stainless steel components are said to be easy to clean and maintain.



---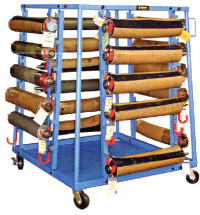 Store, Protect Anilox Rolls
Max Daetwyler Corp., Huntersville, NC; 704/875-1200; daetwyler.com
A roll storage system for anilox rolls and gravure cylinders reportedly reduces the possibility of damage to rolls/cylinders while providing a more safe and efficient workplace. Heavy-duty unit includes four swivel casters and a pull handle for easy maneuvering between printing presses. Stores up to 24 rolls.





---
Produce Boxes Quickly
ADI Trade Group, Sylvania, GA; 912/564-2400; arcdoyle.com
Folder/gluer for two-piece, one-pass production is said to achieve production rates to 8,000 boxes/hr for printed or laminated boxes. Also eliminates the prefolding process.

---
Hot Stamping Foils Promoted
Kurz Transfer Products, Charlotte, NC; 704/927-3700; kurzusa.com
Promotional package features SB Metal, SB Drop, and SB Lens Light Line foils. Hot stamping foil is suited for a wide range of applications in packaging and folding cartons. Said to provide depth and to adhere to virtually all finished or nonfinished cardboard and paper substrates as well as a variety of plastics.

---
Drives Have High Functionality
Danaher Motion, Wood Dale, IL; 866/ 993-2624; danahermotion.com
The SECO FX4000 Fusion all-digital vector drive combines in a single, compact package the functionality of a high-performance AC flux vector drive, high-horsepower servo drive, programmable motion controller, and PLC. Architecture enables drives to control AC induction, AC synchronous, or brushless DC motors with a power range from 1–350 hp. Features a modular design.

---
Measure in Real Time
Wintress Engineering Corp., San Diego, CA; 800/550-7300; weco.com
The Web Ranger surface inspection system can make fine measurements of surface texture in real time. Formation analysis capability can monitor subtle variations of less than 10 microns in surface texture and report results in text and graphic form. Will generate a visual or audio alarm if tolerances are exceeded.

---
---
Part 1 | Part 2
---