Published: April 30, 2006, By Edited by Deborah Donberg, Associate Managing Editor
Covering the Full Spectrum of Converting Industry News, Events & Activities
Cargill Adds to Ethanol Capacity
BLAIR, NE—Cargill plans a new 110-million-gal/yr ethanol plant at the Blair corn-processing complex. The new plant will more than double the facility's ethanol capacity from its current 85 million/gals/yr and will raise Cargill's total annual US production capacity to 230 million gals, reportedly making Cargill the second largest ethanol producer. Combined with distribution agreements signed or pending with independent producers, Cargill expects to have the ability to supply more than 750 million gals yearly.

Construction is expected to begin in the spring of 2006 with production underway in late 2007.
---
EGS Acquires Soter Technology
WILMINGTON, MA—EGS Gauging has acquired the web gauging assets of Soter, Milan, Italy, including the x-ray sensor technology.

EGS reports the x-ray technology will accelerate EGS's growth in non-nuclear building products and plastics markets and bring it into the galvanizing market. It is also expected the acquisition will increase EGS's polymer market share in European and Asian regions where non-nuclear solutions are preferred.

Soter sales manager Silvio DalBunon has joined EGS's staff as Mediterranean regional sales manager.
---
AIMCAL Leaders Track Trends
By Yolanda Simonsis, Assoc. Publisher/Editor
PHOENIX, AZ—The Assn. of Industrial Metallizers, Coaters & Laminators (AIMCAL) held true to its leadership theme at the 2006 winter meeting, emphasizing leaders must be informed, must have the people power or the skills themselves to determine in what direction their industry is heading, and must have the fearless determination to implement ideas that will make their companies winners in their chosen fields of battle. Supporting conference subjects and speakers echoed these themes at the Sheraton Wild Horse Pass Resort & Spa March 15-18.

Keynote speaker General Hugh Shelton addressed 141 attendees (excluding guests), sharing his leadership experience as a Congressional Gold Medal honoree, a former Chairman of the Joint Chiefs of Staff, and as senior military advisor for President Bush (see "Taking Notes," April, p8). A converting roundtable featured suppliers from David-Standard/Black Clawson, Glatfelter, Rohm & Haas, SKC, and Maxcess focusing on the challenges facing the flexible coating and laminating industry. Dr. Andrey Zagorsky of Ekotek Group shared key demographic data relating to the packaging future of Russia. Corey Reardon of AWA Alexander Watson Assoc. presented his Global Metallizing Outlook, indicating 609,000 tons of metallized substrates were produced in 2005, showing 2.5%-3% growth in metallized film in Europe and 2% growth in the US. This study is available for $3,800 and is discounted for AIMCAL members.

Dan Pickens of Janney Montgomery Scott covered mergers and acquisitions and how they transform the marketplace. He told how companies are valued and discussed keys to success in an M&A.

This session was a perfect prelude to the much-anticipated session led by DuPont's Bob Fry, who delivered his annual Economic Outlook for the Converting Industry. His major points included the following: The US economy remains amazingly resilient; US manufacturing continues to grow at a moderate rate; global growth is stabilizing (with growth in China strong, accelerating in India, and reaccelerating in Korea, Taiwan, and East Europe); US expansion is continuing, but it will slow with rising interest rates, and high energy prices will play an important role.

For more information visit aimcal.org.
---
Pamarco Group is Acquired
ROSELLE, NJ—Pamarco Technologies has been acquired by the private equity firm of K.P. Kotts & Co. from Bradford Investments. Subsidiaries include Accel Graphic Systems, Dallas, TX; Chicago Manifold Products, Wheeling, IL; and Diamond Holding Corp., Marietta, GA.

The existing management team, led by CEO Terry Ford, will continue to operate the Pamarco Technologies group of companies.
---
Gravure Keeps Going, PLGA Keeps Growing
By Deborah Donberg, Associate Managing Editor
MIAMI, FL—The Ninth Operational Conference of the Packaging and Label Gravure Assn. Global (PLGA) could be described as a celebration of both the continuing growth of the gravure process as well as the exciting growth of the organization. Membership in PLGA now stands at 138, an increase of 21% over March 2005.

Held March 1-3 at the Radisson Hotel, the event welcomed 250 attendees (an increase of 25% over the 2005 conference). Sessions included Security and Logistics; In-Plant Systems; Press-Room Training; and more. In a panel moderated by Ron Syrkos of Alcan Packaging, end-users explained why they buy gravure. Speaking were Annette Crampton of Miller Brewing; Frank Lorenz of Rothmans, Benson & Hedges; consultant Stan Kopecky, formerly of William Wrigley Jr. Co. and Kraft Foods; and Dean Hoss of the Pyramid Group. Themes expressed over and over by the panel were quality and consistency of print reproduction and brand equity. Lorenz added his preference for the use of low- or no-odor inks, varnishes, and solvents available through the gravure industry.

Retiring as executive director, Bill Klein was honored with the Lifetime Achievement Award. In addition to many other accomplishments, Bill was the guiding force behind the growth and development of PLGA. Succeeding him as executive director will be Jim Lepp of Lepp & Assoc.

Bill actually will not be retiring, he reported, but is moving on to head the post of the newly formed PLGA Global Educational Foundation, the purpose of which is to expand the educational reach of the association through increased scholarship awards to needy students pursuing a higher education in graphic arts and to fund specific problem-solving and new technology research projects related to gravure.
Randy Butler of Printpack will continue as chairman of an expanded PLGA Global Scholarship Committee. A highlight of the program was the presentation of the 2006 Print Quality Awards. This year saw 103 entries, up 27% from last year. Best of Show, earning a perfect 5.0 cumulative rating from judges, was the Ben Franklin stamp, submitted by Avery Dennison Security, Printing Div. The stamps, printed in six colors on p-s stamp stock with a 50# liner and produced for the US Post Office in panes of 20, commemorate the 300th birthday of Ben Franklin. Judges noted each stamp in the set is distinctive and reflects the care taken to reproduce the original art. The halftone images are fine and the type is clean, crisp, and truly outstanding, judges added, while front-to-back register and die-cutting are reflective of the quality demanded by the USPS. (For expanded coverage of the awards, click here.)

For more information on PLGA, visit plga.com.
---
Education Alliance Reported
RESTON, VA—The Graphic Arts Education and Research Foundation (GAERF) announces a strategic partnership with the National Occupational Competency Testing Inst. and the Multistate Academic and Vocational Curriculum Consortium. The goal of the partnership is to develop a comprehensive educational package for PrintED accredited programs. PrintED is an accreditation and certification program for graphic communications courses of study at the secondary and post-secondary levels, with a presence in 34 states.

Says GAERF chairman Randolph W. Camp of the alliance, "This educational package provides technical and vocational educators with a way to measure student knowledge and skills against recognized industrywide standards."
---
W&H Adds to Tech Center
LINCOLN, RI—Windmoeller & Hoelscher reports the installation of a Filmex extrusion line at its Technology Center located at company headquarters in Lengerich, Germany. The Filmex line is W&H's modular cast film line for PP, barrier, stretch, and specialty film.

The nine-layer line features eight extruders; newly designed barrier screws; a chill roll unit with three chill rolls, each capable of separate temperature controls; a Profile-Booster for rapid die optimization at startup; film edge encapsulation; and an integrated operating concept. It includes the Filmatic M winder capable of speeds to 1,150 fpm when combined with a cast film line.
---
Giant NPE Show on the Way
CHICAGO, IL—Hailed as the largest trade event dedicated to the plastics industry, NPE 2006: The Intl. Plastics Showcase, will take place June 19–23 at Chicago's McCormick Pl.

The Society of the Plastics Industry (SPI), organizer of NPE, reports the show will host 2,000 exhibitors, many of which will be showing new materials, processing machinery, equipment, and technologies. Attendees also can expect many exhibitors demonstrating equipment at the exposition, operating in nearly 1,000,000 net sq ft of space.

Having a prominent presence will be a variety of conference sessions, seminars, and workshops. The program, which is free of charge to all NPE 2006 registrants, will offer innovative topic sessions on nanotechnology, bio-based technology, energy, recycling, degradables, new materials, rubber/TPE, and more. The program also is designed for attendees to discover international markets and resources available to help them enter such markets. Workforce development workshops will demonstrate how companies can improve their bottom line and influence and motivate employees.

The conference program will include a Student Summit geared toward the industry's next generation of leaders. Additional seminars are available for an entry fee.

The opening ceremony will be held at 8:45 a.m. on Monday, June 19, in the SPI Pavilion located in the Grand Concourse of McCormick Place. This NPE tradition will feature a performance of the Bag Pipers and the official ribbon cutting to open the show.

Preceding NPE at McCormick Pl., SPI will hold its second international symposium on degradable and bio-based polymers June 14–17. Cosponsors of the symposium are the Bio/Environmental Polymer Society (BEPS) and the Ninth World Conference on Biodegradable Polymers and Plastics.

For more information visit npe.org.
---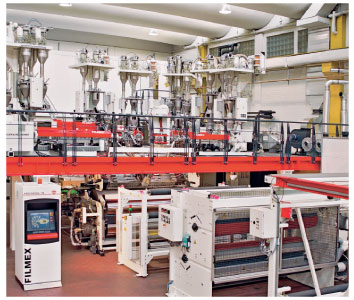 Pilot Lab is Upgraded
FULTON, NY—The Converting Systems Group of Davis-Standard has upgraded and expanded the machinery capabilities at its extrusion pilot lab in Fulton.

The lab features a Black Clawson Converting Machinery (BCCM) coextrusion line geared toward multiple applications, including cast PP films, stretch wrap, packaging films, flexible packaging, and board coatings.

The company reports the lab is 80% dedicated to customer use and features a range of feedblocks, dies, feedscrews, and testing equipment.
---
---
PEOPLE & PLACES
At Extrusion Dies Industries (EDI), Chippewa Falls, WI, Patrick G. Meinen is promoted to sales engineer, and designers Matt Breed, Seth Holmes, and Robert Ryan join the engineering staff.

Robert Armstrong joins Davis-Standard, Pawcatuck, CT, as VP and corporate controller.
At Anderson & Vreeland, Bryan, OH, Joe Tuccitto is named manager of training and technologies.

At Mohawk Fine Papers, Cohoes, NY, Kevin P. Richard is promoted to executive VP, operations, and chief operating officer.

Wayne H. Gross announces he retired as president of TAPPI, Norcross, GA, effective Jan. 1, 2006.

New appointments at ISO Poly Films, Gray Court, SC, include Douglas Bengtson as VP of sales, Don Tesner as CFO, and Charles Lee as plant engineer.
Maxcess Intl., Oklahoma City, OK, appoints Mike Flannigan sales manager of corporate user accounts to support Fife, Magpowr, and Tidland products.
---