Published: March 31, 2006, By Alain Flament, Nipson Digital Printing Systems
Web Exclusive
Digital printing often is thought of as a standalone operation for producing documents containing variable data and/or short print runs. But with the right equipment, packaging and label printers can integrate digital printing with traditional offset or flexographic presses and finishing equipment to streamline operations and build business.
Such hybrid printing systems offer the best of both worlds—the high quality print production of conventional presses and the fully variable printing capability of digital technology.
The benefits of hybrid configurations go beyond just producing a top-notch product, though. The workflow and job processing improvements they enable can have a significant economic impact on a plant's operations. Specifically, an integrated system allows you to run a complete packaging and labeling print job, from blank roll of paper to finished product, in a single operation, minimizing material handling steps, work-in-process inventories, and a lot of the labor that typically goes into such jobs when run in multiple steps.
This saves time, saves money, reduces waste, and drastically reduces the need for inventories. Moreover, the expanded capabilities of this type of configuration can open up new market opportunities, broadening the business base and providing a significant "leg-up" on one's competitors.
Return on Investment
MAR Graphics, Valmeyer, IL, offers a good example of a forms/label printer that expanded its printing capabilities to meet converting and digital demands. Recently, the company installed a cutting-edge, automated digital printing and finishing line. The integrated system has helped MAR handle increased print volumes as well as streamline operations.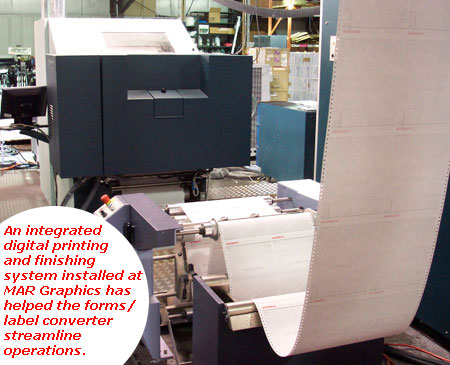 The digital press uses a combination of magnetography and flash-fusion technology, which does not use heat to fuse the substrate, ensuring that foils, plastics, and labels will not warp or curl during the printing process. Being able to print on a variety of substrates, with adjustable speed, creates an effortless integration of converting and digital print operations.
To realize the many benefits of such a hybrid printing system, one must choose carefully the digital equipment that will become part of this system. Typically, a converter or package printer considering this type of configuration already has an offset or flexo press. Key to integrating a digital printing system is that the system provides the productivity, quality, and speed flexibility necessary for the job. It should be designed (electrically and mechanically) to integrate seamlessly with conventional printing equipment and in-line finishing solutions.
The value of creating a hybrid system for package and label printers, then, is to leverage the initial investment by enabling a much broader range of applications and thus open up many new opportunities for incremental business.
An initial investment in a digital press is approximately $450,000, and with the press running at 75% capacity, it will pay for itself in three years. However, converters and package printers also will be able to sell a higher value product that includes variable information such as bar codes and personalized addresses on labels of various substrates. As a result, one may actually see a full return on investment in less than three years.
From label production to flexible package printing, there are important lessons in technology and market trends that can be leveraged to build business with integrated digital printing. The key, then, is to bring together the right combination of products to enable the most potential opportunities.
Technology Matters
When it comes to digital printing technologies, magnetographic imaging technology is probably the best suited for hybrid systems, especially when combined with a flash-fusing system to fix the toner onto a wide range of substrates.
Magnetography uses a series of micro-electronics electromagnets (600/in.) to create precise magnetic images on the surface of a specially coated metal cylinder. Toner with magnetic properties is then attracted selectively to the magnetic image to "develop" it, which then is transferred to the substrate. With flash fusing, the toner is fused to the substrate without heating it. High energy light flashes impart energy selectively to the toner, causing it to melt and adhere to the substrate, while the substrate reflects most of the energy striking it, allowing it to stay cool. This means that it does not warp, does not shrink, does not distort, and does not dry out. Static electricity on the web, which can cause difficulties in finishing operations, is all but eliminated, and finished pages and substrates lie flat, or as intended, at the output of the process.
So, what makes magnetography the ideal choice for integration with traditional package printing and finishing equipment? First of all, it's fast. At 410 fpm (125 mpm), and with its high up-time rating, it ranks as one of the most productive toner-based digital printing presses on the market today. What's more, it is available in a "tension-web" configuration, so it can be put directly in-line with a conventional printing press and "slaved" to the web, meaning that it prints at whatever speed the web is moving, ensuring accurate registration and top output quality regardless of the material being printed.
Another key benefit comes from the fusing technology. Because it does not impart any heat to the substrate, no surface treatment is required prior to printing. The magnetographic printer can image on a wide variety of materials, including papers (from very lightweight to very heavyweight), synthetics, labels, affixed plastic cards, foils, and even pressure- and thermal-sensitive stocks.
Look Beyond Speed
As pointed out already, magnetographic printers are very productive and durable, running at high speeds with an extended operation life of up to 50% in production environments due to recent enhancements in the drum and toner system. Of course, speed is also a key element in an integrated system; the digital printer must be able to operate at speeds compatible with the offset or flexo press.
But we know that some types of flexo presses, for example, have to run at speeds well below their capabilities to accommodate an in-line digital press, so there clearly have to be additional features of the digital unit that come into play when considering a hybrid configuration.
One of the key added features is the flexibility of the magnetography printer. With its flash-fusing technology, it can run a very broad range of stock types and thus can enable the expansion of a business into new areas. Adding variable printing capabilities to one's flexo press and being able to run many different types of stock can provide the tools needed to satisfy a broader range of customers' needs, giving them more of a "one-stop-shopping" opportunity that can greatly increase business.
Inventory Reduction Reduces More Than Inventory
There is a growing trend for converters to reduce pre-printed inventory by using digital printing as a major goal in the next few years. A large number intend to reduce the number of stocks with the goal of reducing inventory, and converters, package, and label printers can all benefit from these changes.
Hybrid printing with integrated finishing answers this need: it eliminates inventory at several points in the process. The need to stock pre-printed rolls is eliminated in addition to work-in-process inventory. Reduced inventory translates not only into saved space but also lowered overhead costs. Moreover, there is less material handling required, so labor costs are reduced and operations become more efficient.
More Products = More Business
Making a process faster, cheaper, and better is always a desirable business goal. Creating new products at the same time further maximizes the return on technology investments. In integrated digital print, entirely new products can be offered to customers.
The ability to print on a wide range of substrates allows for the production of a greater range of finished products. More importantly, this allows converters and package printers to anticipate requests from customers for special foils, films, plastic tipped on cards, and thin or thick weights of paper.
Magnetography and flash toner fusing are ideal technologies for enabling a wide range of substrate printing and finishing capabilities. The non-heat, non-impact nature of the technology reduces downtime and allows for these products to be printed smoothly with variable data, folded, stamped, cut, and glued all in one seamless process.
Choosing the right technology combination is essential to realizing a full return on investment on an integrated digital printing line. Speed is important, but flexibility is truly the key to successfully integrating traditional, digital, and finishing technologies. This ensures that a label or package printing operation can reduce costs while offering better and more varied applications.
---
---
SUPPLIER INFO:
Nipson—nipson.com
---
---
As global chief marketing officer of Nipson Digital Printing Systems PLC, Alain Flament oversees the global marketing and development activities for the company and helps leverage the benefits of Nipson's technology in markets worldwide. Flament has had sales and marketing responsibilities in companies including 3M, Nicolet Computer Graphics, and Giesecke and Devrient America.
---