Published: March 31, 2006, By Edited by Deborah Donberg, Assoc. Managing Editor
Covering the Full Spectrum of Narrow Web Converting Industry News, Events & Activities
Label Protects from Spoilage
CHICAGO, IL—A transparent label that traces freshness at a glance is available from Cryolog, Gentilly, France. The adhesive label, designated Traceo, is a microbiological freshness indicator programmed according to the desired tracing criteria and applied directly over a bar code.
Made of a gel and microorganisms, Traceo turns opaque when the product no longer is fit for consumption due to exposure or excess temperature. At that point, the bar code no longer can be read. If the product does not spoil, the label turns opaque when the expiration date has passed.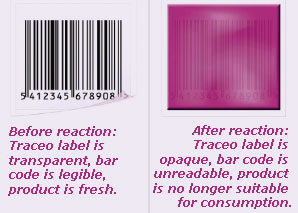 The producer activates the label when it is affixed to the end product and monitors and tracks the product's freshness from the moment it leaves the factory until it enters a consumer's refrigerator.
General applications include tracing foodstuffs in grocery stores and monitoring prepared meals and sandwiches in the catering market. It also can be used in healthcare markets for monitoring vaccines, blood collection bags, etc.
---
Supreme Joins Sekisui Family
BREA, CA—Sekisui TA Industries (STA), a supplier of self-wound overlaminating films to the flexographic printing industry, reports the successful completion of the merger of its subsidiary, Supreme Tape (formerly J.B. Prada Ltd.), Cranston, RI.
Purchased by STA in November 2002, Supreme Tape now is part of the Sekisui family and will operate as a premier slitting/ distribution facility along with its Rogersville, TN, coating facility to provide printer/converters on the East Coast a full line of products, JIT delivery, and lower freight costs.
STA also has incorporated into its product offering Supreme Tape's entire line of printable paper tapes in white and colors.
---
Envelope Report is Here
ALEXANDRIA, VA—The Envelope Mfrs. Assn. (EMA) has released its semi-annual Outlook for Envelopes. Among the findings: Hurricane Katrina will have little impact on pulp availability; Chinese waste paper purchases are driving up the costs of waste paper prices; recent market opportunities indicate a paper market that is still soft; the change in paper brightness to 92 has created some temporary inventory shortages, but overall paper capacity and availability remain strong.
The full content is available to EMA members at envelope.org and to nonmembers for $25. For more information contact Barbara Monson at This email address is being protected from spambots. You need JavaScript enabled to view it. or call 703/739-2200.
---