Published: February 28, 2006, By PFFC staff
The Latest Slitter Installations, Equipment, and Technology
Slitter Upgrade Almost a Done Deal
A CT610 automatic turret slitter/rewinder from Titan, commissioned early in 2006, is among the final two machines in a 3-yr upgrade of the slitting department at Amcor Flexibles, Preston (Melbourne), Australia. The upgrade features all Titan equipment.
The CT610 is a high-speed, high-volume model offering automatic cutoff and taping, automatic knife positioning, and a fully automated slit reel unloading and handling system. Said to provide user with minimal downtime between finished reel sets, the newest slitter reportedly will process higher volumes than the three older slitters it is replacing.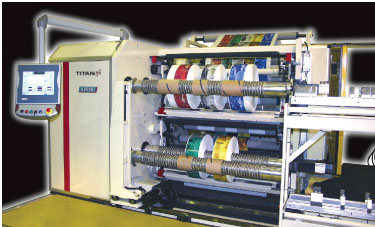 SUPPLIER INFO:
Titan—bobstgroup.com
---
---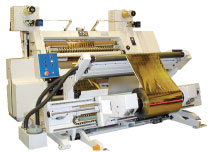 Slitter Helps Converter Fight Fraud
Shanghai-based Shenyong (API) Foils processes hot stamping foils and security holograms, big business today in China as the country tries to combat product and package counterfeiting. To aid in production, Shenyong relies on a Sapphire DB slitting system from Ashe Converting Equipment.

The slitter features a web width of 1,650 mm and a shaftless unwind. Various winding modes are available, and no equipment change is necessary to move between modes. The unit slits down to a minimum width of 20 mm when using razor and 30 mm with rotary shear knives.
SUPPLIER INFO:
Ashe Converting Equipment—ashe.co.uk
---
---



Knife Holder Aids Productivity
Mario Cotta, Cincinnati, OH; 800/792-9302; mariocotta-usa.com
Gold Series knife holder is said to offer advanced slitting technology to optimize productivity, ensure maximum spatial nip-point stability, and increase cut quality. Holder/blade is used for shear slitting materials, including paper, coated papers, fine printing papers, foils, paperboard, chrome-coated, polycoated, all films, and nonwovens.





---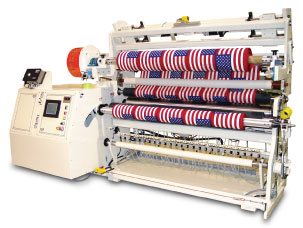 Slittters are Individually Guided
REM Mfg., Hackettstown, NJ; 908/852-1814; remmfg.com
Model 3750S slitter/rewinder has multiple, individual, automatic line and stripe guiding systems for products requiring a series of slits registered to the printed lines or stripes on a common web. Slits are said to be in perfect register with printed stripes regardless of variations in parallelism between the stripes or the edge of the web. Hundreds of knife configurations can be programmed and stored.

---
Slitter Guarantees Precision
Dienes Werke, Overath, Germany; +49 2206 605-214; dienes.de
Twin Cut automatic slitting system is designed to process materials such as paper, film, foil, nonwovens, and more with a set of identical knives on top and bottom that employ noncompression technology. Allowing for adjustable slit widths and able to be operated at speeds to 2,500 mpm, system is said to result in improved slit edge quality, especially in multilayer slitting applications. Automatic slit width adjustments guarantee precision and high-accuracy slit-width repeatability. Typical format change can be achieved in less than 1 min without stopping the web.

---
Handle Increased Roll Weights
Deacro Industries, Mississauga, ON, Canada; 905/564-6566; deacro.com
The C1000A duplex slitter/rewinder is capable of rewinding rolls to 40 in. OD. Cantilevered style eliminates shaft handling or the need for overhead hoists. To handle increased roll weights, a rewind center shaft support system prevents shaft deflection and is positioned automatically to eliminate set-up time. Roll pushers unload the rewind rolls automatically onto a heavy-duty receiving station.

---
Slit Films, Foils at High Speeds
Soma Engineering, Lanskroun, Czech Republic; +42 (0) 465 350 825; soma-eng.com
The Venus II servo-driven slitter/rewinder is said to provide a cost-effective way to slit a wide range of films and foils at high speeds. Operating from an unwind diameter of 59 in., unit is available in widths of 43, 53, 63, and 72 in. optimized for speeds to 2,310 fpm. Includes automatic knife positioning, automatic laser core positioning, intuitive touch screen controls, and automatic web holding system said to provide ease of operation for splicing.

---
Slit with Consistency
Rotoflex Intl., Mississauga, ON, Canada; 800/387-3825; rotoflex.com
The HLI Series of slitting, rewinding, and inspection machines is available in web widths of 13 and 16 in. Said to deliver consistent slitting performance, both razor and shear knife, through improved tension control. Running at speeds to 950 fpm, machines reportedly offer trouble-free operation while processing tension-sensitive materials. Options include a roll lift, waste windup, and multiple slitting modules.

---
Adjust Slitter While Cutting
Tidland Corp., Camas, WA; 800/426-1000; tidland.com
Micro-adjust slitting systems allow for slitter adjustment while material is being cut. Adjustment system repositions upper and lower blade simultaneously in either direction. Adjustments are made using remotely mounted controls while web is running, reportedly eliminating downtime and web breaks associated with slitter adjustment and improving finished roll quality.

---