Published: February 28, 2006, By PFFC staff
Machinery, Accessories, Services











Charge Generators Offer Choice
Ion Industrial, Windsor Locks, CT; 888/310-3334; ion.com/industrial
Single-polarity charge generators feature the choice of "constant current" or "constant voltage" operation suitable for a broad range of static charge pinning applications, including card insertions, chill roll edge pinning on cast film lines, roll transfer, lamination, shrink wrapping, plastic bag manufacturing, and more.

---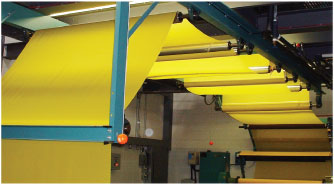 Plasma Treating for Nonwovens
Enercon Industries, Menomonee Falls, WI; 262/255-6070; enerconind.com
The Plasma3 atmospheric plasma system combines surface cleaning with a functionalization effect, said to result in exceptional surface adhesion. Provides treatment of nonwoven substrates at a low temperature while operating at atmospheric pressure. Reportedly provides improved wettability and promote adhesion of coatings, adhesives, and inks.

---
Treat Sensitive Substrates
Pillar Technologies, an ITW co., Hartland, WI; 262/912-7200; pillartech.com
Dual-surface treatment equipment is suited for blown film or cast extrusion applications requiring manufactured substrates that are very thin, textured, or heat-sensitive. Tubular ceramic electrodes coupled with ceramic ground rolls reportedly have proved successful in treating these types of materials in lab trials.

---
UV Inks Cure Quickly
Sun Chemical Co., Northlake, IL; 800/933-7863; sunchemical.com
Solarcat cationic UV flexo inks are said to cure at high speeds with low humidity sensitivity, low pressroom odor, and no hazardous photo-initiator byproducts. Company adds inks have exceptional adhesion and resistance and offer high color strength.

---
Inkjet Ink Suited for Flex-Pack
Domino Printing Sciences, Cambridge, UK; +44 (0) 1954 782551; domino-printing.com
Company announces ethanol-based 191BK black ink for its flagship A-Series continuous inkjet printer range will run for 1,200 hrs without an air dryer, resulting in improved efficiencies and workflow. Free of ketone and methanol, ink is suited for a wide range of general-purpose applications including flexible food packaging as well as confectionery and pharmaceutical uses.

---
Treat with High Efficiency
Corotec Corp., Farmington, CT; 860/678-0038; corotec.com
Convertible corona treater is offered with both fixed-width bare roll and fixed-width conventional electrodes. Said to provide maximum operating efficiency on any material being processed. Ceramic, silicone, or epoxy dielectric materials are available. Change from one electrode to another with the flip of a switch.

---
Treater Rolls Save Energy
Empire Treater Rolls, Fishers, NY; 585/924-2020; empiretreaterrolls.com
Company reports testing on OPP films with glassed steel treater rolls proved this type of roll can reduce energy consumption by almost one-third while maintaining desired treatment levels. Material cost savings also were confirmed. Lower power levels are said to extend the life of treater system components.

---
Treater has Features for Ease of Use
Softal Electronic, Germantown, WI; 262/253-6700; softal3dt.com
The CLNE Series corona treater for label printing and narrow web specialty applications focuses on user convenience. Offers a removable, powerful electrode module, high specific power, and smooth discharge characteristics. Comes in an easy-to-install package with a touchscreen-operated generator.

---