Published: February 28, 2006, By Edited by Deborah Donberg, Associate Managing Editor
Covering the Full Spectrum of Narrow Web Industry News, Events & Activities
Digital Printer the Right Choice
KENT, UK—After 18 months of market evaluation, SCA Packaging bought an Inca Columbia Turbo digital flatbed printer for its Shenstone, UK, factory. Site director Paul Bassett reports, "Virtually as soon as the Inca printer was in production, we wished we had decided to purchase one earlier in the evaluation process."
The facility specializes in point-of-sale work for European confectionery, wine/spirits, home care, and beverage markets. The Inca printer already has allowed the company to print on a wider range of substrates than was possible before. These include PVC, PP, foamex, paper, corrugated, and board.
"We've used the printer for runs from 1 to 1,500," says Bassett. "The latter is very high for a flat-bed digital printer, but the job required a substrate that could not have been printed on our screen presses. The Columbia Turbo produced the job without a problem. The printer has proved to be very easy to operate and extremely reliable."
SUPPLIER INFO:
Inca Digital Printers—incadigital.com
---
Flexo Press Brings Flexibility
MONTREAL, QC, CANADA—Supremex, a div. of Cenveo, has purchased a 20-in., eight-color Varyflex press from Omet (distributed by Matik). The combination UV/hot air press at first will be used to produce high-end envelopes but is expected eventually to help the converter expand into new markets.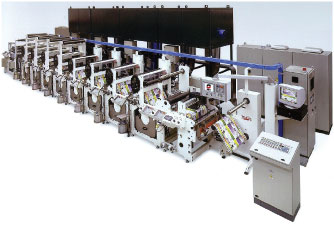 "We liked the flexibility, production efficiency, and high quality printing," Alain Tremblay, operations manager at Supremex, says of the press, which features Omet's Twin-Cut toolless die-cutting system that enables it to be used for both folding cartons as well as labels without the need to change magnetic cylinders. The press also includes Omet's new Flying Cut toolless sheeter cassette with infinitely variable sheeting repeats from 12–33 in.
"The Varyflex is a customized press configured to meet Supremex's wide range of production needs," adds Tremblay.
SUPPLIER INFO:
Matik North America—matik.com
---
Partnering for RFID Solution
NAUGATUCK, CT—Kuehne + Nagel, Omron Electronics, and Avicon report the successful implementation of the RFID compliance infrastructure and business processes for Omron Healthcare in support of Wal-Mart's electronic product code mandates.
Shipments of Omron's leading healthcare devices have been tagged with EPC tags at the case and pallet level and have been received successfully in retail distribution centers.
Omron Healthcare partnered with Kuehne + Nagel, a global logistics provider, to create a scalable outsourced RFID solution. Kuehne + Nagel, together with RFID solutions company Avicon, selected Omron Electronics RFID hardware V740 UHF Reader/Writer in combination with Avicon's epcExpress RFID software framework.
---