Published: January 31, 2006, By Robert W. Marsh, Contributing Editor
---
Part 1
|
Part 2
|
Part 3
|
Part 4
|
Part 5
| Part 6 |
Part 7
---
Marsh Rules
JackWelch, former CEO of General Electric—the man who increased GE's market value from $12 billion in 1981 when he became CEO to $280 billion when he retired in 2000—would tell the converting industry: "Control your own destiny or someone else will."

The industry seems to be taking his advice. As evidence, here is a sampling of what some industry leaders are doing to control their own destinies.

A Different World
A project started by Lamart Corp. in 2004 entered a new phase in August 2005 when a small blimp was tested successfully by Jet Propulson Laboratories in a cryogenic chamber at a temperature of –181 deg C.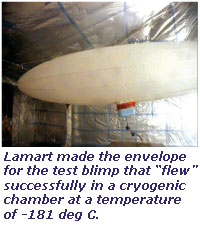 The blimp was "a scaled-down version of the Aerobot that NASA plans to fly a few years from now around Titan, a moon of the planet Saturn," says Lee Smith, project manager. "We provided the envelope for that test blimp. Later this year, a full-size test blimp will be prepared for complete testing."

To build the envelope, "we developed an ultra-thin laminated material," Smith says, "that consisted of 11 layers of polyester film with woven fabric, laminated with five layers of adhesive. Its combined thickness was a little more than one mil. We made it in two passes through the laminator, and then tested it in liquid nitrogen for flexibility. One of the keys to processing film materials is getting total control over tension and heat. Too much of either can cause wrinkling. The envelope cannot have any wrinkles."

Not only does this lamination provide the strength and flexibility NASA required, but according to Smith, "we've made it very difficult for a gas to escape in the event of the rupture of any one layer. And because of the extremely low permeability of this structure, it can be used effectively for hydrogen containment."

The test blimp was fabricated and tested by Global Solutions and Scientific Learning (GSSL), Tillamook, OR, in the last week of August 2005. "Happily," Smith says, "all systems were go, and later this year a full-scale version will be prepared for complete testing."

G for Gamma
Continually working to develop innovative machinery is how Galileo Vacuum Systems works to control its destiny, says Paolo Raugei, executive VP. "The most notable news is the introduction of our GAMMA series vacuum coaters." GAMMA is the acronym for Galileo Multi-Process Machines.

"This equipment line," he says, "targets the growing market for specialty vacuum-coated products in such diverse markets as displays, electronic circuitry, high-performance fabrics, security products, and more.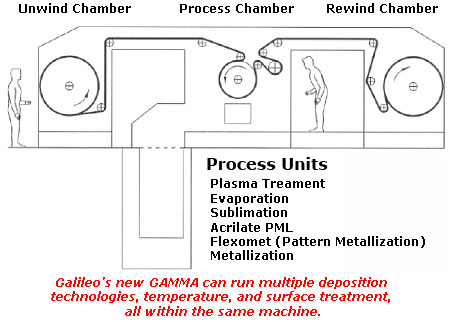 "The two main characteristics of GAMMA equipment are modularity and process flexibility. Modularity is achieved by means of a multiple-chamber design, whereas each chamber is an independent machine module. Additional modules can be integrated to meet diverse process requirements such as plasma/acrylate/sputtering/acrylate."

Raugei adds, "Process flexibility consists of the ability to run complex processes, possibly requiring multiple deposition technologies, temperature, and surface treatment, all within the same equipment. In short, the GAMMA line marks our entry into the market of 'specialty' roll coaters."

Fighting Fraud
According to the Federal Reserve, about 39 billion checks are processed in the US banking system each year. Some would say such a volume of checks is an invitation to fraud. So, one of the ways Appleton fights fraud is with its new DocuCheck Ghost security paper, which, says David Badilla, "makes it possible for check users to have an affordable line of defense against fraud." Badilla is market manager, secure checks and documents, at Appleton, formerly known as Appleton Papers. "DocuCheck Ghost security paper" says Badilla, "is positioned for what we might call a low-risk situation for business documents: checks, redeemable coupons, certificates, and the like. It prevents alteration or forging of documents." He goes on to explain that the Ghost is an artificial watermark. "It's not a part of the paper, but it's printed on the paper surface."

Badilla says Appleton's job is to "help people quickly authenticate a document. For example, when you hold the far end of a document away from you, the Ghost seems to glow. That glow is a feature of the ink. It appears under exposure to ambient light or black light. Either way, white light or black, it shows up immediately and then disappears."

Another way to authenticate a document on DocuCheck Ghost paper is with a TechMark Pen Tick Plus swiper pen. It's a felt-tip pen that is swiped across the face of a document and produces a red-pink image that disappears in about 10 to 15 seconds, according to Badilla. "In a supermarket," he says, "if a clerk wants to authenticate a frequent shopper coupon, she only does a quick swipe with TechMark Pen Tick Plus."

Appleton ships DocuCheck Ghost security paper, one of a line of four security papers, directly to authorized printing companies that produce checks, coupons, certificates, etc., Badilla says.

Window of Opportunity
In June 2005 Bekaert Specialty Films introduced Hilite, a window film that company president Christophe Fremont says "blocks 99% of the UV light and is guaranteed to transmit 70% of visible light." As a result, he points out, "It reduces room temperature and provides a definite increase in comfort."

Hilite is being introduced through the architectural market, one of the fastest growing markets in many countries, according to Fremont. "We see that there is a definite need for this film. We have done quite a lot of customer surveys and focus groups and have found that whenever we demonstrate window film to a customer, in 80% of the cases they want it. Most of the time you don't realize that you have film on your windows. And that is a great benefit because many people want to have window film, but they don't want to see it. Hilite is completely neutral; it doesn't change the appearance of the window at all."

Hilite window film is a spectrally selective film. "What this means," Fremont says, "is that it allows an absolute maximum of visual light to pass through the window. At the same time, it filters out infrared and ultraviolet rays and prevents fading of home furnishings. And, there are no pigments or dyes in Hilite, so the film will not fade or change color over time. The reflective coating is developed by sputtering silver and/or gold onto the base film."

Heat gain is minimal in the glass on which Hilite is applied, says Fremont, "which on most glazing systems avoids the risk of glass stress and possible breakage. This allows Hilite to be applied to an extensive range of glazing systems, including single and double glazing."

In this period of rising costs, increased competition, and environmental concerns, Fremont sees total quality management as "an extreme need." Bekaert uses on-line monitoring and process engineering to analyze critical data points in its production and identify the causes of inconsistencies and problems, as well as track and control product and process parameters.

"This is not something you look at once a day," Fremont says. "It is something you have to do continuously, minute by minute. We talk about it during our shift meeting each morning to see what we can do better.

"We are in a competitive world," he says, "and we are always working to improve our existing products and develop new ones."

Looking Beyond
Since he became president of Vacumet Corp. in 1973, Bob Korowicki has been controlling his company's destiny through acquisition, expansion, and new machinery, as well as by entering new markets. Last year, in Vacumet's latest venture, it acquired PROMA Technologies and thereby became producer of HoloPRISM holographic paper, with which Vacumet also produces monochromatic holograms.

As Korowicki explains it, "A monochromatic hologram is a single-color hologram that traps light and reflects it without creating the rainbow colors of polychromatic holograms. Our monochromatic hologram provides the depth of a polychromatic hologram without refracting light. And when a packaging design is printed on it, the trademarks and other typography are easy for shoppers to read."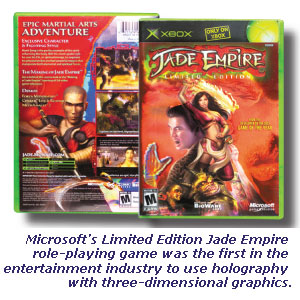 "The entertainment industry," says Gary Warehime, commercial manager for HoloPRISM, "is the furthest along in the use of custom holograms. Microsoft's Limited Edition Jade Empire role-playing game was the first packaging in the entertainment market to use holography with three-dimensional graphics."

This past November, Xbox released the prequel to Perfect Dark Zero with HoloPRISM holographic paper for promotions, packaging, and advertising. Both of these releases utilized custom holography designed by Vacumet's Creative Services department.

Warehime adds, "Magazines such as TV Guide and the Super Bowl magazine cover are using our HoloPRISM products. The use of paper holograms is growing at a double-digit rate for us."

"We have a library of more than 100 design patterns and images," says Joe Formosa, business manager HoloPRISM, "and our designers work with customers to select the best pattern to go with their artwork. Alternately, Vacumet can design the total package for our customers. Our HoloPRISM product is sent to our customer's printer to make the final package."

"Brand managers are looking for ways to differentiate their products from all the others on the shelf," says Wareheim. "Some studies say that the consumer makes a buying decision in two to three seconds, so the package must look different from any other to catch the shopper's eye."

Bob Korowicki is looking beyond Vacumet's most recent successes "to find the right acquisition or expansion to grow our business to meet our current and future business plans."

Four Ways to Control Destiny
Applied Films Corp. has found four ways to control its destiny: a new metallizer; a new production facility under construction in Taiwan; the acquisition of Vacuum Coating Technologies; and a new optical density monitor.

"Competition is immense for standard metallizing machines, so we're constantly striving to improve our equipment and productivity for our customers. Currently, we are building the world's largest metallizer," says Liz Josephson, system sales manager. "It metallizes plastic films for packaging applications at a speed of greater than 14 meters per second. It's designed for 24-hour production and annual output of greater than 6,500 tons. The need for a larger machine is based on cost-competitiveness, and the larger size will develop cost advantages for our customers."

In addition, Applied Films is building a new facility in Tainan, Taiwan. The 4,900-sq-m facility will include administration and production, plus research and development, and is expected to be completed this June, according to a company announcement. The plant will ship thin film deposition systems for the display industry directly from Taiwan for customers in Taiwan, Korea, and other Asian countries.

A new optical density monitor developed by Applied Films won the 2005 Technology of the Year award from the Assn. of Industrial Metallizers, Coaters & Laminators (AIMCAL). The monitor works in-line in a vacuum metallizer to monitor optical density or the transparency of a film. Since the monitor—LMS4X-OD—works across a wide range of transparencies, metallizers can run an entire spectrum of films without changing monitoring systems.

Accurate to 0.1%, the new system allows calibration of base films with an optical density as high as 2.0 and measures the deposited aluminum layer with an optical density to 4.0. The same system also can monitor metallized paper in weights to 70 g/sqm.

In November 2005 Applied Films completed the acquisition of Vacuum Coating Technologies, which, says CEO Thomas T. Edman, "gives us a complete suite of technology, including the C-MAG rotatable cathode technology, [plus] an experienced workforce, and a manufacturing and technology center to enhance our glass customer service." VACT has made glass coating equipment for more than 25 years.

In response to the growing demand for security applications, Applied Films has developed a new process control technology that utilizes its Topbeam electron beam (EB) web coating system. It is used to deposit three-color shift layers on plastic film with EB evaporation.

The three-color shift layers, when seen from different angles, change their reflected color, making them suitable for use in security applications. The shift in colors is created by what is known as a "Fabry-Perot Filter." It consists of a mirror base layer of metallized plastic film, a middle transparent oxide layer, and a top semi-transparent metallic layer. Depending on the thickness of the middle layer, the light is reflected in different colors. Color also changes when seen at different angles. "With our new process control," Josephson says, "a Topbeam machine can produce the layers at a coating speed of 20 meters per minute."

Polypropylene Holograms
To determine the destiny of AET Films' holographic films, George Buckland, senior market manager, "looked at each market to see what type of micro-embosssed film would be best for each market segment. We had to take a step back and recognize what was going to impact the success or failure of our products. If we didn't get active and try to understand the dynamics of the end-user, we were putting ourselves at a great disadvantage."

AET produces a variety of polypropylene (PP) films, including Mirage holographic packaging and labeling films, and a new heat-sealable holographic film within its line of BOSS PP films.

Driven by market considerations, Buckland says "we brought all production of Mirage films under one roof in Varennes, Canada, near Montreal. Everything is completely self-contained. Mirage film is produced at one end of the house and moved to the back for slitting, embossing, and metallizing. In fact, we can see the film processed from beginning to end.

"Under this process, the quality of our product has improved and so has consistency and speed to market. So, if there is an issue with one of the tools, we can trace it right back to the original resin that produced the film."

According to Buckland, "AET is producing a flatter Mirage base film that enhances embossing by generating the cleanest groove for an image. The clarity of the film, plus the flatness, allows a better image to transfer to the embossable film. And it also creates a brighter image. Mirage films are available in shimless designs, which are said to be an important benefit to the converter and end-user for their packaging applications.

"In the course of the past 6 to 12 months," says Buckland, "we developed a new line of a half-dozen films for holographic designs based on our market studies. One of them is XBOSS, a clear, sealable film that has a very subtle holographic image and is intended for overwrap. Some of the others are LBOSS, an embossable film for straight-wall labels and LSBOSS, a low-shrink film for roll-fed labels."
---
---


CONVERTER INFO:
Appleton
825 E. Wisconsin Ave.
Appleton, WI 54912-0359
920/734-0359; appletonideas.com
Beckaert Specialty Films
4540 Viewridge Ave.
San Diego, CA 92123
858/576-0200; bsf.com
Lamart Corp.
16 Richmond St.
Clifton, NJ 07015
973/772-6262; lamartcorp.com
Vacumet Corp.
22 Riverview Dr.
Wayne, NJ 07470
973/628-0400; vacumet.com
SUPPLIER INFO:
AET Films—aetfilms.com
Applied Films Corp.—appliedfilms.com
Galileo Vacuum Systems—galileovacuum.com
---
---
Robert W. Marsh, former executive director of the Assn. of Industrial Metallizers, Coaters & Laminators (AIMCAL), is a retired marketing communications manager for ICI Americas, where he managed advertising, sales promotion, and product publicity for Melinex polyester films. Prior to joining ICI, he handled a variety of advertising assignments for the DuPont Co.
---
Part 1 | Part 2 | Part 3 | Part 4 | Part 5 | Part 6 | Part 7
---