Published: December 31, 2005, By Edited by Deborah Donberg, Assoc. Managing Editor
Narrow Web Converting Industry News
Press Cures Growing Pains
TURATE, ITALY—Digital Labels, Amman, Jordan, is the proud owner of an F-Combat 370 press from Gidue, used to print a range of substrates including p-s paper; supported and unsupported films; DPVC, BOPP, and OPP for shrink sleeves; wraparound labels; barrier films; and pouches.
Amer Sabha, owner and general manager of Digital Labels, says his company—which was formed in October 2004—serves food, beverage, and automotive markets in Jordan and surrounding regions. A specialty is thermal labels for tamper-evident applications.
"In a very short time, the demand for our products grew to such a level that we had to consider increasing production, while still maintaining the high level of quality we are known for," says Sabha. "We evaluated various presses and found the F-Combat from Gidue was the one best suited to our production needs. The 'flower' printhead design helps us deliver many different short-run jobs per day, and we can print BOPP unsupported film at speeds to 140 meters per minute." After-sales support has been "invaluble," Sabha adds.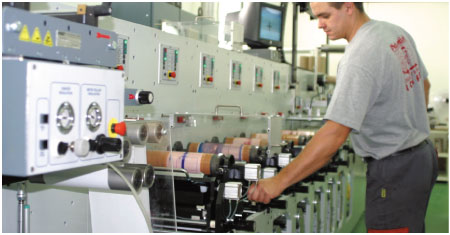 The press has six printing units and features the Gidue "film kit," including 760-mm (30-in.), water-cooled chill drums adjacent to the six UV curing lamps. It includes servo motors at the unwind, infeed and outfeed rollers, a corona treater, antistatic bars, a web cleaner, web turn bar, and combination laminator and cold foil stamping units with a foil-saver attachment.
SUPPLIER INFO:
Gidue—gidue.com
---
Lowry, TI in RFID Alliance
BRIGHTON, MI—Lowry Computer Products reports an agreement with Texas Instruments (TI), Dallas, TX, in which Lowry's label conversion facility will integrate TI's Electronic Product Code (EPC) Gen 2 inlays into its Smart Trac RFID labels for retail and Dept. of Defense RFID supply chain applications. "As a result of [this] alliance, we expect to become a primary RFID label source to early adopters of Generation 2 tags," says Mike Lowry, president and CEO of Lowry Computer Products.
---
Raflatac Hosts Pro Label Day
By Nsenga Byrd Thompson, Associate Editor
ASHEVILLE, NC—Ashville's historic Grove Park Inn Resort was the backdrop for Raflatac's Pro Label Day, held Nov. 10, 2005. With more than 400 attendees, including PFFC, the event was an opportunity for suppliers and customers of the label stock company to learn more about its products and growth.
With major new investments from parent company UPM, Raflatac has expanded its North American production and distribution network. Among the year's accomplishments was the engineering and installation of a state-of-the-art, $40 million coater at the Fletcher, NC, manufacturing center and the opening of a slitting and distribution terminal in Wilkes-Barre, PA. The new coater will focus on manufacturing high quality thin films and hot melt adhesive label stocks, while the slitting facility will accelerate delivery cycles and spur regional growth with its 24-hr/day production capabilities. Attendees were treated to an extensive tour of the 235,000-sq-ft facility.
"With our new production and distribution assets, we're sending our customers a message," said Jouko Lähepelto, senior VP, Americas. "And that message is that we're not just investing in our own future but also in theirs. We're pro-label and pro-customer."
UPM Rafsec, a member of the UPM Group specializing in RFID, opened the doors to its new UHF RFID tag production in Fletcher, NC, in September 2005 and has since announced major breakthroughs in bulk pricing of UHF Gen 1 and Gen 2 inlays at below $0.10 levels.
---