Published: December 31, 2004, By Edited by Deborah Donberg, Assoc. Managing Editor
Covering the Full Spectrum of Insdustry News, Events & Activities
Printing on the Fast Track
Corrugated packaging at Jardin Corrugated Cases in Ely, UK, is benefiting from a new FastJet digital high-speed printer from Sun Chemical Digital, a recently created division of Sun Chemical.

Developed with Inca Digital Printers, the single-pass printer has 480 printheads fixed in stationary arrays that are 1,040 mm wide. The board makes a single pass under the printhead array and emerges fully printed. UV inkjet inks are supplied by Sun Chemical's SunJet and were developed specifically for this application to avoid nozzle drops and to achieve full cure at high speeds.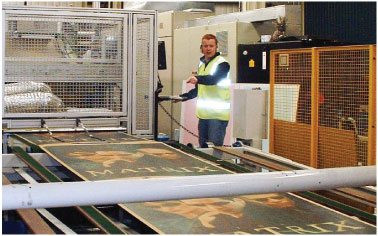 While the press is a prototype for testing the reliability of the technology in an industrial environment, it will be used immediately for regular production, says Jardin managing director Kevin Hennessy. "Many of the prints we have seen are of superb quality, and we have already produced images that can be used as displays."
SUPPLIER INFO:
Sun Chemical Digital—sunchemical.com
Inca Digital Printers—incadigital.com
---
---
Plastics and the Environment
MISSISSAUGA, ON, CANADA—The Environment and Plastics Industry Council (EPIC) reports the availability of many resources for municipal curbside collection. It also offers a Best Practices Guide for At-Store Collection of Plastic Bags for retailers that want to implement this program for their customers.

EPIC has produced a Stretch-Wrap Recycling Guide and created a separate area on its Web site specifically for plastic bags and film. The site also features Plastics and the 5Rs, with information relating to Integrated Waste Management, Reduce, Reuse, Recycle, Recover Energy, and Retention in landfill.

Visit plastics.ca/epic.
---
Explore GOA in Miami Beach
MIAMI BEACH, FL—Package printing gets its day in the sun at Graphics of the Americas, which will be held February 3–5 at the Convention Center in Miami Beach.

Conference organizers plan to highlight the growing package printing market at the show, which is expected to draw more than 22,000 print providers and technical and creative professionals from around the world. More than 500 exhibiting companies will cover 500,000 sq ft of exhibit space.

According to Chris Price, VP and general manager of GOA, "Latin American and US buyers have found Graphics of the Americas to be a highly productive environment to view, compare, and purchase the latest equipment and related products. High demand has stimulated the expansion of our focus for both buyers and sellers of package printing-related products to meet the growing need."

After a successful first year at GOA, Xplor Intl., a worldwide electronic document systems association, now is a cosponsor of this year's show. Xplor is bringing "seven conferences in one" to this year's program, which begins February 1 and concludes February 5.

In addition to Xplor's Document Exchange, the event will include the PDF for Production Print Conference; XML for Production Print Conference; Digital Technologies to Grow Your Bottom Line (conducted in Spanish); Creative Suite Power Tour; and Photoshop "Tips and Techniques."

Returning to the show are Design City; the Graphic Arts Leaders Awards Dinner and Reception; Printer's Showcase; the International Buyer Program; and the South Beach Party.

For more information, visit graphicsoftheamericas.com.
---
Italian Show is Wide-Ranging
MILAN, ITALY—Ipack-Ima 2006, scheduled for February 14–18 at the Fiera Milano New Exhibition Complex Rho Pero in Milan, will be an all-inclusive event featuring materials and solutions for the packaging industry; packaging technology, processing, and bottling for the beverage industry; grain-based food technology; and equipment for industrial logistics and material handling.

Organizers expect two factors will enhance the appeal of the event. PLAST 2006, one of Europe's leading plastics and rubber exhibitions, will colocate with Ipack-Ima, a decision expected to increase attendance. In addition, both exhibitions will be housed in Milan's New Complex, Fiera Milano at Rho-Pero, recognized as one of the most modern exhibition facilities in the world.

Ipack-Ima 2006 is organized by Ipack-Ima S.p.A. and is promoted by ANIMA, the Federation of the Italian Assns. of Mechanical and Engineering Industries, and UCIMA, the Italian Assn. of Automatic Packing and Packaging Machinery Mfrs.

For more information visit ipak-ima.it.
---
ProtecPac Starts Up US Plant
MONTREAL, QC, CANADA—ProtecPac, a producer of protective packaging and building materials, has started production at a new facility in Sydney, OH, north of Dayton, to serve the Midwest. ProtecPac USA is the company's first operation in the US and represents a multimillion dollar investment.

The facility will produce the full range of company products, including PE foam, air bubble cushioning, mailers, cohesive materials, laminated products, and single-faced corrugated.

"Our strength is personalized services," says Jan Wieringa, ProtecPac's general manager. "With a growing volume of business from the Midwest, we wanted to be closer to our customers."

Operations manager Bob Hooper will head the new facility, which is the fourth manufacturing plant for ProtecPac.
---
AIMCAL Introduces Blogs
FORT MILL, SC—The Assn. of Industrial Metallizers, Coaters and Laminators (AIMCAL) is live online with four blogs to help members of the converting community locate information on new technology and issues facing their organizations and the industry.

The subject areas covered by the blogs include web coating and laminating (webcoatingblog.com); vacuum web coating (vacuumcoatingblog.com); web handling and converting (webhandlingblog.com); and specialty web coating (specialtywebcoatingblog.com).

The blogs also will serve as a more interactive new home for AIMCAL's Technical Q&A section in the Ask AIMCAL part of the Web site (aimcal.org).
---
Spartanics Laser Cut Debuts
By Nsenga Byrd Thompson, Associate Editor
ROLLING MEADOWS, IL—Spartanics held its annual open house Nov. 3–4, 2005, at its Rolling Meadows headquarters. The event featured several of the company's leading products, but it was the North American debut of the Klemm Laser Cut System for digital die-cutting that drew the most attendee attention.
Spartanics announced in September 2005 it would be the new manufacturer of Klemm Laser Cut Systems for digital die-cutting, as well as coordinator of the worldwide sales and service organization for the new Spartanics Klemm Laser Cut Systems.

Spartanics Klemm digital die-cutters operate at speeds to 600 mpm and feature what the company says is the most tightly controlled laser beam technology available in galvanometers. Proprietary software automates controls on laser power and scanning speed for unparalleled control in laser cut quality, the company adds.

The system features 0.5-mm hole size, intuitive Windows-based software designed for operators with no CAD expertise, and an intelligent system for beam shaping. It includes a wide array of options for scrap removal and can be configured for sheet- or coil-fed operations.

The open house also hosted Spartanics partner Hewlett Packard, which exhibited at the event. For more information, visit spartanics.com.
---
---
PEOPLE IN THE NEWS
Aetek UV Systems, Romeoville, IL, names Jack Slattery regional sales manager for the Midwest.

Michael Fischer joins the Bangkok office of Windmoeller & Hoelscher, Lengerich, Germany, as sales area manager, Far East.
Nipson America, Elk Grove Village, IL, appoints Heberto Pachon VP of business development.
Lüscher Flexo, Leutwil, Switzerland, appoints optics and laser specialist David Wheatley to lead technical efforts in that area.
At Praxair Surface Technologies, Indianapolis, IN, Lloyd Tirey is named VP of operations and Deborah True is now quality director for the global surface technologies business. Bill Lodwick becomes general manager and director at Asian Surface Technologies Pte. Ltd., the Singapore-based joint venture of Praxair Surface Technologies, SIA Engineering Co., and Pratt & Whitney.
Jack Corcoran is named packaging consultant at Continental Packaging Solutions, Chicago, IL. He will manage the company's presence on the East Coast from New York/New Jersey to Florida.

Robert W. Ackley retires from his role as CEO at Davis-Standard, Pawcatuck, CT. He will be succeeded by Charles Buckley.
The board of directors at Klöckner Pentaplast Group, Gordonsville, VA, promotes Tom Goeke to CEO and Michael Tubridy to president and chief operating officer of Klöckner Pentaplast/North and South America, Gordonsville. Joachim Kreuzburg is named president and chief operating officer of Klöckner Pentaplast/Europe and Asia, Montabaur, Germany.
---