Published: December 31, 2005, By PFFC staff
Narrow Web Machinery, Accessories, Services
Get Strong Tamper Evidence
Avery Dennison, Painesville, OH; 800/ 944-8511; europe.fasson.com
PEHD TE self-adhesive, ultra-destructible face film represents an overt tamper-evident device with new brand protection functionality. Has the look and feel of matte white paper but is an HDPE film with highly cavitated inner layers that cause multiple fractures when manipulated, producing delamination and providing strong visual evidence of tampering. Can be printed and converted by all conventional print processes.

---
Rewind Small Labels Quickly
AB Graphic Intl., E. Yorks, UK; +44(0)1262 671138; abgint.com
The Vectra four-spindle turret rewinder is designed for producing small rolls of labels at high speeds. Includes closed loop tension control; 7-sec cycle time; auto fill hot melt core glue system; and a pendant-style touchscreen control panel for ease of operation. A job-save facility stores up to 500 jobs.

---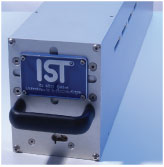 Apply More UV Energy
IST Metz, Nürtingen, Germany; +49(0)70 226 00 2-0; ist-uv.com
The MBS-5 lamp module allows more than 40% of UV energy to be applied to the substrate compared to conventional UV modules, according to the company. Core feature of URS reflector technology is a new surface coating that enables any desired geometry when using "cold mirror" reflectors.


---