Published: November 30, 2005, By PFFC staff
Machinery, Accessories & Services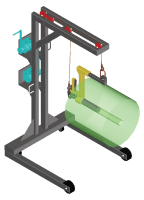 Handle Rolls Cost-Effectively
Converter Accessory Corp. , Wind Gap, PA; 800/433-2413; handleyourweb.com
The Rol-handlR Model PH1 is described as a cost-effective, easy-to-operate solution for handling rolls to 1,000 lbs in a wide range of widths and diameters. Self-contained, floor-based, movable system complements the I-beam-based Rol-handlR models for rolls to 2,000 lbs. PH1 is available in mechanical or battery-powered electrical configurations and does not require overhead equipment, fork truck, or any other additional handling equipment.
---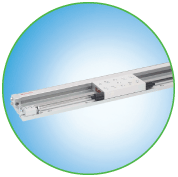 Rodless Drive is Compact
Bosch Rexroth Corp. , Lexington, KY; 859/254-8031; boschrexroth-us.com
The GSU (Guided Slide Unit) pneumatic linear drive features rodless construction said to make it compact and to optimize machine design. Can be used in gantries as an X-axis or as a workpiece pallet in material supply. Available in diameters of 16 and 25 mm. End stops can be adjusted finely, simplifying construction and allowing for multiple positions with a single unit.
PFFC-ASAP 401
---
Antiblock Aids LLDPE Clarity
Ampacet, Tarrytown, NY; 914/631-6600; ampacet.com
Product 102286 high-clarity slip antiblock for LLDPE films eliminates the loss in clarity that often accompanies antiblock use by raising film clarity well above that of the base resin, company reports, adding tests show new additive masterbatch makes LLDPE film as much as 65% clearer than the base polymer. Also said to improve gloss as much as 50%.
PFFC-ASAP 402
---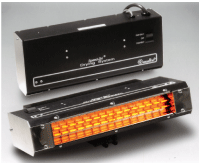 Two Tapes for Splicing
Adhesives Research, Glen Rock, PA; 800/445-6240; adhesivesresearch.com
ARclad 9581 (pictured) is a highly visible, 4.0-mil, aggressive repulpable tabbing or butt splicing tape offering a printable surface and a scored liner. It is capable of accepting paper coatings and can be used in operations such as rereelers, winders, slitters, rewinders, and coaters. ARclad 9590, a 3.5-mil, aggressive, double-faced splicing tape with an easy-to-use repulpable release liner, is suited for high-speed flying splices. It may be used for zero-speed, overlap, core starting, and roll finishing applications, as well in sheeting, slitting, rewinding, and automatic core starting.
---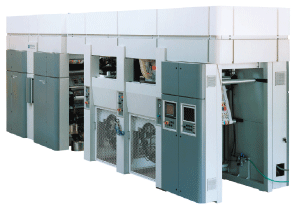 Dry Inks Quickly
Research Inc. , Eden Prairie, MN; 952/941-3300; researchinc.com
The Speed-Dri Model 3620 IR heater provides instantaneous IR and convection technologies to dry ink printed on target areas to 1 in. wide. Ink drying system is designed for easy installation, low operating cost, and minimal maintenance. Fast drying rates are achieved, company says, and compact design allows units to be installed in a variety of configurations suitable for many applications.
---
CI Press Offers Options
Soma Engineering, Lanskroun, Czech Republic; +42 (0) 465 350 825; soma-eng.com
The SomaFlex gearless CI press is CNC-controlled and covers printing widths to 50 in. wide with fully sleeved print and anilox rollers. System for cantilevered roll change from the side of the machine features a hydraulic platform lifting the reel into place without the need for inserting a shaft manually. Options include automatic washup, web inspection, and automatic register setting.
---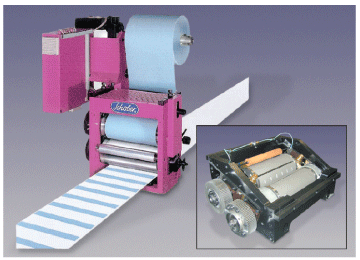 Core Chucks Reduce Injuries
Convertech, Wharton, NJ; 973/328-1850; convertech.com
Core chucks provide a firm grip with wide-footprint lugs. Can provide high-torque pressure without damaging the inside of the core or core ends, company says. Said to reduce workplace injuries with easy unloading and to reduce operating costs and increase productivity with repeated use of cores.
---
Place Patches on a Moving Web
Schober USA, Cincinnati, OH; 513/489-7393; schoberusa.com
Cut & Place modules are for the transfer and placement of pre-cut patches onto a continuously moving web. High-speed technology features vibration-free design said to prolong cutting blade or die service life significantly. Pre-calibrated cutting pressure speeds and simplifies the setting of tooling. Works independently of converting line speed, reportedly reducing waste. Recommended for frontal tape, tab tape, and waist band applications in diaper processing as well as other personal/healthcare and technical applications.
---
PSA has High Adhesion
Rad-Cure Corp. , Fairfield, NJ; 973/808-1002; radcure.com
High-performance 12PS2 is a UV-curable PSA that cures to a permanently tacky adhesive. Exhibits excellent adhesion to many paper, film, and foil stocks, reports company, and may be printed on most release liners. Solvent-free adhesive produces a paper-tearing bond when used in paper-to-paper applications or film to paper. High viscosity is said to make product ideal for screen printing.
---
Inkjet Ink Gives High Contrast
Domino UK, Cambridge, England; +44 (0) 1954 782551; domino-printing.com
White opaque ink designated 253WT is for use with company's A-Series continuous inkjet printers for specialist coding and marking applications that require a high-contrast code on dark surfaces. Said to achieve extremely sharp-looking codes and exceptional adhesion, as well as scratch- and smear-resistance on many smooth surfaces. Also reported to offer excellent water-resistance and light-fastness.
---
Synthetic Paper Offered
Appleton, Appleton, WI; 920-734-9841; appletonideas.com
Company now offers the Tru-Tech line of durable paper products. Line is available in sheets and rolls, features a wide range of tear- moisture-, and puncture-resistant products, and is laser-printable. Design comprises paper/poly/paper and is said to print, convert, and look like paper, with no special inks or setups required. Ten grades are available.
---
Use Modules for Control
Battenfeld Gloucester Engineering Co. , Gloucester, MA; 978/281-1800; bge.battenfeld.com
The Distributed I/O System for film and sheet extrusion lines replaces conventional remotely mounted centralized control cabinets with modules, or nodes, that attach to the individual equipment they control. Said to simplify electrical engineering, cut machine installation time by approximately 50%, reduce cable installation cost by 75%, and permit faster testing and troubleshooting.
---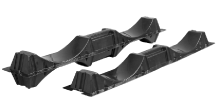 Cradle Rolls for Safety
Rollguard, Great Northern Corp.'s Specialty Group, Appleton, WI; 920/725-4848; rollguard.com
Thermoformed, dust-free, plastic roll cradle with locking hubs and end tabs is said to provide greatly improved safety and stability during loading and shipping. Designed to protect rolled and cylindrical materials with diameters between 18 and 22.5 in., cradle features a strong cushioning construction said to make it ideal for stacking, shipping, and storing sensitive products. Highly nestable design allows more cradles to be stacked per pallet.
---
Shrink Film Gives High Gloss
Plastic Suppliers, Columbus, OH; 614/471-9100; plasticsuppliers.com
Oriented Polyflex TMPOPS 70-50 shrink sleeve label film is said to provide a superior surface for ink adhesion with excellent shrink characteristics. PS film also reportedly offers high gloss and low haze levels.
---
Lift Table has Deck Extension
Pentalift Equipment Corp., Buffalo, NY; 519/763-3625; pentalift.com
Lift table is equipped with a powered deck extension that moves laterally. The 3,000-lb-capacity table has a 60x84-in. platform with a 50-in. vertical lift. A 48x22-in. deck, stored within the platform, can be extended hydraulically to provide a walk-over bridge for servicing machinery. Features a fail-safe interlocking design that prevents table from raising or lowering unless extension deck is in a fully retracted position. Hydraulic cylinders reportedly ensure long cylinder life and reduced maintenance.
---
PDF Workflow is Enhanced
Artwork Systems, Bristol, PA; 215/816-4500; artwork-systems.com
Odystar 2.5 is a new release of the Odystar native PDF workflow system. It runs on the Mac OSX platform and is based on the foundation of JDF and Certified PDF. Enhancements include more powerful color management, an updated trapping engine, automated versioning, color mapping, and a powerful automated imposition engine. It is available as a turnkey system for creating printready PDF files or with an optional RIP with a full range of screening options for film and plate output.
---
Eliminate Static with Ion Edge
TAKK Industries, Cincinnati, OH; 800/792-8255; takk.com
Ion-edge, medium-range static elimination bar is compatible with most power supplies and delivers high positive and negative ion output with an effective range of 6 in. or greater from the target surface. Bar has an extruded aluminum and plastic housing with an epoxy fill. Compact design permits operation in areas of limited space. Stay-sharp emitters are said to minimize deterioration in performance.
---
Roller Screws for Tough Jobs
SKF Motion Technologies, Bethlehem, PA; 800/541-3624; linearmotion.skf.com
Roller screws are called a practical alternative to ball screws for more demanding linear-actuation applications requiring higher load capacities and higher speeds in smaller design envelopes. Said to achieve more than 10x the service life of comparably sized ball screws, promoting uptime and productivity.
---
Roll Stand has Many Uses
Davis-Standard, Pawcatuck, CT; 860/599-1010; davis-standard.com
The XP Express pre-engineered roll stand system offers processors a highly functional, operator-friendly, competitively priced unit with a reduced delivery time, company reports. Provides linear roll actuation with capabilities for lamination, solution coating, auxiliary cooling, slitting and trimming, embossing, and protective film applications. Advantages include high-speed capabilities for thin-gauge applications, individual roll speed control, and repeatable roll positioning.
---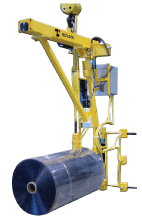 Keep Rolls Level
Tilt-Lock, St. Michael, MN; 800/999-8458; tiltlock.com
An automatic leveling device designed to be attached to company's patented Tip Lift roll-handling device acts to assure the frame of the tip lift is plumb at all times and the roll is level when it is tipped to the horizontal position. Device may be operated in automatic or manual mode and is said to be a convenient way of handling rolls for loading and unloading of shafts.







---