Published: November 30, 2005, By Edited by Deborah Donberg, Assoc. Managing Editor
Covering the Full Spectrum of Industry News, Events & Activities
EUROTALK
By Corey M. Reardon, AWA Alexander Watson Assoc.

Looking Back on 2005
This has been a challenging year in Europe for the industry. The EU Packaging and Packaging Waste Directive's committee has been deliberating whether release liner should be classified as process waste or packaging waste, and we still await a decision. A meeting is scheduled to take place soon—so we may know the outcome by the end of the year.

If the decision favors classification as packaging waste, the self-adhesive label value chain as a whole will have a problem on its hands. There is still little evidence that the industry is developing environmentally responsible waste management strategies to deal with label matrix and used release liner.

Raw material prices have been, and will continue to be, a challenge. This ongoing situation was compounded by the paper strike in Finland. Finland represents about 15% of the world's paper products production, including a high percentage of label facestocks and release liner base, so mid-year specialty paper supply in Europe was tight.

On the positive side, there has been extraordinary movement this year in the field of RFID tags in a self-adhesive laminate. This enormous niche market opportunity for the self-adhesive label industry has been embraced by the major laminators, Avery Dennison and UPM Rafsec, and currently is also the focus of many label converters in Europe in view of the interest from major retailers such as Tesco, Metro, and Wal-Mart.

And if we were in any doubt that there is still strong growth in the product decoration and identification field, major players are investing to add capacity, e.g., Raflatac for films in Finland, Scandstick in Sweden; Ahlstrom and ExxonMobil Chemical in France.

In addition, consolidation continues across the value chain. I don't think 2006 will be an easy year in the label business, but I believe we can expect to see even more activity as our value chain realigns to meet the challenge of globalization and a maturing market.

AWA Alexander Watson Assoc. is an international market research consultant company for the converting and packaging industries.
---
---
Wanted: Complex Folding Cartons, Fast!
Quick turnaround and reliable equipment are musts for Color Spectrum Network (CSN), Marietta, GA. The folding carton facility manufactures very complex products and guarantees customers seven-day turnaround. To that end, CSN recently added a Bobst SPanthera 106-LER embossing die-cutter with blanking and a Bobst Mistral 110 A-2 CS folder/gluer equipped with the latest source tagging and CD insertion devices.

The new equipment complements two other Bobst flatbed die-cutters, an SP 102-BMA Foilmaster, a Media 100-II folder/gluer, and an Alpina 110 A-3 folder/gluer with a Handypack II box packing machine.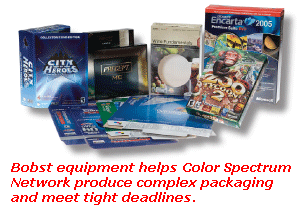 CSN operations manager Darryl Millsap says, "When you are delivering the way we are, you don't have time for a machine to be down. We need the best equipment and service the industry has to offer in order to do what we do."

Gil Bonilla, CEO and president of CSN, adds, "A very high percentage of our work is for software, hardware, sporting goods, pharmaceutical, and cosmetic companies. As well as requiring creative packaging [for] greater visibilty on the shelf, our customers are very security conscious. The value-added capabilities of our equipment allow us to provide a wide range of security and fulfillment services…."
SUPPLIER INFO:
Bobst Group USA—bobstgroup.com
---
---
Converter Goes Back to W&H for (Much) More
When Gene Schneck, manufacturing VP of Hood Packaging, says his company has confidence in the products of Windmoeller & Hoelscher, he definitely puts his money where his mouth is. Case in point: Hood, already a long-time W&H customer, recently purchased the PB 2555 pinch bottomer, two AD 8310 bottomers, two Transystems, and two Arcomat 2 robot palletizers (pictured) for installation in early 2006.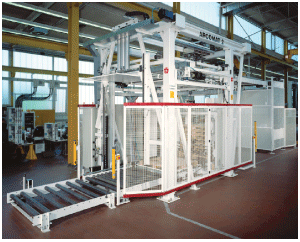 Hood designs and manufactures a wide range of plastic and paper packaging products. The pinch equipment will run in Hamlet, NC, where the Transystems will be used downstream of the PB 2555 and an existing PB 2550 to feed sack packets to the Arcomat 2 robot palletizer.

The AD bottomers, to be installed in a plant in Pine Bluff, AR, will have multiple valve units and bottom patch capabilities.
SUPPLIER INFO:
Windmoeller & Hoelscher—whcorp.com
---
---
ASSOCIATION NEWS
AIMCAL Site Offers New Ease
FORT MILL, SC—A revamped Web site feature is more useful for members and visitors seeking converting industry resources, according to the Assn. of Industrial Metallizers, Coaters and Laminators (AIMCAL). "Ask AIMCAL" now is accessible directly from askaimcal.org or from the AIMCAL home page, aimcal.org.

To locate a supplier, individuals send their query online using what is described as a simple Ask AIMCAL request form, which can be targeted to any one of nine subject areas. Requests are forwarded to the appropriate AIMCAL member companies for direct reply.

Site visitors also may search the AIMCAL SourceBook, which contains contact information for all members and their area(s) or expertise.

AIMCAL reports the revised section gives greater emphasis to the Jobs Forum, the members-only Patent Review section, an Events Calendar, and the Technical Q&A section.
---
Kurz Joins PrintCity Alliance
CHARLOTTE, NC—Kurz Group, parent company of Kurz Transfer Products, has become a member of the PrintCity Global Alliance, an integrated cross-industry strategic alliance that fosters cooperation across the graphic arts value-added chain.

Goals of the alliance, which has about 40 members, include optimizing workflow and production processes in an open systems approach in the packaging, commercial printing, and publishing sectors.

Rainer Kuhn, managing director of PrintCity, says, "We are delighted Kurz has joined the alliance. It will bring valuable expertise to us. As an example, we have done a lot of work on brand protection and value-added printing and will be doing even more in the future, to which Kurz can actively contribute value."
---
Odyssey Offers Info and a New Partnership
ST. CROIX FALLS, WI—Brantjen & Kluge reports its participation in the 2005 Odyssey featured various pieces of equipment operating in a centrally located "TechShop." The event, hosted jointly by the Intl. Assn. of Diecutting and Diemaking (IADD) and the Foil Stamping and Embossing Assn. (FSEA), was held June 15–17 in Atlanta, GA. The TechShop offered demonstrations to set audiences with a specific topic or process being narrated. Kluge's offering included an EHF Series press configured to foil stamp and emboss a 12x19-in. die. Henry Brandtjen Jr. received the Lifetime Achievement Award for 2005 for his contributions to the foil stamping and embossing industry.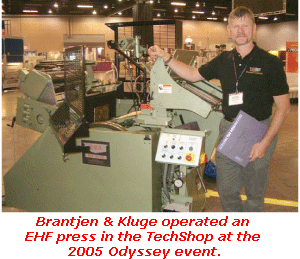 The 2005 Odyssey offered 30 different educational seminars both in the classroom and in the TechShop, as well as an exhibition. New this year was the partnership between IADD and FSEA, and both associations report the resulting synergy was extremely successful. "We have seen how two associations can work together to achieve a common goal—to become an educational resource not only to our members but also to the industry at large," says Dan Johnson, planning and committee chair of the event. "I believe, without a doubt, that we achieved that goal."

For more information visit iadd.org.
---
PLGA Looks at Benchmarking
NEW MADISON, OH—"Gravure and the Benchmark Process" was the theme of the Third Annual Technical Conference held by the Packaging & Label Gravure Assn. (PLGA) October 19–21 in Charlotte, NC. Attendance was up 83% over the last Fall Technical Conference (held in 2003), with 183 attendees representing 125 companies.

The emphasis this year was on the cylinder, with sessions on round and elliptical engraving, proofing, and the interaction of the cylinder, ink/coating, and doctor blade. Other topics included regulations, rebuilding vs. replacing a press, pressroom training, security, and more.

The Technical Conference is now an annual event, with the next one planned for October 2006. For more information on either event, contact PLGA at 937/996-0328 or visit plga.com.
---
---
PARTNERSHIPS
Software Interface to Aid Labs
COLUMBIA, MD—Shimadzu Scientific Instruments, a supplier of analytical instrumentation, has entered into a partnership with Ion Signature Technology (IST), Smithfield, RI, a developer of advanced technologies for analytical laboratories. The relationship will provide Shimadzu's GC/MS users with the benefits of IST's new mass spectrometry software, IST for GC/MS. The interface reportedly will help labs accelerate productivity and increase measurement sensitivity by untangling complex data.
---
A Milestone for Nordmeccanica
PIACENZA, ITALY—As it gets ready to celebrate its 28th anniversary in 2006, Nordmeccanica proudly reports it also is getting ready to deliver its 1,000th machine.

Next year also marks five years since the incorporation of Nordmeccanica NA in Long Island, NY, with sales and after-sales services for North America and an in-house, full-size laminator for demonstration, training, and customer trials. The company was founded in 1978 as a coating/laminating machinery manufacturer with 25 employees and 20,000 sq ft. In 1980 it released the "solventless only" laminator. Nordmeccanica today has five production facilities with 200,000 sq ft and 200 employees.

Looking ahead, commercial director Giancarlo Caimmi says, "Our attention is now focused on machinery for multi-ply, multi-coating in one pass and on new developments in faster curing adhesives. We are in partnership with adhesive manufacturers and are cooperating on new technologies."

Caimmi says Nordmeccanica is responsible for many coating and laminating "firsts" in the industry, adding, "We have had astonishing market growth, especially since Antonio Cerciello took over in 1997 as owner, president, and CEO."

The company has gone from $11 million US in 1997 to $48 million US in 2005, Caimmi reports, and has not experienced any job cuts in recent years but has, in fact, continued to grow and add employees.
---
AR Forms Four Divisions
GLEN ROCK, PA—Adhesives Research announces the launch of four new fully integrated operating divisions formed by a corporate restructuring.

ARmark Authentication Technologies will develop technical solutions and customized products that can be used in anti-counterfeiting, brand protection, and supply chain management. Jeff Robertson will lead the division as director and general manager.

The ARcard division will build upon proven product lines of high-performance specialty p-s tapes, with William M. Stratton III as VP and general manager.

ARcare will focus on customized tapes, adhesive coated products, film, and laminates for industrial customers in construction, pulp and paper, and transportation.

The fourth division, designated ARx, will expand the company's role as a component supplier/partner to the pharmaceutical industry and bring added focus and regulatory control to the design, scale-up, and manufacture of "active" adhesive laminates and dissolvable films for the drug delivery sector.
---
---
ACQUISITIONS
Remmele Adds May Coating
ST. PAUL, MN—Remmele Engineering has acquired the May Coating Technologies division of Acumeter Laboratories, St. Paul. The May Coating line of standard web handling and coating equipment will be integrated into Remmele's Automation Div.

"Remmele and May have enjoyed a relationship for many years where we have collaborated on multiple products," says Terry Johnson, VP and general manager of Remmele's Automation Div. "Remmele offers experience in intermittent web solutions, and May offers expertise in continuous web handling and coating. We feel this combination provides excellent synergy that we can leverage well into the future."
---
Zipper Portfolio is Broadened
MANTENO, IL—Zip-Pak, an ITW co., has purchased Supreme Plastics Ltd.'s reclosables division, London, England. The division comprises Supreme's resealable zipper and resealable bag business, including associated technology portfolios. Zip-Pak also will acquire Supreme Plastics' plant in Whitby, England.

Jim Kohl, president of Zip-Pak, explains the acquisition by saying, "Zip-Pak and Supreme Plastics have complementary product profiles. A majority of Supreme's business comes from narrower zipper profiles, where most of Zip-Pak's business is from wider, value-added zipper profiles.…"
---
---
EXPANSIONS
Pharma Plant to Open in China
KUNSHAN, CHINA—Chesapeake Corp. has begun construction on a pharmaceutical plant near Shanghai that will supply paperboard cartons, labels, and leaflets to domestic and multinational pharmaceutical customers.

The 36,000-sq-ft facility will complement and be built adjacent to the company's existing plastic packaging plant in Kunshan and is expected to be operational by mid-2006.

Chesapeake's Hong Kong-based subsidiary, Chesapeake Asia-Pacific Ltd., will operate the plant under the name Chesapeake Pharmaceutical & Healthcare Packaging (Kunshan) Co. Ltd. It is expected to employ approximately 150 people when fully operational.
---
---
INDUSTRY STUDIES
Folding Cartons Up and Down
ALEXANDRIA, VA—Folding carton shipments reached an estimated $6.8 billion and 4,253.7 thousand tons in the first three quarters of 2005, reports the Paperboard Packaging Council (PPC). Compared to 2004, the YTD 2005 shipments measured in dollars increased by 0.2%, while tons decreased by 2.4%.

These results show that while tonnage has slipped in 2005, sales in dollar volume continue to stay on par with 2004, the strongest year for the industry in the past five years. If the current trend continues, says PPC, fiscal year 2005 will close with the strongest sales volume in five years in dollar volume, with tonnage down at least 2.0%. PPC adds, however, that there are signs the fourth quarter may be robust enough to put tonnage on par with 2004 as well.

Results are based on data from PPC's Market Flash program, which tracks folding carton shipments, orders, and inventory flow monthly. Participants in the program are PPC members and reportedly represent a significant portion of the folding carton market.

For more information contact PPC at 703/836-3300 or visit ppcnet.org.
---
Pressure on Western Europe
OKON, UK—A new study on the European converted flexible packaging market shows continued downward pressures on company profitability and the need for further rationalization of Western European converting capacity.

According to the study, conducted by PCI Films Consulting, leading multinational brand owners are switching more of their production out of Western Europe to lower-cost Eastern European locations and have started to source their flexible packaging from local suppliers.
European Converted Flexible Packaging Sales
By major converting groups 2004
Converter
€ Millions
% Share
Amcor Flexibles
1,500
16
Alcan Packaging
1,500
16
Constantia
568
6
Sealed Air Cryovac
400
4
Clondalkin
350
4
Wipak
270
3
Huhtamaki
250
3
Bemis
250
3
Mondi Packaging
250
3
United Flexibles
190
2
Others Indcluding Imports
3,660
40
European Consumption
9,188
100
Source: PCI Films Consulting Ltd./Industry Studies
The study predicts European demand for converted flexible packaging will grow at 1.7%/annum from ,9.2 billion in 2004 to approximately ,10.0 billion by 2009. While growth in Western Europe is expected to remain about 1%/annum over that period, the study predicts average growth rates of nearly 7%/annum in Central and Eastern Europe.

For more information visit pcifilms.com.
---
Global Packaging a Big Subject
SURREY, UK—What is the future of global packaging? It's a big question, and Pira Intl. attempts to answer it in a big way with a new 500-p. study that includes major country profiles for Western and Eastern Europe, the Middle East, North America, and Asia Pacific.

Based on extensive primary research, the study contains quantitative market sizes and 5-yr market forecasts for each key packaging material, end-use sector, region, and country. More than 800 tables and figures are incuded.

The cost of "The Future of Global Packaging" is $6,650. For more information contact Pira at +44 (0) 1372 802262 or e-mail This email address is being protected from spambots. You need JavaScript enabled to view it..
---
---
ENVIRONMENTAL NEWS
MEGtec Helps State Stay Green
DE PERE, WI—MEGtec Systems reports it became the first Tier 2 participant in a new environmental initiative designated Green Tier. The Green Tier law (Wisconsin Act 276) establishes a voluntary and collaborative system that recognizes and rewards companies with an established track record of superior environmental performance by streamlining environmental requirements.

There are two participation levels in the Act, with Tier 2 involving more rigorous participation. MEGtec says it removed harmful contaminants from 2,000–3,000 gal of water/wk in parts-cleaning solution; reduced dependence of landfill usage by recycling 95–100 tons annually of paper and cardboard and 100–120 tons annually of wood; eliminated an entire hazardous waste stream of aerosol cans; recycles 800,000–1 million lbs of scrap steel annually; and more.

Chris Campbell, MEGtec's manager of environmental health, safety, and security, says, "By being associated with Green Tier, we hope to show our customers, our community and state, and our colleagues that good environmental performance is good business practice."
---
---
ALLIANCES
Cleaning Businesses are Now Allied
MONZINGEN, GERMANY—D.W. Renzmann Apparatebau, a designer, manufacturer, and supplier of washing machines and solvent distillation systems for the graphics arts industry, has formalized an alliance with Riobeer AG Cleaning Solutions, Villmergen, Switzerland. This follows developments that took place July 1, when Riobeer took over business activities associated with the Riobeer business arm of Amsonic & Riobeer.

Renzmann will integrate the Riobeer washing unit series into its own product line. Riobeer will focus on service and the supply of spare parts for Riobeer equipment.
---