Published: October 31, 2005, By Edited by Deborah Donberg
Covering the Full Spectrum of Industry News, Events & Activities
Utah Paper Box Gets the Press of its Dreams
Custom configured is something of an understatement when describing the new Roland 700 press at Utah Paper Box, Salt Lake City.

The converter's top executives—owner Paul Keyser, VP of sales Steve Keyser, and VP of operations Mike Salazar—spent six months planning their dream press. MAN Roland built it, and Utah Paper Box now has a press that "will run almost anything," according to Salazar.

The press begins with a printing unit, followed by a perfector, an in-line coating unit, and a double drying extension. This is followed by six more printing units, a second in-line coating unit, and another double extension for drying.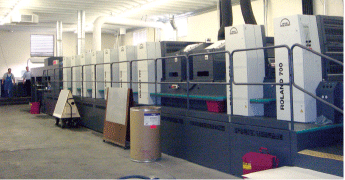 Utah Paper Box produces a wide range of upscale packaging with the 700, and the company reports it can provide UV protection, perfecting, or special effects to customers as well.
---
---
INDUSTRY NEWS
Litho Plate Study Released
RESTON, VA—The total market for lithographic places in North America will decline about 11% in volume over the period 2005–2010, according to a new study entitled "Life Cycle of Analog and Digital Lithographic Printing Plates." The study was completed by State Street Consultants, Boston, MA, for Primir, the Print Industries Market Information and Research Organization.

While the overall market declines, the continued adoption of computer-to-plate (CTP) drives both a rapid growth of digital plates and a steep decline of traditional analog plates, the study says. According to State Street, key factors influencing this decline are the adoption of digital printing and the continuing impact of Internet publishing.

The study assessed the CTP market, finding that the installed base of CTP devices in North America was close to 12,000 at the end of 2004 for metal and non-metal systems. This installed base is forecast to grow to more than 17,000 by the end of 2010. By that year, digital plates will account for close to 80% of total lithographic plate shipments, notes the study. For more information contact Primir at 703/264-7200, ext. 287, or visit primir.org.
---
FTA Flex-Pack Study is Here
RONKONKOMA, NY—The Flexographic Technical Assn. (FTA) announces the availability of its comprehensive flexible packaging market research study entitled "Converter Benchmarking & End-User Perspectives in North America." The study, compiled by industry consulting and market research firm LPC, includes almost 100 charts and graphics, plus detailed explanations to present a picture of today's flex-pack converting market with projections for the next 3–5 years. There are three key sections: a North American overview; a focus on the flexible packaging converter designed for companies to benchmark their own processes against the industry average; and an end-user (packaging buyer) perspective on priorities and projections. More than 100 converters and 120 end-users participated.

For more information contact FTA at 631/737-6020 or visit flexography.org.
---
---
EDUCATION
Donations Aid Flexo Training
FORT MILL, SC—The Flexographic Trade School (FTS) is the beneficiary of two recent donations.

Esko-Graphics, Vandalia, OH, gave the school a Cyrel Digital Imager (CDI) Spark XT and supporting Scope workflow with DeskPack, BackStage, FlexRIP, and Plato. "We wanted to be assured that our students were educated in the most advanced technology," says FTS director Rob Smithson. "That is why we are excited they will learn about a digital workflow on Esko-Graphics equipment."

The school also has a new STS automatic butt splicer, thanks to Martin Automatic, Rockford, IL. The splicer was installed on a 10-in., eight-color Mark Andy 2200 press. Prior to receiving this gift, the school trained students on another Martin splicer, the MBS. The FTS, which believes in teaching students to work in a real production environment, operates a variety of educational programs and services for a number of flexo label, folding carton, and film printing converter companies as their commissioned training facility. It celebrated the grand opening of its new facility in Fort Mill October 10–11.
---
Praxair Donates Anilox Rolls
INDIANAPOLIS, IN—Praxair Surface Technologies has contributed six anilox rolls valued at more than $2,550 to be used for flexo education at Fox Valley Technical College (FVTC), Appleton, WI. The rolls will be used on a Mark Andy 2200 press recently installed at the school.

"Education and training in our industry are of such paramount importance that we are extremely committed to their continued growth," says Praxair account manager Randy Davidson. "As a long-range player in the flexo industry, we recognize that our future is directly tied to students like those in the outstanding [FVTC program]."
---
---
SUPPLIER NEWS
SKF Press Day Highlights Industry Solutions
by Claudia Hine Managing Editor
LAS VEGAS, NV—SKF USA, Kulpsville, PA, held a day-long press event September 27 to showcase its line of roller bearings and seals as well as technical support and maintenance services. SKF products are found in printing presses, coaters, laminators, and other equipment used in the converting industry.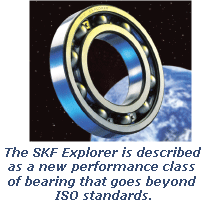 VP of marketing Jon Stevens described SKF as a "knowledge engineering company" that applies for patents every day. He offered an overview of the company's capabilities, which include sensors, encoders, and digital electronics used in automation control and linear and rotational actuation and control products for precision of movement.

Daniel R. Snyder, director of application engineering, discussed market trends, saying users want more performance per dollar, mass, or volume; more customization; higher reliability; minimum safety hazards; and minimum negative environmental effects. According to Snyder, the next generation of bearings includes "smart" bearings with sensors that monitor a certain physical quantity and return feedback, hybrids with ceramic rolling elements, and products able to withstand extremely harsh operating environments.

SKF's advanced simulation tools—Orpheus, BEAST, and Lopes—shorten the design time for new products, bringing them to market faster, Snyder added.

Marketing manager Scott Anderson presented case studies showcasing customized bearing solutions, which may be the only viable option in some difficult applications, he said. Today, custom bearings—including modified or reworked products—can be produced without high cost, long delivery times, or large minimums, Anderson noted. Converters in need of customized solutions can work through their SKF distributor.

Design trends for linear motion technology, in particular component miniaturization, were discussed by Sean Feyrer, linear guidance business manager. Miniature and compact product lines include profile rail guides, ball bearings, ball screws, and ball slides.

Scott Brady, director of product marketing, focused on remote condition monitoring technologies that allow converters to outsource analysis of machine conditions to prevent unplanned downtime. This results in predictive rather than preventive maintenance programs. SKF offers an e-Maintenance program integrating Web-enabled systems that gather data and produce trend and analysis assessments.

The event, which was attended by 42 editors from a variety of business-to-business publications, concluded with a real-time demonstration of SKF's Web-based condition monitoring system using a fan in a typical HVAC application.
---
On-Line Site for Barrier Coatings
LEHIGH VALLY, PA—Air Products Polymers announces the "Barrier Products Learning Center," a 24/7 way to help customers learn about the company's offerings for barrier coatings and to answer questions such as, "How do I keep water from intruding, grease from getting through, or oil from creating stains on printed packaging?" The answers can be found at airproducts.com/barriers.

Included are electronic brochures, environmental information, video presetations, news releases, technical papers, formulation information, and more.
---
Julie Separation Is Official
BURLINGTON, MA—Julie Static Controls reports its separation from Julie Industries is complete. Jim Patterson, president of Julie Static Controls, says his company now can focus on the static and contamination control industries.

The equipment line will include all existing blowers, static bars, air knives, cleaning stations, web cleaners, and other static control components. Julie Industries will maintain the static flooring portion of the product line.

Future plans include expansion through partnering with other companies that carry complementary products and services.
---
Heidelberg Opens Demo Center
KENNESAW, GA—Heidelberg recently unveiled its new Print Media Demonstration Center (PMDC) to about 300 of the country's most influential printers at a special ceremony in Kennesaw.

The facility houses a wide range of Heidelberg prepress, press, and postpress equipment, including the Speedmaster XL 105, which debuted at the ceremony. At 33,000 sq ft, the PMDC is the largest Heidelberg demonstration center in the world dedicated to the print media industry.
---
AWRDS
UV Ink is Honored
ANN ARBOR, MI—Flint Ink has received a 2005 InterTech Technology Award from the Printing Industries of America/Graphic Arts Technical Foundation for Arrowlith UV inks. The award honors excellence in innovative technology for the graphic communications industry.

Arrowlith, introduced in October 2004 for coldset web applications, was one of 17 technologies selected by a panel of independent judges from 52 nominations.
---
---
SHOW NEWS
New Show to Join Graph Expo
CHICAGO, IL—PackPrint, a new national exposition for package printing and converting, will join Graph Expo 2007 at McCormick Pl., Chicago, IL, September 9–12. One badge will provide admission to both shows. The new show is a joint effort of the Graphic Arts Show Co. (GASC) and the Flexographic Technical Assn.

Organizers report the impetus for the event is the continuing convergence of the worlds of commercial and package printing. "Commercial printers are offering an ever-widening range of services to their customers as they seek growth through diversification. Package printers are encountering an increasingly sophisticated set of demands from their customers to improve printing quality, color fidelity, and consistency." For more information contact GASC at 703/264-7200 or visit gasc.org.
---
CPP Expo Seeks Improved '06; Pack Expo Breaks Records
by Claudia Hine Managing Editor
CHICAGO, IL—A total of 2,887 visitors attended the first-ever Converting & Package Printing (CPP) Expo, according to show organizers H.A. Bruno, Paramus, NJ. Held September 26–28 at the Sands Convention Ctr. in Las Vegas, NV—to coincide with Pack Expo and the co-located Food Processing Machinery Expo held at the Las Vegas Convention Ctr.—the show's exhibitors and attendees reflected a general feeling of optimism about the concept of bringing the supply chain together, H.A. Bruno reports.

In addition to CPP and Pack Expo, organized by the Arlington, VA-based Packaging Machinery Mfrs. Inst. (PMMI), several industry associations held meetings during the same time frame across a half-dozen venues in Las Vegas. Among them were TAPPI's PLACE and Corrugated Packaging Divs., Composite Can & Tube Inst., Film & Bag Federation, RadTech, and the Assn. of Independent Corrugated Converters. However, the seamless flow of attendees among meetings and expositions that organizers anticipated did not materialize due to shuttle bus and badging confusion, traffic congestion, and no doubt, the lure of Las Vegas attractions. "We certainly see room for improvement as we move forward," says Leo Nadolske, CPP Expo president. "One obvious element that will clearly enhance and increase CPP Expo's attendance and reach [in 2006] is our physical co-location with Pack Expo Intl. and Food Processing Machinery Expo—right within McCormick Place [in Chicago]. There is no doubt that this will result in greater success for our exhibitors."

H.A. Bruno confirms 25% of participating exhibitors have contracted space for future events, including the 2006 show in Chicago, which will be held October 29–November 2.

"With a formal agreement in place with PMMI for 2006," reports Nadolske, "we know we can do nothing but improve upon this concept. Select, joint marketing efforts and a cohesive operational plan will make our cooperation seamless—which is exactly what the attendees were asking for in Las Vegas."
---
Pack Expo Sets Attendance Record
PMMI reports Pack Expo Las Vegas set a new high in visitor attendance at 21,907, which was 19% more than the 2003 show. Exhibitor and international attendance, exhibiting companies, and net square footage also saw record-breaking numbers.

Along with the Containers & Materials Pavilion and the Showcase of Packaging Innovations, three new technology pavilions—Contract Packaging, RFID, and Packaging Security—were said to have contributed to the increases. According to Charles D. Yuska, PMMI president, "The addition of these technology pavilions is an integral factor in attracting such high visitor turnout. Tradeshow attendees look to visit one single comprehensive show a year to stay on top of the newest technologies and learn about the latest industry trends."

Pack Expo Intl. will celebrate its 50th anniversary at the 2006 show in Chicago. The next Pack Expo Las Vegas show will be held Oct. 15–17, 2007, at the Las Vegas Convention Ctr.
---
Numbers Up at Print 05
CHICAGO, IL—Producers of Print 05 and Converting 05, held at McCormick Pl. September 9–15, report approximately 62,000 people took part in the show.

According to the Graphic Arts Show Co. (GASC), the number of exhibitors, 954, was up from 893 in 2001, and seminar attendance broke a record, with more than 2,260 people registering to participate in one or more of the 80+ sessions. Both the number of nations represented as well as the actual number of international visitors were up from the last show. GASC says exhibitors were pleased with business and quotes a number of suppliers that experienced good traffic, good leads, and good sales.

"This show exceeded many of our expectations," notes GASC president Regis J. Delmontagne, pointing to "the positive response to our initiative to significantly enter the package printing sector and the success of those exhibitors serving that sector, the increase in international attendance, and the continued success of the educational program…."
---
---
PARTNERSHIPS
Process, Resin Agreement
WOONSOCKET, RI—Parkinson Technologies reports a new partnership with PLA resin producer NatureWorks, Minneapolis, MN.

As a preferred Equipment Manufacturing Partner, Parkinson's Marshall and Williams Plastics will provide orientation equipment for essential processing to help advance NatureWorks' PLA resin as a renewable material for plastic packaging containers.
---
---
AGREEMENTS
Esko-Graphics Part of Axcel
GENT, BELGIUM—Esko-Graphics reports its shareholder, Kirkbi A/S, has entered into an agreement with leading Danish private equity company Axcel to transfer the ownership and all packaging-related activities of Esko-Graphics to Axcel. The companies have agreed not to disclose terms and conditions for the transaction.

Esko-Graphics president and CEO Kim Graven-Nielsen will step down. Current CFO/chief operating officer Carsten N. Knudsen will become CEO. Jean-Claude Deschamps will continue as chairman of the board of directors.
---
---
CORRECTION
Only recently was PFFC made aware of an error that appeared in the September 2004 issue. In a feature written by Stanley Sacharow on European converting, Nordmeccanica was identified incorrectly as a member of the Cerutti Group of companies. Nordmeccanica is a privately owned company and has never been, nor does it plan to be, associated with this or any other group of companies. Both Mr. Sacharow and PFFC sincerely regret the error.
---