Published: September 30, 2005, By Edited by Deborah Donberg, Associate Managing Editor
---
Part 1
| Part 2
---
Covering the Full Spectrum of Industry News, Events & Activities
ACQUISITIONS
DAS Now Fully Part of DuPont
TORRANCE, CA—DuPont has acquired 100% of DuPont Authentication Systems (DAS), a joint venture between DuPont and Keystone Technologies created in 2001. Terms were not disclosed.

DAS provides customers with complete overt, covert, and forensic brand authentication and security systems built around its Izon deep, 3D photopolymer-based labels. DAS will maintain and enhance its manufacturing facility in Logan, UT, where Izon products are produced. DAS also will invest in new capacity and capabilities throughout the supply chain to enable higher quality and consistency of products and services to global customers.
---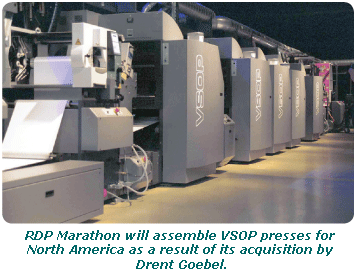 RDP Now Part of Drent Goebel
EERBEEK, THE NETHERLANDS—Drent Goebel reports it has acquired RDP Marathon, Montreal, QC, Canada.

Rob Teunissen, CEO of Drent Goebel, says the success of his company's Variable Sleeve Offset Printing (VSOP) press in the North American market makes this step both logical and necessary. "We already had our own service and sales organization in Chicago. Looking at the potential of the VSOP in the North American market, this acquisition was the best possible way to strengthen our organization. RDP Marathon is the perfect partner for this."

RDP has its own engineering department and also will be assembling VSOP presses for the North American market. Sales for this market are managed from Montreal by Eric Short. Service for Drent Goebel presses will be coordinated out of the Chicago office. RDP will keep its own service coordination.
---
Ampac, Kapak Now One
Cincinnati, OH—Ampac Packaging has completed the acquisition of Kapak Co., Minneapolis, MN, a manufacturer and innovator in stand-up pouches for the food, medical ag-chem, and health and beauty aid markets.

Kapak's former president, Gary Bell, is leaving to focus independently on flexible packaging product development. The new management team will be headed by George Thomas, who has been acting chief operating officer for Kapak since November and is VP of business development for Ampac.

Thomas says, "The culmination of bringing the Kapak operating unit totally into our fold along with Flexicon, which we acquired in January, will allow us to more effectively manage Ampac's flexible business. These are both great companies in their own right."
---
Baird Gets a Fresh Start
MILWAUKEE, WI—An inside management group has acquired the assets of Baird Display, a market leader in POP displays until the company was placed in receivershaip this past May 6. The group, known as KBRK, will continue to use the Baird trade name.

Timm Rutkowski, a member of the management group, says, "We believed the company and its employees deserved an opportunity for a fresh start under a new structure and capitalization plan. That is why [we] consolidated our financial resources and engaged in the process of purchasing the company."

He adds, "Baird will continue to offer a full-service approach incorporating exceptional in-house design capabilities, complete project management support, manufacturing, warehousing, and distribution from its Milwaukee location."
---
Dainippon Continues Digital Expansion
ROLLING MEADOWS, IL—Dainippon Screen Mfg. Co, parent company of Screen (USA), has completed the latest in a series of material events to expand its digital printing business by acquiring Inca Digital Printers, Cambridge, UK, a pioneer in the manufacture of wide-format inkjet printing technology.

"Chief among [Inca Digital's] assets is its award-winning flatbed printing technology," says Eiji (A.J.) Kakiuchi, president of Screen (USA). "This acquisition will expedite Screen's strategic expansion both geographically and technologically."

Inca Digital becomes a wholly owned subsidiary of Dainippon Screen and will operate as Inca Digital (a member of the Dainippon Screen Group of companies). It will retain its existing headquarters location, as well as its current management team and staff.
---
---
SHOW NEWS
CMM has a New Owner
TULSA, OK—PennWell Corp., a diversified global media and information company, has acquired CMM Intl. The show will complement PennWell's Electronic Publishing franchise, which includes a publication, e-newsletter, web site, and conferences for design, printing, and publishing professionals. Financial terms of the sale were not disclosed.

Robert Biolchini, president and CEO of PennWell, says, "CMM has a distinguished history of serving professionals in the converting and package printing markets with authoritative and relevant content in its shows. Penn- Well's Conferences and Exhibitions Group brings a global reach to CMM, expanding the markets and visibility for this important show."

PennWell group publisher Steve Taneman will oversee CMM from PennWell's Advanced Technology Div. in Nashua, NH. Says Taneman, "Today's digital production technology has linked individuals in every segment of the growing converting, packaging, and printing markets. Adding the CMM show enables PennWell to deliver timely, relevant information about the latest technologies and applications to the converging converting and package printing industries through the CMM show, web sites, webcasts, e-newsletters, and new conferences. As an added benefit, Electronic Publishing is synergistic with CMM through its coverage of the rapidly growing interest in package printing within the commercial printing and design markets."

CMM has been held biennially since 1978. The next show is scheduled for June 4–7, 2006, at the Donald E. Stephens Convention Center in Rosemont, IL.
---
---
AGREEMENTS
Omet Agent Announces an Alliance
CHESHIRE, UK—M M Digital, the sole UK agent for Italian flexo press manufacturer Omet, announces a sales and marketing alliance with Pomeroy Plastotype, with particular interest in the areas of unsupported films, shrink sleeves, and cartons.

The acquisition of Plastotype by Pomeroy in 1996 created a leading partner in both the litho and flexo sectors of the market. Plastotype offers a full range of photopolymer platemaking equipment, plates, and washout chemistry. In addition, it has specialists to carry out press fingerprints, machine and plate audits, and training.
---
Sales Agreement for Eastern Europe
LANSKROUN, CZECH REPUBLIC—Soma Engineering and Heidelberg Eastern Europe will cooperate on the sales of the Soma range of products in Eastern Europe from Lake Constance to Vladivostok.

The Soma portfolio includes CI flexographic presses, slitter/rewinders, laminators, mounter/proofers, sheeters, die-cutters, and special-purpose machines. The company has 190 employees and serves an international market with representation and distribution channels in Central and Eastern Europe, Turkey, the US, Canada, and South America.

With the addition of Soma products, Heidelberg now is able to offer both wide and narrow web flexo printing presses for label and packaging applications.
---
---
ASSOCIATION NEWS
Companies Come Together To Protect Brands
CHARLOTTE, NC—Kurz Transfer Products has joined six other industry companies to form the Brand Protection Alliance (BPA). Other members: Acucote, Atlantic Paper Co., Creo, Dunmore Corp., IIMAK, and Water Ink Technologies.

The BPA, a not-for-profit corporation fully funded by its member companies, was established to serve as a resource organization that will assist brand owners in the design, development, and implementation of customized secure solutions against consumer product counterfeiting and diversion.

Kurz reports the objectives will be achieved by education, consultation, implementation, and verification.
---
TLMI, FTA Team for Conference
by Nsenga Thompson, Associate Editor
CHICAGO, IL—The Tag and Label Mfrs. Inst. (TLMI) and Foundation of the Flexographic Technical Assn. (FFTA) joined forces to host a 1 1/2-day 2005 Technical Conference, beginning Thursday, Sept. 8.

The event's opening session was "Print Better Process Tomorrow." Highlights of the session included the four keys to successful color management (linearization, characterization, optimization, standardization); a look at why planning and preparations are key to successful photopolymer plate solutions; a discussion of the importance of anilox technology (it allows for higher line screens at equal or higher volumes than ever before, more contrast, and cleaner and sharper images); and information on the impact on mounting tapes. The session chair and moderator was Mike Buystedt, XSYS Print Solutions.

During a session entitled "Lean Manufacturing: Finding Profits with Low-Cost Improvements," panelist Brenda Kujawski of Waukesha County Technical College identified the steps in the implementation process: Identify a change agent; identify a teacher and/or conduct widespread education throughout the organization; seize a crisis or create urgency; identify and implement a lean value stream plan for each product line. Rebecca Kerschinske of the Lauterbach Group offered a case study of the company's value stream map.

Doug Stauffer, Fasson Roll North America, chaired "RFID: Get Ready Now!" Attendees heard tips on what to consider (equipment cost and education) and how to get started, as well as a primer on RFID basics and a look at ensuring label quality.

The conference also featured a tabletop exhibit and a half-day breakout track on Friday, September 9, with sessions on digital printing, workflow management, and "green" opportunities.

For more information, visit tlmi.com.
---
---
MERGERS
Flint and XSYS Come Together
ANN ARBOR, MI—Flint Ink Corp. and XSYS Print Solutions, Stuttgart, Germany, are merging. The merged group will employ 8,000 and have combined revenues of approximately US $2.6 billion based on 2004 figures.

Flint reports it is the largest privately owned ink manufacturer in the world. XSYS was formed by the merger of BASF Printing Systems and ANI Printing Inks following their respective acquisitions at the end of 2004 by funds advised by CVC Capital Partners, an independent private equity firm.

Dave Frescoln, currently CEO of Flint, will become CEO of the new group. Peter Koivula, CEO of XSYS, becomes vice chairman of the new company. Howard Poulson, non-executive chairman of XSYS, assumes the same function within the combined group.
---
---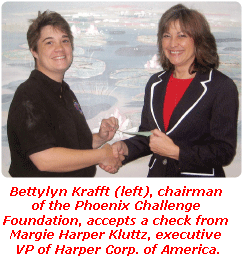 EDUCATION
Harper Helps Fund Challenge
CHARLOTTE, NC—Harper Corp. of America has offered the Phoenix Challenge Foundation a matching funds program of up to $25,000 over the next 12 months to help fund the annual International Phoenix Challenge Flexo Skills Competition.

"This gives us a jump start on our fundraising effort and will hopefully leave us with a little left over," says Bettalyn Krafft, chairman of the annual event. "…We may have as many as 50 participants registering for the 2006 event. This means we will need well over $40,000 just to break even."

The average student cost includes airfare for students and their instructors, hotel accommodations, meals, awards, scholarships, gifts, an awards banquet, and numerous other expenses.

The Challenge is an all-volunteer, not-for-profit organization of industry professionals dedicated to the recruitment and development of the future workforce for flexography. The two-day, skill-based competition features hands-on and written testing in operating a flexo press, prepress, platemaking, and overall flexo knowledge.
---
---
ENVIRONMENTAL NEWS
Workshop Covers "Green" Issues
NORWALK, CT—Myllykoski North America, a producer of recycled and non-recycled groundwood paper products, sponsored an environmental workshop in June conducted by the Gravure Assn. of America. The workshop, held in Alsip, IL, included a tour of Myllykoski's mill, reported to be an environmentally friendly facility with a state-of-the-art papermaking process.

The overall objective of the workshop was to assist buyers in making purchasing decisions that are right for their business and inform those seeking an understanding of environmental issues and alternatives surrounding paper and forestry products usage.

Topics included the roles of virgin and recycled fiber in various paper products; chain of custody of fiber from various land ownership categories; expanding logger programs and landowner group certifications; and an exploration of costs and benefits across the supply chain.
---
---
ARTNERSHIPS
Multilayered Security Approach
MINNEAPOLIS, MN—Microtrace, a provider of traceable anti-counterfeit technologies, announces a partnership with Photoscribe Technologies, New York, NY, a manufacturer of laser systems, to offer these systems to Microtrace customers involved in brand protection, covert tracking, and tracing applications.

Microtrace says the laser systems, in combination with the its Microtaggant technology, form a robust, multi-layered approach to brand protection and covert identification. The small markings made by the Photoscribe laser systems cannot be seen or located by the unaided human eye; high magnification is needed for clear, detailed viewing. The laser technology is capable of marking information is a variety of different formats, all down to a minimum size of approximately 30 microns.

Explains Brian Brogger, VP of Microtrace, "We are receiving increasing feedback from customers who understand the best approach to brand protection is a multilayered approach.…The addition of laser marking to a brand protection program allows unique and covert identification at the item level."
---
---
Part 1 | Part 2
---