Published: September 30, 2005, By Edited by Deborah Donberg, Associate Managing Editor
---
Part 1 |
Part 2
---
Covering the Full Spectrum of Industry News, Events & Activities
Proofer with UV Aids Pilot Plant
KWH Plast, a Finnish manufacturer of calendered and coextruded plastic foils and films, has a pilot plant that provides the company with the ability to develop specialized cast PP films with different specifications for multilayer coextrusion. Aiding KWH's testing process is a FlexiProof from RK Print Coat Instruments, a scaled-down version of a conventional flexographic press that incorporates an enclosed medium-pressure UV lamp and is supplied with a quick-change ceramic or steel anilox and swing-in doctor blade.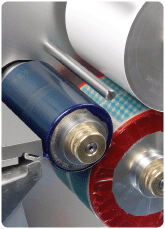 KWH's products include films for laminates, synthetic labels, pharmaceutical packaging and medical products, bags and pouches, peelable films, and stationery products.
Reportedly, a major advantage of the FlexiProof is that proofing and curing in-line at high speeds with UV highlights problems with inks that would be difficult or impossible to spot using conventional proofing methods. E.g., pinholing cannot normally be captured, because as a conventional proof is made and then taken to a UV conveyor, the surface properties will have changed quickly.
SUPPLIER INFO:
RK Print Coat Instruments—rkprint.com


---
---
Gearless Presses Find a Home in the U.S.
Kuen Yuh Machinery Engineering Co. (KYMC) is finding a niche in the packaging industry. That niche is gearless presses, and the company recently installed three in the US: one in California, one in Oklahoma, and one at Packaging by Design, Chicago, IL.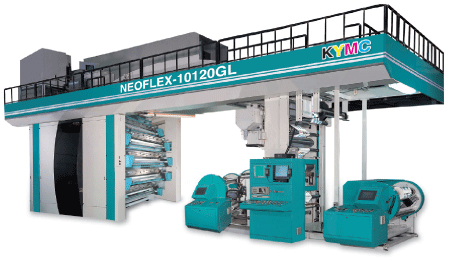 The Chicago converter took delivery of a ten-color Neoflex-10120GL featuring Rexroth AC servo motors, CNC deck position control, sleeves for print and anilox, and nonstop unwind and rewind with flying splice at full speed. The press reportedly also offers high-efficiency drying for water-based inks, auto preregister control, chambered doctor blades with auto clean, video inspection with auto guide, user-friendly touch screen operation, and remote diagnostics through modem support.

KYMC says all of its presses are custom-made, with emphasis on affordability as well as after-sale support.
SUPPLIER INFO:
Kuen Yuh Machinery Engineering Co.—kymc.com (US agent: Prilam Assoc. - 740/754-6250)
Bosch Rexroth—boschrexroth-us.com
---
---
Three F&K Presses—and Counting—for Excelsior
As a flexographic printer serving the food, baking, industrial, medical, and healthcare industries, Excelsior Packaging Group, Yonkers, NY, knows a good thing when it has one. Which is why the company followed the first installation of a Fischer & Krecke press with two more.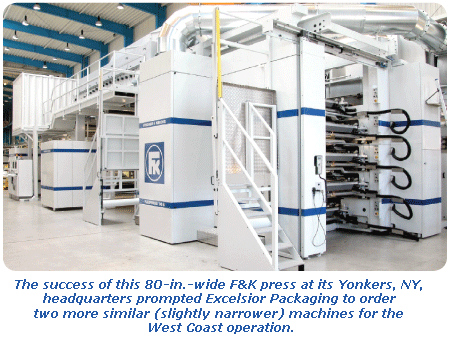 The first press was an 80-in., gearless, sleeve-based Flexpress 36 S installed at the Yonkers headquarters. The press is capable of actual production speeds to 2,000 fpm and reportedly allows Excelsior to accomplish very fast changeovers.

The second and third installations are 60-in. models and are running in Excelsior's Vancouver, WA, facility. Also configured for speeds to 2,000 fpm and featuring the same sleeve-based, gearless technology, the presses have added a significant increase in print capacity, grade, and quality, according to Bob Malone, general manager for the West Coast facility.

Ron Shemesh, group CEO of Excelsior, says, "We were delighted with the first installation, with the high quality print, the high speed of the line, especially in web widths to 80 inches. We now have an unequaled combination of quality, web width, and the high production rate needed to fill orders in a timely manner. The extraordinary success of these new Fischer & Krecke presses made the decision to order a fourth press and possibly a fifth, an easy one."
SUPPLIER INFO:
Fischer & Krecke—fischer-krecke.com
---
---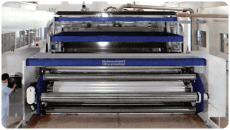 CPP Line Running in Brazil
A three-layer coextrusion cast PP line from Battenfeld Gloucester Engineering Co. is in operation at CBS Elos do Brazil.

The line, which is able to process Type ABC structures with a final film width of 3.1 m, features three Contracool extruders. The computerized process control system integrates all line equipment, including an automatic die and gauge measure, among other high-tech components. The complete system has the capacity to process 1,100 kg/hr and reportedly will enable CBS to fulfill increasing demands for laminating and metallizing propylene film.
SUPPLIER INFO:
Battenfeld Gloucester Engineering Co.—bge.battenefeld.com
---
---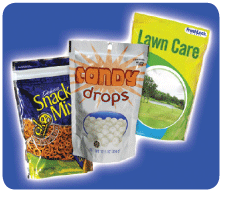 Sealing Rib Adds Benefits to Zippers
Fresh-Lock Zippers with a patented sealing rib can be used on a wide variety of package sizes, film structures, and packaging equipment. The zippers, from Presto Products Co., an Aloca Consumer Products co., Appleton, WI, make lower sealing temperatures possible, thus reducing film distortion and improving package appearance, the company says. Improved seal integrity of the sealant ribs reportedly minimizes package leakage, and an easy-open and-close feature keeps foods fresh and secure.

The zippers, said to allow for faster line speeds on vertical and horizontal f/f/s equipment, also can be used on preformed pouches.
---
---
Fast-Growing Company Adds Second Baler
Transpac Comercializadora, a supplier of contract sheeting and paper recycling services in Mexico, has purchased a new, fully equipped 8043 wide-mouth baler from American Baler for its newest plant near Mexico City.

Transpac was founded in 1995 and has since expanded to three facilities. The company operates another American Baler horizontal baler, a high-volume shredding system, and a fleet of 11 trucks.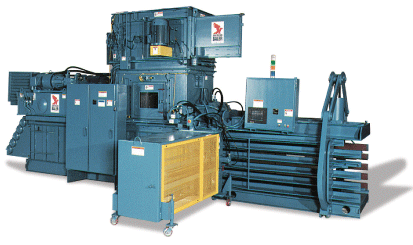 Standard features of the 8043 baler include a 41x80-in. feed opening; a five-wire auto-tier; a slick material tension chamber that self-adjusts to materials of less friction to maximize bale density; and the Pathfinder touchscreen operator interface.
SUPPLIER INFO:
American Baler Co.—americanbaler.com
---
---
INDUSTRY STUDIES
Packaging Machinery Market Booms in China
CLEVELAND, OH—A new study from The Freedonia Group confirms China is one of the fastest growing markets in the world for packaging machinery. Demand for packaging equipment in China will climb 8.6% annually through 2009 to 35.9 billion yuan (approximately $4.4 billion), according to the study. Product sales will be driven by growth in manufacturing, packaging materials use, and associated fixed investment activity as industrialization efforts continue and income levels rise.

The study predicts packaging equipment demand in China will exceed that in Japan by 2014, making China the second largest market in the world behind the US.
Packaging Machinery Demand in China
million Chinese yuan
% Annual Growth
Item
1999
2004
2009
04/99
09/04
Packaging Machinery Demand
14,750
23,800
35,900
10.0
8.6
Filling & F/F/S
4,230
6,900
10,550
10.3
8.9
Wrapping, Bundling & Palletizing
2,200
3,570
5,310
10.2
8.3
Labeling & Coding
1,670
2,850
4,440
11.3
9.3
Other Machinery
4,050
6,430
9,650
9.7
8.5
Parts
2,600
4,050
5,950
9.3
8.0
©2005 by The Freedonia Group
Other items of note from the study: Demand for labeling and coding equipment will outpace sales of other types of packaging machinery, spurred by the growing need for shippers to identify and track items accurately; and increased use of RFID tags will bolster demand for associated labeling equipment.

For more information on "Packaging Machinery in China," contact Freedonia at 440/684-9600 or visit freedoniagroup.com.
---
FPI Reports Optimism
FALLS CHURCH, VA—About three-quarters of single-use foodservice packaging converters in both Europe and North America expect their sales volumes to be better this year than last, according to the sixth annual "State of the Industry Report" issued by The Foodservice & Packaging Inst. (FPI). In addition, more than half of the respondents expected their profits to be better than last year.

In regard to individual markets for single-use packaging products, the quick/fast casual market shows no signs of slowing down. It was ranked the market where respondents believe strong growth for foodservice packaging will occur in the next five years. Other top vote getters included chain quick-service restaurants and convenience stores.

According to the report, "margin compression" is the top challenge in the US and Europe. "Globalization and competition from outside national borders" was second for European converters and North American machinery suppliers and third for North American converters and raw material suppliers. The other major challenge was "increasing raw material costs." The report is available only to FPI members, but an overview and results are available at fpi.org in the Resources section. For more information contact FPI at 703/538-2800.
---
---
SUPPLIER NEWS
Water Ink Aids RIT Program
LINCOLNTON, NC—Water Ink Technologies has donated the latest version of its Ink Miser computerized ink batching system to the flexo program at the Rochester Inst. of Technology (RIT). The ink management program includes UV and water-based inks, technical assistance, and training seminars. The Ink Miser will enable RIT to mix standard Pantone colors and custom ink formulas in-house from an inventory of base inks.
---
Two Execs Form Advisory Group
WELLESLEY, MA—Larry Letteney, past president of Creo Americas, and Ken Hanulec, former VP of marketing at Creo, have founded BlueOcean Advisory Group to help companies discover and develop new markets and untapped customer potential.

Reportedly, the first BlueOcean practice group, Graphic Practice, will deliver a portfolio of offerings designed to help graphics and printing companies create lean, competitive, client-focused operating platforms; define and execute optimal company positioning and go-to-market strategy; and develop executive selling capabilities.
---
Omron Joins RFID Center
FAYETTEVILLE, AR—Omron Electronics is a sponsoring member of the RFID Research Center at the Univ. of Arkansas at Fayetteville, which opened officially in June. The 19 sponsoring members that will participate in the center's activities include retail, market, and industry leaders involved in the technical development and practical application of RFID technology and in public policy that will govern the future of RFID.

Bill Arnold, Omron's partner business manager, says, "As a manufacturer of RFID and automation systems, Omron is delighted to be working alongside such a distinguished group of colleagues to advance not only RFID technology but also industry and public understanding of the opportunities deploying the technology present to us."

The center, a unit of the university's Sam M. Walton College of Business, includes a "live-environment" laboratory and will offer product testing.
---
Unsaleables Study Honored
PHENIX CITY, AL—MeadWestvaco Coated Board is the recipient of this year's Unsaleables Innovation Award. The award is presented by the Grocery Mfrs. of America in conjunction with the Food Marketing Inst., the National Assn. of Chain Drug Stores, and the Consumer Healthcare Products Assn. It recognizes innovations in the reduction of damages to consumer packaged goods. Entrants are asked to document an innovation that generated quantifiable improvements in the level of unsaleables in the manufacturing and/or retail environment.

MeadWestvaco's submission detailed research into the effects of paperboard substrate choice on frozen food unsaleables, exploring both where damage occurs in the supply chain and the role of compression strength in packaging protection and buyer perception.

The results of the study, coordinated by objective, third-party researchers, demonstrated conclusively that substrate choice substantially reduces the number of unsaleables in the supermarket freezer case by 44%, MeadWestvaco reports. Says Mike Skrovanek, VP of marketing at MeadWestvaco, "We wanted to determine what, if any, difference the use of paperboard or any paperboard product made in the percentage of unsaleables. And, if the paperboard did make a difference, was it significant enough for food manufacturers to consider a change? If the answer was yes, it was time to advocate for a potential solution—a packaging approach that would help protect frozen food products from the food manufacturer's packing line to the consumer's selection from supermarket shelves."
---
---
AWARDS
Software Technology Honored
JERUSALEM, ISRAEL—HumanEyes software was the recipient of a 2005 InterTech Technology Award from the Printing Industries of America/Graphic Arts Technical Foundation (PIA/GATF). Nomination criteria stipulate the technology be recent, be proven in industrial application but not yet in widespread use, and be expected to have a major impact on the graphic communications industry over the next five years.

John Lind, PIA/GATF senior research scientist, says, "Technologies such as HumanEyes 3D software, which makes it easy to print lenticular, are giving print service providers who thought they could not complete in certain markets a chance to do just that—and do it easily, efficiently, and profitably."
---
Package Rides Wave Of Innovation
MARIETTA, GA—Graphic Packaging Intl. (GPI) reports its Quilt Wave package has been honored with the "Best of the Best" DuPont Award for Innovative Packaging.

Quilt Wave, developed for Sepp's Gourmet Foods of Surrey, BC, Canada, comprises laminated cells, or "quilts," that are designed to expand when exposed to microwave energy. On expansion, the quilts come into contact with the food products. This hot surface does double duty, driving away moisture and creating maximum browning and crisping.

Carl Tillberg, president of the bakery division at Sepp's, explains, "We were looking for a way that's both effective and practical to reheat and crisp our frozen grilled sandwich products. After just three months of collaboration with the research and development engineers at Graphic Packaging, we had our answer, a Quilt Wave pouch."
---
---
Part 1 | Part 2
---