Published: September 30, 2005, By PFFC staff
---
Part 1
| Part 2
---
Machinery, Accessories, Services
Slit/Rewind in Many Conditions
Matik North America, West Hartford, CT; 860/232-2323; matik.com
The Goebel topslit slitter/rewinder is an unsupported simplex center drive system said to allow for a wide range of winding conditions. Slitting arrangement gives excellent narrow slits and roll separation at high speeds, company says. Machine can be supplied with a cantilevered rewind shaft and integrated finished roll unloading cart. Features a splicing table and is said to provide easy access and visibility for operators.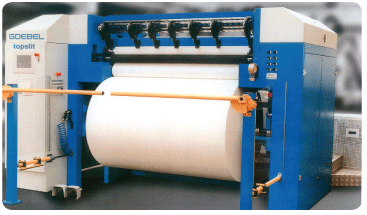 ---
Four Systems to Clean Webs
Simco Industrial Static Control, Hatfield, PA; 215/822-6401; simco-static.com
Cleaning systems include the QuadClam, the HexClam, the QuadClean, and the HexClean. QuadClam and HexClam are four- and six-roll contact cleaners with a clamshell design. They remove particulate from both the top and bottom web surface, allowing the top half of the cleaner assembly to open and the tape roll to slide out on a drawer. QuadClean and HexClean are basic four-and six-roll assemblies for both top and bottom web surface cleaning.
---
I/O Solution is Modular
Bosch Rexroth Corp., Hoffman Estates, IL; 847/645-3774; boschrexroth-us.com
Inline I/O system now is available with a SERCOS interface to provide single-bus architecture for an entire control system. Structure reportedly offers a cost-effective, open motion/logic solution for printing and converting machines without compromising machine speed or flexibility. Highly scalable and modular, system offers a complete range of digital and analog I/O modules, including block I/O, as well as supply units for connected sensors/actuators.
---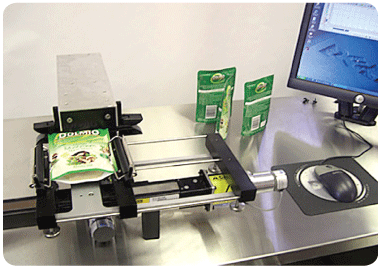 Find Seal Flaws with No Contact
PTI/Packaging Technologies and Inspection, Tuckahoe, NY; 800/532-1501; ptiusa.com
Seal-Scan inspection technology provides a one-step seal inspection method, on- or off-line, to detect seal defects and flaws in flat or stand-up pouches made of any type of material. Testing is completely noncontact, requires no water or coupling materials, is non-destructive to package or product, and requires no sample preparation. Finds invisible defects, reducing or eliminating incubation of packages as well as manual inspection methods.
---
Butt Splicer for Sleeve Decorating
Keene Technology Inc./KTI, South Beloit, IL; 815/624-8989; keenetech.com
The JL Series butt splicer for sleeve decorating is said to eliminate downtime due to roll changes, reduce waste of web material, and increase production. Designed for use with sleeve label applicator equipment, splicer cuts through both webs simultaneously. Features automatic leading edge trim, in-register splice system for preprinted sleeve labels, and one-piece cantilever turret design.
---
Benefits of Rotary Die-Cutter
Schober USA, Cincinnati, OH; 513/489-7393; schoberusa.com
Off-line rotary die-cutting machine for the packaging and label industries comes in standard working widths of 260, 410, and 520 mm. Features include heavy-duty construction; advanced register and process control system; edge-guiding; variable production speeds; antistatic devices; and different modular delivery systems.
---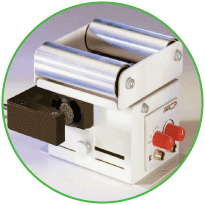 Web Guide a Good Retrofit
FMS USA, Arlington Hts., IL; 847/392-7872; fms-technology.com
The BKS010 Series ultra-compact web guide is suited for retrofitting to any narrow web application, including tapes, diaper liners, etc.. Company reports it is easy to install and easy to use. Offered in widths of 3.9, 5.9, and 7.8 in., guide comes standard with 1.4-in.-dia turned aluminum rollers; ±0.2 in. of correction capability, and a moving speed of 0.6 in./sec for quick correction. Includes one ultrasonic or optical edge sensor, built-in position controls, a quick bolt-down frame design, and CE conformity.
---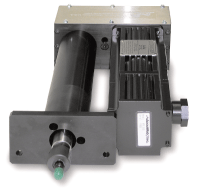 Actuator for Web Guiding
AccuWeb, Madison, WI;608/223-0625; accuweb.com
A brushless, explosion-proof actuator for web guide applications sends electrical current to the motor windings directly, rather than using the mechanical brushes found in conventional servo motors. Creates no sparks and reduces maintenance by never requiring brush replacement. Interfaces with company's Micro 4000 NET controller and compensated array edge detectors.
---
Manage Color Precisely
X-Rite, Grandville, MI; 616/257-2450; xrite.com
The Pulse ColorElite portable spectrophotometer enables user to manage all devices, including display, scanner, digital camera, and printer, with one, easy-to-use color management solution, company reports. Provides the hardware to capture color precisely and the software to analyze and interpret data accurately. Operator can scan in either direction, at varying speeds. All parts of the system work together to reduce errors.
---

Slitter has Automatic Features
Jennerjahn Machine, Matthews, IN; 765/998-2733; jennerjahn.com
The JJF slitter/rewinder reportedly minimizes labor while increasing productivity and product quality. No rewind mandrels are required. Cores simply are poured into a hopper/bowl feeder system and processed automatically. Cabinets are designed for quick and easy access to the machine.
---
A Splicing Control Solution
Circonix Technologies, Ringwood, NJ; 973/962-6160; circonix.com
The SplicePro comprises an open-architecture solution and state-of-the-art software algorithms to control splicing. It is designed to compensate for machine geometry, line speed, mechanical system delays, and roll diameters. Employs tracking software to provide the required process reactions to minimize lost material or eliminate web breaks.
---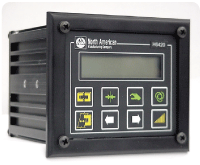 Get Precise Web Position Control
North American Mfg. Co. , Cleveland, OH; 216/271-6000; namfg.com
The H6421 web guide controller combines a convenient operator touchpad with a robust pulse width modulated drive in one compact package, company says. Operates on a 24-VDC power supply within an IP55 rated water- and dust-resistant housing. Used in conjunction with SimPlex sensors and actuators, controller reportedly provides precise web position control for edge guide, center guide, or line following applications.
---
Air Shafts Easy to Maintain
Goldenrod Corp. , Beacon Falls, CT; 800/465-3763; goldrod.com
Company offers the Model 1260 Series of lightweight aluminum and carbon fiber air shafts. Assembled weights of 3-in. shafts are as low as 3.5 lbs/ft. Utilizing unique extrusion profiles, lightweight shafts in 3-, 4-, 5-, and 6-in. dia are available in either all-aluminum construction or company's patented carbon "pultrusion" designs for heavy applications. Multi-bladder design offers concentric, high-speed winding, quick inflation and deflation, and ease of maintenance, company says.
---
Register System Sets Alignment
Bobst Group USA, Roseland, NJ; 973/226-8000; bobstgroup.com
The Power Register System utilizes cameras to analyze the position of each sheet at the entry of the platen, from specifically printed marks on the sheet or directly to the print itself. System then calculates the ideal placement of the sheet so alignment is exact between the cutting tools and the print on the sheet, and it transfers the sheet directly to the gripper bar. Sheet is controlled by the register system during entire operation, so any out-of-spec sheet can be eliminated automatically. Die-cutting all types of materials is possible without special adjustments. All operations are done at high speeds.
---
---
Part 1 | Part 2
---