Published: September 30, 2005, By Claudia Hine, Managing Editor
New Materials
Microwave ovens traditionally have been better suited for reheating than cooking foods, but Graphic Packaging Intl. is expanding the options for both marketers and consumers with microwave packaging that cooks food quickly and evenly, while leaving it moist and tender.
The material, called MicroRite, consists of aluminum and polyester laminated to a paperboard base (suppliers are proprietary). Graphic Packaging has supplied the package successfully for several years in Canada for baked pies and entrees and in Europe for lasagna. In April the package made its US debut with "Cape Cod Cuisine," a line of gourmet-quality seafood products from Raw Seafoods Inc., New Bedford, MA.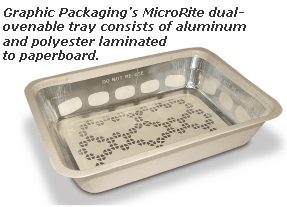 From Concept to Shelf in Five Months
Scott Hutchens, VP of Raw Seafoods, says, "In December 2004, we asked Graphic Packaging to provide us with an oven-ready, microwavable tray that would outperform any package on the market—and they responded with speed and innovation. The project went from concept to having product on the shelf in five months. By April of this year, we were using MicroRite technology to launch our new line in King's Supermarkets, a 27-store chain in the New York/New Jersey area."
According to Eric Metcalf, manager of market development for Graphic Packaging, "Raw Seafoods wanted to respond to growing consumer demand for convenience by offering high quality seafood products that can be cooked easily and quickly in a microwave oven with no mess. They wanted a package that would work with the microwave to cook their products thoroughly and quickly, without making the food dry or tough. Historically, these results are only achieved in a conventional oven, which requires lengthy cooking times."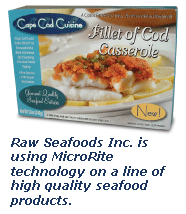 MicroRite met that need with a deep, dual-ovenable paperboard tray that cooks food evenly. Reportedly, the package delivers the ultimate in convenience to consumers, providing them with oven-quality results in microwave time. Additional benefits of the packaging tray are that it provides for fast, easy cleanup—just toss the package.
According to Graphic Packaging's Metcalf, MicroRite also is suited for family-sized entrees such as lasagna and meat casseroles, and the company is exploring options in these markets.
---
CONVERTING INFO:
Graphic Packaging Intl.
814 Livingston Ct.
Marietta, GA 30067
770/644-3000; graphicpkg.com
---
---
Stand-Out Substrates
Covering a wide spectrum of applications from labels to lidding and from packaging to POP displays, today's new materials can deliver problem-solving technology to meet your needs.


Corn-based NatureWorks PLA film offers high clarity for a "no-label" look. Suited for applications including cut-and-stack, shrink sleeve, and p-s labels. Print-ready surface accepts many ink formulations, company reports, while film's opacity makes images and colors stand out. High WVTR helps standard cold glues dry quickly. Lower temperature shrink initiation means performance is more predicable and fast label application is possible.
Cargill Dow—cargilldow.com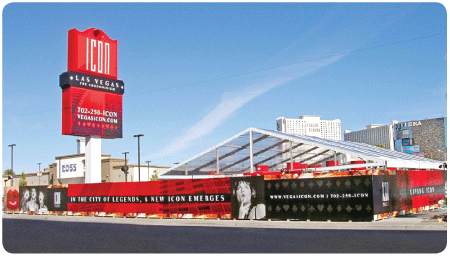 Designed for rough-textured walls and billboard surfaces, FLEXmark BILBRD BWV RTS is a 3.4-mil bright white opaque vinyl film coated with an aggressive permanent p-s acrylic adhesive and backed with a two-side poly-coated layflat sheet liner. Available in 60-in.-wide master rolls, film is said to promote stayflat properties for printing and converting ease. Offers excellent printability via solvent or UV inkjet, solvent or UV screen, and UV offset, the company reports.
FLEXcon—flexcon.com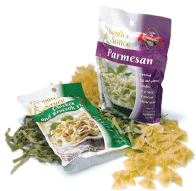 Elite XUS 59900.72 Enhanced Polyethylene (EPE) resin provides superior hot tack strength performance and improved caulkability compared to LDPE, along with a lower density than most LDPEs, according to the manufacturer. Said to have significantly better abuse properties than LDPE, including a puncture rating 5x better, a dart impact rating 3x better, and an average Elmendorf tear rating 3x better. These advantages over LDPE are called critical in packaging applications that involve sharp objects such as these pasta noodles.
Dow Chemical Co.—dow.com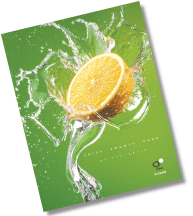 Engineered for UV hybrid, offset, and flexo printing applications, YUPO FPR 200 synthetic paper can be UV printed without a primer, improving efficiency and reducing expense. Said to offer brilliant color reproduction, high gloss, durability, and a super-smooth surface. Recommended for converting, labeling, and commercial printing applications, product is scuff- and chemical-resistant and 100% recyclable, according to the manufacturer.
Yupo Corp. America—yupo.com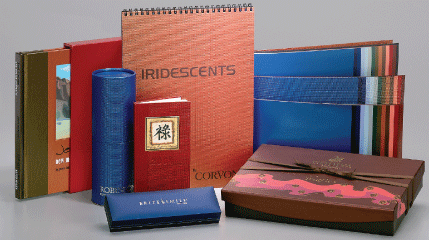 The Iridescents by Corvon line of packaging materials is said to combine lustrous reflectivity and the unique looks that elevate brands. The line is available in 13 standard colors but can be custom matched. Its coating, texture, and finish can incorporate an array of glossy or matte finishes including Polish, Weave, and Bengaline. Applications include POP displays, tags, and shopping bags as well as CD/DVD packaging, cosmetics, cookies or candy gift boxes, and collector's editions. Line is compatible with a variety of manufacturing and secondary decorating processes including die-cutting, post-embossing, silk screening, and foil stamping. Can accommodate short runs, allowing converters to create realistic prototypes for test marketing or approvals.
FiberMark—fibermark.com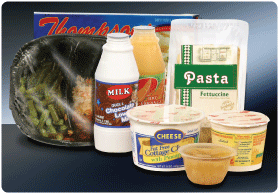 Transparent PET LumiLid XL5 lidding film, which is FDA approved for direct food contact, reportedly seals cleanly and securely to APET, APET coated board, CPET, PP, HDPE, and HIPS, eliminating the need for different types of films for multiple lidding applications. Offers good moisture and oxygen barrier protection; greater barrier protection can be achieved with metallization and PVdC coating. Film has a broad sealant range, excellent hot tack, and handles well on high-speed equipment, according to the manufacturer, and offers excellent thermal stability and superior mechanical properties.
Toray Plastics (America)—torayfilms.com
---