Published: August 31, 2005, By PFFC staff
Machinery, Accessories, Services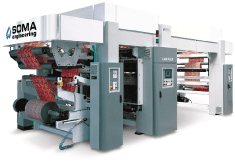 Laminate Many Materials without Solvents
Soma Engineering, Lanskroun, Czech Republic; +420 465 350 811; soma-eng.com
The Lamiflex laminator is able to operate with solvent-free adhesives. Can process a wide range of flexible packaging laminates, including BOPP, PET, PE, LDPE, OPA, cast films, PP, aluminum foil, and paper. Includes two corona treaters, one before and one after the laminating station. Available for web widths of 31.5, 43, and 53 in. Company says machine offers fast changeover, and the short web path between adhesive application and laminating brings increased resistance to contamination from dust and pollutants. Modular design permits custom configurations.
---
Extrusion Retrofits Available
Kiefel Extrusion, Wrentham, MA; 508/384-1200; kiefel-extrusion.com
Company offers retrofit packages to update and enhance existing extrusion lines. Examples are better gauge profiles, including fine adjustment of the thickness ratios using a modern gravimetric dosing system. Retrofits also can provide narrower film thickness tolerances, material savings, and higher speeds for printing and converting.
---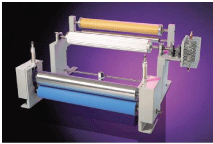 Add Capabilities with Unwind, Rewind
Converter Accessory Corp. , Wind Gap, PA; 800/433-2413; handleyourweb.com
Single- and multi-station unwind and rewind systems are modular, allowing them be to integrated into existing lines easily. They allow processors to add a station and increase production, expand capabilities, and reduce changeovers by allowing larger rolls. Can be custom-configured using off-the-shelf components and are said to compatible with all web production materials. Can handle rolls to 2,000 fpm in diameters to 60 in., web widths to 120 in., and weights to 3,000 lbs.
---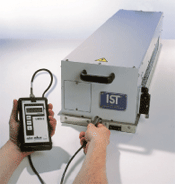 UV Technology Aids Production
IST Metz, Nürtingen, Germany; +49 (0) 70 226 00 2-0; ist-uv.com
The BLK-3 UV system is equipped with the latest URS reflector technology to allow increased production speeds in UV web offset printing. Water-cooling of the shutters, reflectors, and housing ensure excess heat is removed efficiently from the system. Integrated air-cooling system guarantees consistent operation of the UV lamp and removes small traces of ozone. System can be equipped with active charcoal filters to purify and cool the ozoneous exhaust air, which then can be recycled back into the print room. Design does not require any exhaust air ducting from the print room.
---
Workflow Software Tools Updated
Esko-Graphics, Vandalia, OH; 937/454-1721; esko-graphics.com
Company announces Version 4.0 of PackEdge, BackStageEdit, Plato, and PlatoEdit, all components of company's Scope workflow. New versions of these software tools feature updated input and output file compatibility, including full PDF 1.5 support and enhancements designed to reduce errors, improve lead times, and reduce costs.
---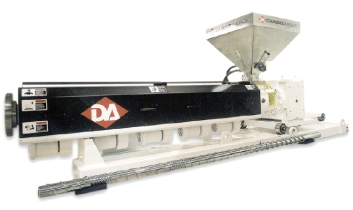 Extruder has Rear Thermal Expansion
Diamond America Corp. , Tallmadge, OH; 888/349-9385; diamondamericacorp.com
The Model TL90 is a 90-mm, 32:1 extruder with rear thermal expansion feature designed for extrusion coating and laminating applications. Handles thermal expansion by moving backward on a custom-designed base. Extruders are available in any size, and all units are equipped with stainless steel feed hopper, cast finned aluminum heaters with high-pressure blowers, and controls designed to customer specifications.
---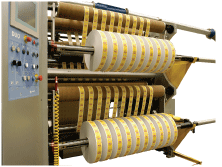 Slitter Cuts Changeover Time
Proslit, Girona, Spain; +34 972 477 744; proslit.com
The Duo twin-shafted slitter/rewinder is capable of handling several different types of films and laminates. Reported benefits include a high degree of automation; reduced roll changeover time; shear and razor slit options; independent tension control for each rewind shaft; high quality finishing; and easy loading and unloading of finished rolls. Options include a vacuum splicer table and a low-cost, automatic knife positioning system.
---
Production Data Displayed in Real Time
Operon Systems, a div. of Dunsirn Partners, Appleton, WI; 920/882-8720; dunsirn.com
The HawkEye manufacturing visibility solution is designed to display production data on a 42-in. flat panel in real time to solve production problems pro-actively. Able to show data from company's RedHawk systems as well as other existing ERP systems and manufacturing execution systems. Shows current status, quantity produced, Performance to Plan, and downtime for all production systems.
---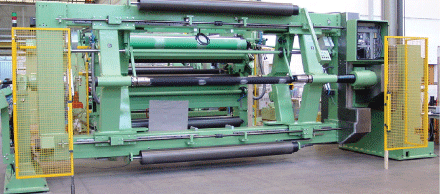 Paper, Foil Winder is Tough
Polytype America Corp. , Hackettstown, NJ; 908/852-3200; polytype.com
The polyWind WAD 4x is a heavy-duty, full shaftless winder for roll weights to more than 11,000 lbs. Suited for paper and foil converting, unit is said to be very sturdy and is capable of running at speeds to 3,000 fpm with roll diameters to 63 in. Web widths of 33–118 in. are possible. Chucking systems can handle rolls down to 30% of the nominal web width.
---
Two Spool Flange Sensing Systems
Amacoil, Aston, PA; 800/252-2645; amacoil.com
Two new styles of an optical flange sensing system enhance accuracy when used with Uhing traverse winding drives. One system relies on the reflective properties of the spool flanges, and the other uses a "light curtain" concept that does not require reflected light. Both employ opto-sensors to detect the spool flanges and signal a pneumatic or electronic switch to flip the spring-actuated reversal lever on the Uhing winding drive.
---
Control Tension with Ease
Nexen Group, Vadnais Hts., MN; 800/843-7445; nexengroup.com
The RSTC1000 tension controller offers easy setup and tuning over a USB connection, as well as a modular design. This closed loop, load cell-based product uses an adaptive control algorithm to adjust internal gain values, reportedly resulting in a simple but robust system. Company says operators are able to tune it once and not have to re-tune, because unit has stable control over a wide range of materials and applications. Used for unwind, wind, or mid-process tension zone control on web processing machinery.
---
Dispense Hot Melt Economically
Valco Cincinnati, Cincinnati, OH; 513/874-6550; valcocincinnatiinc.com
The Shure-Glue line offers an extensive selection of industry-standard hot melt dispensing valves. Includes manual, air-operated, and electronically operated dispensing valves. Dispensing valves are compact and modular and are said to offer reliable and economical service. Available for every type of pattern requirement.
---

Tinsel Offered in Larger Spool
Takk Industries, Cincinnati, OH; 800/792-8255; takk.com
Anti-static tinsel is available in a 504-ft spool. Company says this new, larger spool length costs less per foot, allows tinsel to be stored conveniently on a spindle close to production machinery, and provides a continuous longer length for applications requiring that. Tinsel, constructed of 100% copper to ensure positive grounding and strength, eliminates static through the self-energizing or induction principle; no power is needed.
---
Foils Showcased in Book
Kurz Transfer Products, Charlotte, NC; 800/950-3645; kurzusa.com
Swatch book includes new patterns in the Luxor/Alufin, Colorit, Light Line, and Light Line New Designs foil patterns. In addition to swatches, book offers examples of the foil hot-stamped in a variety of design effects.
---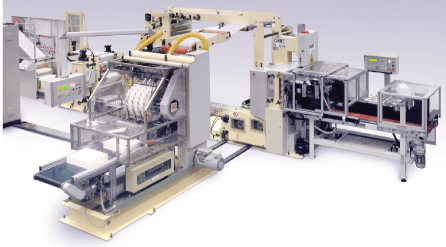 Change from Napkins To Tissue Easily
Omet, Lecco, Italy; +39 (0) 341 367513; omet.it
High-speed cutter for tissue can be applied as an upgrade to company's napkin production lines, without substantial modifications, so products can be changed easily. Allows production of table sets and tray covers printed by flexo in one or more colors, with or without embossing. Can produce food packaging and more.
---
Reposition While Slitting
Mario Cotta, Cincinnati, OH; 800/792-9302; mariocotta-usa.com
The Jolly automatic slitter/repositioner can be used for plastics, laminations, paper products, and more. Units reposition while slitting, allow versatility in using various materials at different speeds on the same system, and feature computerized slitter blade life monitoring.
---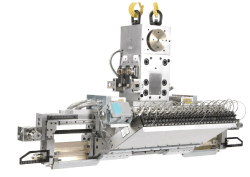 Extrusion Coating Technology Improved
Extrusion Dies Industries, Chippewa Falls, WI; 715/726-1201; extrusiondies.com
Company reports it has increased the responsiveness of its Autoflex automated lip adjusting system for controlling extrusion coat weight. System reduces transverse thickness variation from the ±4%–5% typical with manual systems to ±1%–2%. The CL-EPC full-bore internal deckle with edge profile control now has deckle blades that seal off the internal flow channel from either end of the die and can be adjusted to reduce edge bead.
---
Load Cells are Rugged, Reliable
Vishay Intertechnology, Shelton, CT; 402/563-6866; vishay.com
Nobel GLT web tension load cells offer high reliability to measure low resultant tension forces with small wrap angles. Designed for use in applications including winders, unwinders, rewinders, coaters, laminators, and printing presses, cells eliminate drift and frequent recalibration problems. Construction is said to enable precise accuracy with genuine non-drift signal stability, and cells are of a rugged, compact size with high overload capacity. Suited for a wide range of operating tensions.
---