Published: August 31, 2005, By Edited by Deborah Donberg, Associate Managing Editor
Covering the Full Spectrum of Industry News, Events & Activities
Slitter Meets Demanding Requirements, Delivery Time
Suominen Flexible Packaging, Nastola, Finland, took delivery of its first Proslit Eikon slitter/rewinder in 2003. A second machine currently is being installed and is undergoing commissioning trials at the company's recently refurbished factory in Grodzisk Mozowiecki, Poland.

The two slitter/rewinders are used mainly for the production of laminated films and the slitting of other multilayer films used in the packaging of food and tissue products.

Says Ari Olkinuora, production director, "Proslit was chosen to supply our new machine because we have a long, cooperative relationship with its parent company, Comexi, and in addition, the price/quality relationship was competitive.

"Both slitters satisfy our demanding requirements for working successfully with our wide variety of materials and substrates. It is quite common with our product range to have many small production runs, and we also use many different materials. These could include polyethylene, cast polypropylene, and oriented polypropylene, as well as different variations of laminated films such as the latest applications of polyethylene or polypropylene film with paper."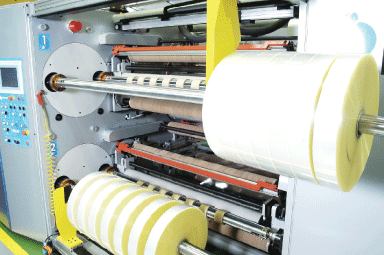 Continues Olkinuora, "Another reason we chose the supplier we did for the new slitter was a tight delivery time. The schedule was dictated by our new customer, because we were just starting deliveries to them. Proslit was not only capable of responding to our tight demands over the schedule but also took note of the requirements of its customers by providing additional services and equipment for a reasonable price."
SUPPLIER INFO:
Proslit—proslit.com
---
---
Hot or Cold, Beverage Carafe Keeps It That Way
A new disposable carafe for the liquid beverage market is available from International Dispensing Corp. (IDC), Hanover, MD.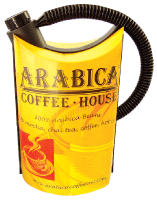 Originally created for the coffee market, the carafe carries 128 oz of hot or cold beverage and is distributed in convenience stores, quick-serve restaurants, and other foodservice outlets where bulk dispensing is necessary.

The carafe comprises a sterile, flexible, biax nylon pouch attached to a rigid plastic frame. Corrugated side panels attach to the plastic frame, giving retail outfits prime marketing and promotional opportunities on both side panels.

IDC reports it tested the product rigorously and determined the shatterproof carafe keeps the product insulated for 3 hrs with minimal temperature change, and it can safely withstand trauma, such as being dropped.
---
---
Cutting Rules Give Converter an Edge in Quality
Qualvis Ltd., Leicestershire, UK, specializes in printed folding cartons, with heavy emphasis on the food and pharmaceutical industries. The converter applies stringent control procedures throughout its manufacturing processes to ensure the quality and cleanliness these markets demand. Helping in the effort are Dieflex Ultra cutting rules from Sandvik Diecutting Products.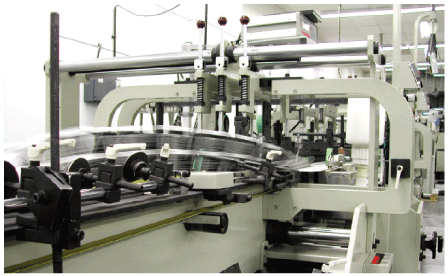 Reportedly, the rules offer a combination of good bendability and high wear resistance. Andy Cherry, a diemaker at Qualvis, says "The properties of Sandvik Dieflex Ultra cutting rules are certainly helping us meet our quality standards. In addition, current packaging trends mean that Qualvis must…provide increasing sophisticated carton engineering solutions. This has an obvious effect on the cutting dies that we are producing, with packaging designs using ever more complicated shapes. From a diemaking perspective, the Ultra rules are extremely reliable. They offer an optimum and repeatable level of bendability without affecting cutting, coating, and wear-resistant properties."
SUPPLIER INFO:
Sandvik Diecutting Products—smt.sandvik.com
---
---
INDUSTRY STUDIES
Study Focuses On Metallocene, Single-Site Polymers
CLEVELAND, OH—A new study concludes the demand for metallocene and single-site polymers will advance more than 20%/yr to 5.1 billion lbs in 2009, valued at $5.3 billion. The study, conducted by The Freedonia Group, sees opportunities resulting from the processing and performance advantages of these materials. More rapid advances, however, will be constrained by high costs of metallocenes and co-catalysts, as well as by the introduction of more competitive Ziegler-Natta catalyst systems.
US Metallocene & Single-Site Polymer Demand
(million pounds)
% Annual Growth
Item
1999
2004
2009
04/99
09/04
Metallocene & Single-Site Polymers
715
2,040
5,100
23.3
20.1
LLDPE
520
1,350
2,960
21.0
17.0
HDPE
—
200
700
—
28.5
PP
75
155
575
15.6
30.0
Elastomers & Plastomers
120
335
865
22.8
20.9
©2005 by The Freedonia Group
Film and sheet will remain the leading applications, based on the importance of LLDPE in diverse packaging, construction, and other uses. Metallocene and single-site polymers are expected to account for about 9% of all polyolefin polymers in 2009.

For more information on the study, contact Freedonia at 440/684-9600 or visit freedoniagroup.com.
---
DuPont Study Results Reported
WILMINGTON, DE—DuPont says a scientific study confirms consumer articles made with its materials would not result in quantifiable exposure to perfluorooctanoic acid (PFOA). The study, initiated by DuPont, was conducted by independent research firm Environ and published by Environmental Science and Technology.

PFOA is used as a processing aid in the manufacture of fluoropolymers, some of which are sold under the DuPont Teflon brand. It may be found at very low trace levels in some fluorotelomers products, DuPont says, which are used primarily to provide stain resistance to a number of textile products and grease-resistance to paper packaging. DuPont is one of several companies globally that produce these materials.

For the full text of the study, click here.
---
---
ACQUISITIONS
A&V Acquires Akron Graphic
FAIRFIELD, NJ—Akron Graphic Supply, a distributor of flexographic printing materials serving the western US, is now part of Anderson & Vreeland. Akron has a 12,750-sq-ft sales warehouse in Santa Fe Springs, CA, from which it offers same-day shipping of flexo materials and equipment, plus a range of prepress supplies.

Thomas Gavin, CEO of A&V, says, "Having a regional presence in southern California ensures better coverage of the market and better service for our customers."
---
Davis-Standard Adds Merritt
PAWCATUCK. CT—Davis-Standard has acquired Merritt Extruder Corp., Hamden, CT. Under terms of the agreement, Merritt will move operations to Davis-Standard's headquarters in Pawcatuck.

Davis-Standard will continue to offer the existing Merritt brand line, and all key Merritt employees will remain with the business, including Merritt president Sandy Guthrie, who will join Davis-Standard in a key role to continue customer support for the product line.
---
---
PARTNERSHIPS
Color Management Integrated
MECHELEN, BELGIUM—PerfectProof and X-Rite, Grandville, MI, announce a strategic partnership integrating a number of X-Rite's advanced color management tools with the ProofMaster range of RIP software.

X-Rite's new Pulse ColorElite System and DTP70 scanning X-Y spectrophotometer reportedly will provide ProofMaster customers with one-stop display calibration, input/output ICC profile creation, and certification.

The bundled solutions are on sale through PerfectProof's network of independent resellers in Europe and the USA.
---
Collaboration to Promote Water-Based Acrylics
PHILADELPHIA, PA—Rohm and Haas Co. has entered into a collaboration with SpecialChem, an on-line innovation and solutions accelerator focusing on specialty chemicals and plastics. The purpose of the partnership is to increase the adoption of leading-edge, water-based acrylic technology in the adhesives and sealants industry by providing formulators with 24/7 on-line access through a web-based expertise platform at specialchem4adhesives.com.

The site will offer information on the benefits of water-based acrylics as well as formulation tips and expert advice on product development efforts.

Says Jonathan Hastings, European general manager for Rohm and Haas Adhesives and Sealants, "...Both companies will work jointly to help formulators and converters in pressure-sensitive adhesives and caulks applications assess and implement these solutions as high-performance and cost-effective alternatives to solvent-based products."

The companies collaborated in 2004 on acrylic emulsions for the coatings industry.
---
---
SUPPLIER NEWS
Become a Markzware Affiliate
SANTA ANA, CA—Markzware, a developer of software solutions for the printing and graphic arts industries, announces open enrollment to its Business Affiliate Program.

According to Markzware, affiliates strengthen relationships with their own customers by recommending essential quality-assurance tools at reasonable costs and open new revenue streams for themselves in the process.

Companies opting into the free program agree to display Markzware-developed solutions via their own Web sites. In turn, each affiliate receives a 10% commission on Markzware solutions sold through the affiliate's site. For more information visit markzware.com.
---
Dienes Opens Site in France
OVERATH, GERMANY—Dienes Group announces it has founded Dienes France SARL in Samoreau, near Paris, to take care of existing customers and provide quick order handling and a local presence in France.

Dienes Group now offers its slitting technology through seven international sites and employs more than 500 people.
---
Sheeter is Being Designed for Needs of Chinese Markets
HAMBURG, GERMANY—Körber PaperLink is developing a new folio-size XFS sheeter to meet the special needs of the Chinese converting industry.

Körber reports research has shown that a special sheeter for the Chinese market is necessary to prepare for the boom years to come. The sheeter, which will be assembled at Körber Engineering Shanghai, will feature minimized automation so it will require little electronic maintenance.

The entry-level machine, which is based on the SHM 1450 single rotary, is being developed with Körber Engineering Shanghai, E.C.H. Will, and Pemco, all part of the Körber PaperLink Group.

The XFS is part of the new brand "Concept X" launched by Körber Engineering Shanghai in December 2004 for the Asian paper and tissue converting industry.
---
Stora Joins Flex-Pack Center
STEVENS POINT, WI—Stora Enso's Specialty Papers Group has become a supporting member of the new Center for Flexible Packaging (CEFPACK), headquartered at Clemson Univ., Clemson, SC. Stora joins more than a dozen CEFPACK members, including brand owners, converters, and material suppliers.

CEFPACK offers services to members for developing, evaluating, and applying advanced flexible packaging materials in new packaging applications. It also offers the capability to prepare, test, fill, and process new flexible packaging concepts in a laboratory environment.

"Our research facilities and testing capabilities make [us] the premier flexible packaging research center in the nation," notes CEFPACK director Bob Kimmel. "We are very pleased that Stora Enso shares our vision of innovation."
---
---
ASSOCIATION NEWS
FTA Teams with Tappi to Sponsor Sessions in Las Vegas
RONKONKOMA, NY—The Flexographic Technical Assn. (FTA) will sponsor two sessions at Tappi's upcoming PLACE Conference, scheduled for September 25–28 in Las Vegas, NV.

"Surface Treating for Flexography" and "Substrate Effect on High Quality Graphics" will be moderated by FTA technical director Rick Mix. The sessions are part of a program featuring converting solutions, performance packaging, productivity enhancement, new developments in flexible packaging, converter cost-reduction, and more.

The PLACE Conference is being held in conjunction with Pack Expo Las Vegas. For more information, contact FTA at 631/737-6020 or visit flexography.org.
---
PPC, PCPBMA Form Alliance
ALEXANDRIA, VA—The Paperboard Packaging Council (PPC) announces an alliance with the Pacific Coast Paper Box Mfrs. Assn. (PCPBMA) in which PCPBMA members become members of the PPC, and PPC provides support services for PCPBMA meetings and programs. The alliance is effective immediately.

PPC staff member James Brown will act as executive director of the PCPBMA and assist PCPBMA's president, Steve Keyser, with planning and coordinating events. PCPBMA's converter members will receive the full benefits of PPC membership, including participation in data programs and access to other services.
---
---
EXPANSIONS
Klöckner Adds Vinyl Capacity
GORDONSVILLE, VA—Klöckner Pentaplast of America is expanding rigid vinyl calendering capacity at its Rural Retreat, VA, manufacturing facility. The company will focus its investment on a film production center for FDA-regulated vinyl films to serve the pharmaceutical and other FDA markets.

Klöckner reports the addition of a second approved site for Pentapharm and Mirrex pharmaceutical mono-film production supports supply chain security by offering the pharmaceutical market the advantage of sourcing identical blister film from two separate production locations.
---
---

SHOW NEWS
A New ICE Show on the Way
OBERAUDORF, GERMANY—A new show is in the works, though the name is familiar. ICE UK, organized by Nimble Shows & Media and Angel Business Communications, will debut June 13–14, 2006, at the Coventry Arena in the Midlands.

The focus will be broad, organizers say, with the main emphasis on flexo and rotogravure package printing and ancillary supplies, tissue, nonwovens, technical textiles, self-adhesive materials, envelopes, and composites. Corrugated will not be included. The original ICE (Intl. Converting Exhibition) will continue to run in odd years in Munich, with this year's edition coming up November 22–24.

ICE UK is the first of a series of national converting events that will take place in even years. Others are planned for Spain, Turkey, and Poland starting in 2008. For more information contact Nimble at +49 (0) 7551937822 or visit ice-x.com.
---
Need a Booth for Pacovent?
CHICAGO, IL—Organizers of Pacovent, the Intl. Trade Fair for Packaging Converting, scheduled for Nov. 6–10, 2006, in Cologne, Germany, will begin allocating booths November 30 of this year.

The event is described as a highly specialized trade fair concentrating on the core elements of packaging technologies and packaging materials. Organizer Koelnmesse says the event's three-year cycle corresponds to the time required for a cycle of innovation.

For more information contact Koelnmesse at 773/326-9920 or visit pacovent.de.
---
PackUSA to Debut in 2006
FARMINGDALE, NY—The NPTA Alliance, a trade association representing the $60 billion distribution industry for paper, packaging materials, systems, and supplies, will launch a trade show in 2006 designated PackUSA, the Packaging Materials & Systems Marketplace. It will co-locate with ISSA/Interclean at Chicago's McCormick Pl., October 4–7.

PackUSA will focus on packaging materials and supplies, including the equipment used by packagers, packaging systems and support, and shipping room supplies and foodservice packaging materials handled by distributors.

For more information contact NPTA at 631/777-2223 or visit gonpta.com.
---
---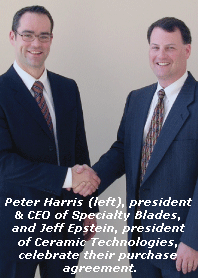 PURCHASES
Specialty Adds Ceramic Blades
STAUNTON, VA—Specialty Blades has agreed to purchase the blade business from Ceramic Technologies, Houston, TX, in order to offer a complement to its premium Endurium slitting blades for the plastic film conversion and extrusion markets. Ceramic Technologies coated steel blades will be sold under the Optima brand name.
---
---
LAUNCHES
Pharma, Healthcare Focus of New Chesapeake Facility
RICHMOND, VA—Chesapeake Corp. has launched a design studio and product development group dedicated to pharmaceutical and healthcare packaging. It will be located at the company's Field Boxmore subsidiary manufacturing plant in Nottingham, England.

The center will focus on constructional design and new product development for a wide range of packaging formats including cartons, labels, leaflets, leaflet-labels, booklets, and various combinations. Aiding the process will be CAD equipment with 3-D simulation and a new Kongsberg samplemaking table.
---
---
AGREEMENTS
Ink Agreement Announced
WIDNES, CHESHIRE, UK—Sherwood Technology says a collaboration with Siegwerk Group will allow Siegwerk to market a new range of inks produced with DataLase, Sherwood's patented color-change chemistry, via a non-exclusive agreement.

Siegwerk, headquartered in Siegburg, Germany, reportedly is the third largest European manufacturer of printing inks, with eight subsidiaries worldwide and representatives in more than 50 countries.

Says Ralf Hildenbrand, president of the Business Unit Packaging Europe at Siegwerk, "…DataLase offers an environmentally friendly, high-speed technique for printing via a low-power laser light, Under the terms of this agreement, Siegwerk will use the DataLase concentrate specifically for patch printing."
---
---
EDUCATION
Free Remote Proofing Classes
NEW YORK, NY—Integrated Color Solutions (ICS) announces ICS University, a series of educational courses on remote proofing that will be offered free via the Internet or on-site.

Says John Sweeney, VP of sales and marketing at ICS, "Our customers have asked us to help them train and educate their customers, and we've responded."

Classes will be geared for both professionals familiar with monitor-based remote proofing as well as for novices. Participants need only download ICS's Remote Director software, available free from icscolor.com. For more information, visit the site or call 212/683-0585.
---
---
MERGERS
Constantia Merges Two in US
ELGIN, IL—Austrian company Constantia Packaging reports it has merged two US plants, H&N Packaging in Colmar, PA, and Multifil Packaging in Elgin. They now will be under one management team. The move gives Constantia a vertically integrated presence in North America and the ability to offer customers a wide range of products for the food and confectionery industries.

Olle Mannertorp, CEO of both companies, says, "We are now the market leader in piece wraps of candy with thin-gauge printed aluminum foil using both flexo and gravure at H&N, and twist and flow wrap capabilities at Multifilm. The fact that we roll our own aluminum foil in the group as well as extrude, metallize, and print our own polypropylene and polyetheylene films, makes us unique in this market segment."
---
Merger Forms Magnat-Fairview
CHICOPEE, MA—Fairview Machine is merging with Magnat Rolls, Easthampton, MA, to form Magnat-Fairview. The new company will bring the engineering expertise, people, and manufacturing resources of both firms together under one roof at the 80,000-sq-ft Chicopee facility.

Glenn Geddis, who served previously as general manager at Fairview, will be VP and general manager of Magnat-Fairview. He says, "Nearly all employees from both companies will transition to positions within the new company, essentially doubling the staff. Plus, our machining capabilities will be enhanced as we consolidate the best equipment of both firms."
---