Published: August 31, 2005, By Nsenga Byrd Thompson, Associate Editor
Show Preview
Celebrating its 25th anniversary in 2005, Labelexpo Europe will open its doors to a growing world community at Parc des Expositions in Brussels, Belgium, September 21–24.
Organized by the Tarsus Group, Labelexpo Europe will host more than 450 exhibitors and an anticipated 23,000 visitors not only from Western Europe, but also from the fast-growing Central and Eastern European countries, the Middle East, Australia and New Zealand, Asia, India, South Africa, and North and South America.
Attendees will see everything the industry has to offer: multi-substrate and digital presses, laser die-cutting, radio frequency identification (RFID), in-line decoration and multi-process ink systems, high technology label films, sleeves, wraps, and more. Exhibitors include Gallus, Mark Andy, Nilpeter, Bielomatik, Ko-Pack, Agfa, HP Indigo, ExxonMobil, Esko-Graphics, Sicpa, Kurz, Kocher + Beck, and MPS.
As to the impact of Labelexpo, Christian Menegon, HP Indigo, comments, "HP Indigo is participating at the Labelexpo shows around the world. These events are the only place where users, manufacturers, and suppliers of labels and related equipment can meet each other. A Labelexpo show is not only a selling platform or a technology window, it is also a place to establish numerous contacts for various business opportunities."
Don't Miss Features
This year's show will include a key focus on the manufacture and use of RFID smart labels. The Smart Labels pavilion is expected to be one of the highlights of the show.
A Smart Labels Seminar Day will be held September 23, including a Masterclass focusing on a "How To" approach and highlighting the opportunities in a market anticipated to grow to more than one billion tags by 2015.
Two other Masterclasses also are scheduled—one on label design and origination and another on label decoration techniques and methods.
Particularly targeted at brand owners and label end-users, Masterclasses are designed to bridge the knowledge gap between label producers and user organizations.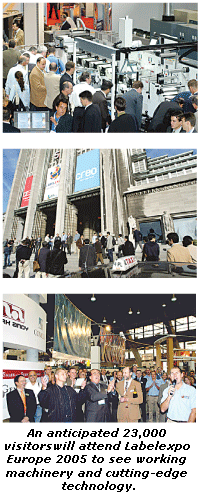 Get on the Fast Track
In addition to the Masterclasses, Labelexpo Europe will feature a three-day seminar program.
Day one includes an opening keynote address by Thomas Rohweder, senior VP of Raflatac. Rohweder will discuss the changing world of labels, strategic issues facing the European label market, and new opportunities and solutions for growth. Day two will feature tracks in global trends and emerging markets, with speakers addressing opportunities in Eastern Europe and Turkey, among other regions.
Day three will include sessions on management information systems, ink technology, and alternatives to ultraviolet flexography, in addition to the Smart Labels session.
Topics for panel discussion include: "How to get the Most out of your Flexo Press"; "Control and Inspection of Printed Webs to Maximize Performance"; and "Discover the Latest Prepress Advances with Digital Workflow."
Awards Gala
On Wednesday night, the 2nd Annual Label Industry Global Awards will be presented at Autoworld Brussels. Winners will be announced in four categories: Continuous Innovation; New Innovation; European Converter Award for Continuous Innovation; and the R. Stanton Avery Lifetime Achievement Award.
For more information about the show, visit labelexpo-europe.com.
---
Hours of operation:
Wednesday–Friday, Sept. 21–23: 10 a.m.–5 p.m.
Saturday, Sept. 24: 10 a.m.–4 p.m.
---