Published: August 31, 2005, By PFFC staff
Notebooks
Looking Good on Two Sides
Flexicon, Cary, IL, an Ampac co., announces Flexi 6818 peelable lidstock for thermoformed PET trays.
The lamination features heat-seal coated polyester coupled with metallized, white OPP. The film is said to offer good barrier properties as well as other advantages.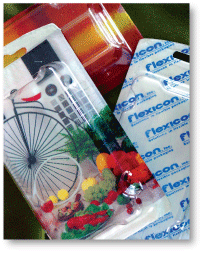 The company says its ability to produce two-sided printing allows the outer facing to be printed with esthetically pleasing graphics for shelf impact, while the reverse side can offer secondary copy. Flexicon says it can produce the lamination with 100% opacity, and the copy on the reverse side will not show through the front facing (or vice versa).
The material can be sealed around the face of the tray, leaving a corner exposed to grab and pull for easy product access. Reported to be an ideal lidstock for consumer goods and solid or semi-solid products such as food items, room fresheners, etc.



---
---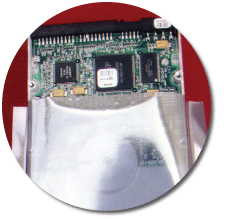 No Shocks
Protective Packaging Corp., Dallas, TX, is offering an expanded line of static shielding bags to protect sensitive electronic components and computer boards from electrostatic discharge during handling, shipping, and assembly. The line includes MIL-PRF-81705 moisture/static shield bags; heavy-duty Tyvek moisture/ESD barrier bags; metallized and transparent (metal-out/metal-in); reusable (reclosable) and one-time use; and cushioned bags and antistatic rolled materials.


---
---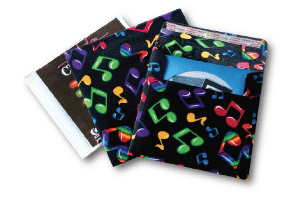 Enjoy Before You Open
Envelopes in materials ranging from denim to lace and a wide variety of patterns and colors are being offered by The Cloth Envelope Co., Traverse City, MI. The company says the products can serve as clever marketing tools or enclosures for holiday greeting cards, wedding invitations, kids' party invitations, and more. Fully mailable, the envelopes are available in "retail ready" sets including coordinating flat, panel, or folded note cards ready to be printed or personalized. They are reusable and can be hand-addressed, labeled, or used in an inner/outer envelope ensemble.
---