Published: July 31, 2005, By PFFC staff
Machinery, Accessories, Services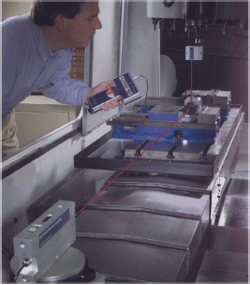 Alignment Machinery is Easy to Set Up
Pinpoint Laser Systems, Newburyport, MA; 800/757-5383; pinlaser.com
Laser Microgage kit for machinery alignment includes a new laser squaring attachment called the 90-Line. Kit is said to be compact, easy to set up, and very versatile. Suited for aligning rollers on converting and laminating lines, positioning parallel rails for precision slides, and checking milling and cutting tools.
---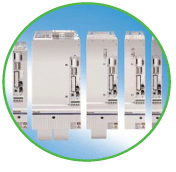 Digital Drive Offers Scalability
Bosch Rexroth Corp. , Hoffman Estates, IL; 847/645-3774; boschrexroth-us.com
The IndraDrive incorporates company's servo drive and frequency converter technology into one platform. With an optional drive-integrated, IEC61131-3-compliant PLC, plus built-in safety features and motion function-block programming, this digital drive is said to eliminate the need for a traditional PLC on small machines. Integrated PLC also provides programming and parameterization through a single interface.
---
Doctor Blade is Long-Lasting
Flxon, Charlotte, NC; 800/756-6474;
flxon.com
MicroNox EL super-refined doctor blade material from Swedev is said to last longer than a conventional blade but cost less than new coated blades. Made of a proprietary alloy steel with life-extending properties, blade features same microstructure and accurate dimensional tolerances as other Swedev doctor blade materials.
---
Regenerative Drive Offered
ABB, New Berlin, WI; 262/785-8542;
abb-drives.com
Company reports the introduction of a fully integrated, regenerative AC drive into its ACS800 product family. The drive features a horsepower range of 7.5–125 and offers an extensive selection of features and options. Said to be easy to install and commission and to meet rigorous harmonic standards right out of the box.
---
Magnets Protect Inking System
Max Daetwyler Corp., Huntersville, NC; 704/875-1200;
daetwyler.com
Specialty magnets give protection against cylinder streaks, anilox scoring, and damage from small metallic particles that accumulate in the inking system. Powerful MDC magnets are designed for removing metal particles and result in less waste and longer life for gravure cylinders and anilox rolls, company says. Domed end is designed to make it easy to release metal particles form magnet during cleaning.
---

Get Gas Readings Rapidly
CEA Instruments, Emerson, NJ; 888/893-9640; ceainstr.com
The Tetra monitors from one to four gases rapidly with a single button that controls all functions. A backlit "at-a-glance" display provides simultaneous viewing of all gas readings, alarm conditions, and battery life. Units are rugged and compact.
---
Electrodes Have Greater Treating Capacity
Enercon Industries Corp., Menomonee Falls, WI; 262/255-6070;
enerconind.com
The Elite Series corona electrode design offers 40% greater treatment capacity. Company says a higher discharge output can reduce the number of electrode assemblies required; reduce web direction and height dimension; create better station "fit" within the line; increase power density capacity; and reduce station cost. Features include rigid ceramic electrode design, abundant air cooling for high-output efficiency, and long-life assembly construction.
---

Monitor 100 Performance Indicators
Vorne Industries, Itasca, IL; 630/875-3600; vorne.com
The XL800 production monitor combines in one package a large-area visual display, a high-performance production monitor, expandable I/O, a multiple-channel communication hub, a program executioner, and a data warehouse. Requires no existing processes and provides more than 100 key performance indicators in real time. Available in four display configurations, monitor reportedly provides an easy-to-implement "bolt-on" solution that can be up and running in minutes.
---
Die-Cutter Works with Many Materials
Heidelberg USA, Kennesaw, GA; 770/419-6500;
us.heidelberg.com
The Varimatrix 105 CS (cutting and stripping) die-cutter is called a cost-effective, entry-level solution for package printers. Cuts and embosses papers of 80 gsm and above, board and solid board to 1,400 gsm, and corrugated board to 0.16 in. thick. Speeds are to 7,500 sheets/hr and maximum cutting force is 300 tons. Said to offer high flexibility and short makeready times. Variable chase is designed for different cutting die dimensions. A pre-piling device ahead of the feeder is operated manually to align the sheets precisely, reportedly assuring reliable die-cutting.
---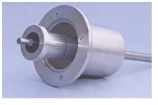 Motor System is Upgraded
Graymills, Chicago, IL; 877/INK PUMP; graymills.com
Demountable motor system now features a bearing cartridge said to remove easily before washup, if desired. Distance between bearings on the shaft is longer, creating greater stability and reducing load on the bearings. New housing design disperses heat so bearing system runs cooler. Ceramic bearings are available for high-speed applications.
---
Compensated Foil for Perforations
H.S. Boyd, Tulsa, OK; 800/537-2514;
hsboyd.com
Perf Print Plus (PPP) compensated foil is a multilayer PVC sheet with an integrated millimeter grid. Grid is shrunk to size depending on the cylinder diameter on which it is applied. When foil is applied, cylinder has a different diameter and circumference than the normal printing cylinder. When diameter is smaller, perforation image is longer. With compensated foil being shrunk, it will compensate for the deviation, allowing press operator to measure a position on a printed sheet and apply a perforation rule or other die to the same coordinates on the foil.
---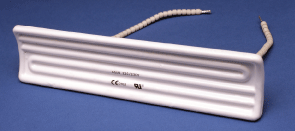 Ceramic IR Heaters are Efficient
Durex Industries, Cary, IL; 800/762-3468; durexindustries.com
Ceramic long-wave IR heaters are offered in wattages to 1,500 and all popular international voltages. High emissivity ensures optimum radiant efficiency in a wide range of applications, company says. Flat, trough, hollow, and bulb styles are available in standard 230-W configurations with cast-in iron-chrome aluminum resistance wire heating elements. Glazed ceramic surface is said to protect coil from corrosion and chemical contamination.
---
Maintain Adhesive Levels
Nordson Corp., Duluth, GA; 800/683-2314;
nordson.com
The FillEasy adhesive feed system maintains desired adhesive levels in company's melters automatically. Suited for production environments requiring a simple, dependable, and economical filling system. System is compatible with various bulk adhesive containers including bag, box, drum, or tote, as well as adhesives in the shape of pellets, pastilles, and micro-mini slats.
---
Bagmaker is Versatile
Mamata USA, Montgomery, IL; 630/801-2320;
mamatausa.com
The Vega 800/1000/1200 servo-driven universal bagmaker is a multi-function machine called ideal for a wide range of PE and PP films. Provides quick changeover from one type of bag to another and is available in widths of 800, 1,000, and 1,200 mm.
---
Tape is a Protective Film
Lamart Corp., Clifton, NJ; 973/772-6262;
lamartcorp.com
SW200 Removable tape is designed for applications requiring an ultra-low, removable PSA. Self-wound tape serves as a protective film when used as a post-mask in die-cut operations to facilitate waste removal from a substrate. Also ensures cleaner removal on punched waste and eliminates, or lessens, the need for vacuum removal of ambient dust or other airborne contaminants.
---
Proof and Approve Easily
X-Rite, Grandville, MI; 616/257-2450;
xrite.com
The MonacoQColor Version 1.4 is an updated desktop version of company's proof verification and approval software. Stand-alone software suite enables graphic arts professionals and photographers to compare proofs against fixed, preset targets based on industry-standard guidelines SNAP, GRACOL, SWOP, and FOGRA. Requires only a single computer and reportedly can achieve complete color management in four easy steps.
---
Inspect 100% of Product
Vigitek, Limerick, Ireland; +353 61 33 69 00;
vigitek.com
QX-100 automatic color inspection technology features 100% print and surface inspection; advanced software process; defect classification; fine- and missing-print detection; streak and hazing detection; color variation detection; color measurement; and more. Features open-system architecture.
---
Ink Jet Printer for Flex-Pack
Mimaki USA, Suwanee, GA; 888/530-3988;
mimakiusa.com
The UJF-605C flat-bed, UV-curable, digital ink jet printer for direct printing on flexible packaging film is capable of high-resolution, seven-color CMYKLcLm plus white at 1,200 x 2,400 dpi. Suited for small runs and variable unique prints.
---
Shaft Optimized for Results
Dienes Werke für Maschinenteile, Overath, Germany; +49 2206 605-214;
dienes.de
Company says glasshard shafts achieve optimum crush cutting results. Shafts are tailored to customer needs and adjusted to the respective knives and knife holders for long tool service life. Available as solid, hollow (one or two pieces), cooled, or heated shaft with standard or special dimensions.
---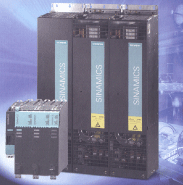 Drive System Links Easily
Siemens Energy & Automation, Norcross, GA; 770/871-3868; siemens.com
The Synamics S120 universal modular drive system allows fully integrated motion control solutions to be implemented that can be linked easily to a host operator station or controller. System is available with various performance levels. Line modules are available for outputs from 5–1,400 kW; motor modules are available for output ratings from 1.6–1,200 kW.





---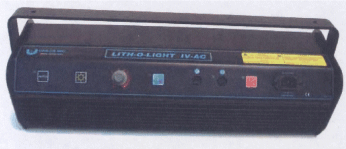 Light Up Your Line
Unilux, Saddle Brook, NJ; 201/712-1266; unilux.com
The Lith-O-Light 20 AC (LOL-20) allows press operators and inspectors to use one light for any speed line. Provides up to twice as much light as the older LOL-20 Models it replaces and is designed to fit the same footprint. Short-duration, high-intensity light pulses make webs moving at up to 700 mpm appear motionless. This provides "frozen" images that make surface defects stand out for identification and correction.
---
UV Curing System is Flexible
UV III Systems, Bellingham, MA; 800/398-5456;
uv3.com
The Sidekick is a high-powered, air-cooled flood UV curing system for coatings, inks, and adhesives. Described as lightweight, compact, and durable, system can be handheld, used alone or in multiples in a production system, and with or without a robotic arm. Easy-mounting lamp is said to make lamp changes quick.
---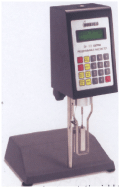 Rheometer with Yield Stress Capability
Brookfield Engineering Laboratories, Middleboro, MA; 800/628-8139; brookfieldengineering.com
The DV-III Ultra combines features of the DV-III Series rheometer with yield stress measurement capability. When unit is in stand-alone mode, operator can enter program test parameters and temperature control requirements. Program results are displayed directly on built-in display. Built-in math models are included for data analysis.





---
Proof Text and Images
Complete Inspection Systems, Indialantic, FL; 321/952-2490;
completeinspectionsystems.com
The AutoProof Pro Proofreading Suite compares incoming materials to proofs or PDFs. Docu-Match software module incorporates special functions to auto-align two images from a variety of inputs, such as scanners, cameras, or electronic files. Software will find any difference between the images, including text and graphics.
---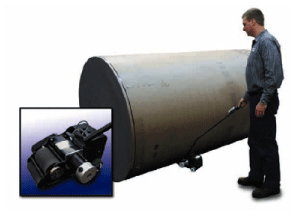 Move Heavy Rolls Easily
Appleton Mfg. Div., Neenah, WI; 800/531-2002; appletonmfg.com
The Roll Mover is battery-powered for tether-free, hassle-free operation. Durable product provides extended range and mobility and features a design said to allow an individual operator to move even the heaviest rollable loads easily, without tangled air hoses snaking across the shop floor.
---
Slitting with Safety
Ashe Converting equipment, Ipswich, Suffolk, UK; +44 1473 710912;
ashe.co.uk
Company offers a barrier surround and gates for its slitter/rewinders to protect employees during operation. Barrier, which protects but does not impede operator, is said to be highly effective and very visible.
---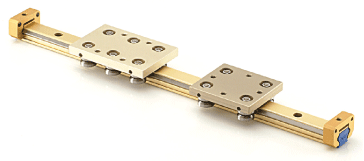 Linear Guidance System for Speed
SKF Motion Technologies, Bethlehem, PA; 800/541-3642; linearmotion.skf.com
The Speedi-Roll linear guidance system offers high load-carrying capacity, rigidity, and torque resistance. Suited for applications requiring long strokes and/or high speeds, system reportedly is engineered to operate effortlessly and quietly. Offers speeds to 10 m/sec and is available in three sizes in a variety of dimensions. Machinable aluminum guide rail can be modified easily and cost-effectively to satisfy unique prototype or application needs, company says.
---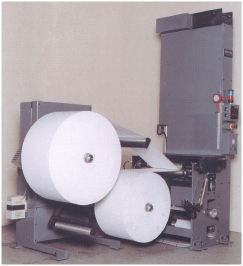 Reliable Butt Splicer Offered
Keene Technology Inc./KTI, South Beloit, IL; 815/624-8989; keenetech.com
The ZC Series cantilever butt splicer guarantees no overlap splicing. Features cantilever turret design, heavy-duty construction, fully automatic splice cycle, and automatic roll sidelay. Easy, single-method splice preparation is said to assure reliable splicing. Suited for web widths to 20 in.; splice speeds are to 1,000 fpm; roll diameters are 40 or 50 in.




---
Determine Dyne Levels Quickly
ADM Tronics, Northvale, NJ; 201/767-6040;
admtronics.com
The VU-DYNE test kit allows user to determine the dyne levels of any film or substrate surface quickly and accurately, reports company. Indicator solutions in the kit are those commonly used for ink, coating, and adhesive wettability
---